Obama Compares Progressive Opposition to Trade Deal to "˜Death Panels' as the Left Ramps Up Opposition
With trade legislation advancing in Congress, the White House and left-wing groups are turning their guns on each other.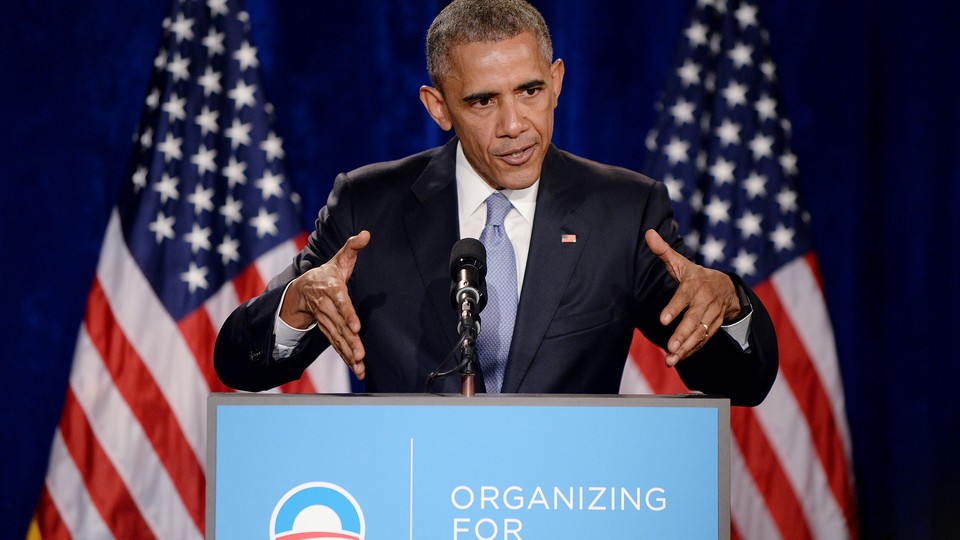 With Congress moving legislation to give the White House more authority on trade legislation, President Obama is looking to allay the fears of some of his biggest supporters on the Left. But so far, that effort is only drawing more blowback from progressives.
At a speech to a summit hosted by Organizing for Action, the organization created out of Obama's presidential campaigns to advocate for his policies and train organizers, Obama said he wanted to address the controversy surrounding his trade policy.
"I want to talk about some stuff that creates some controversy, because it's important," Obama said Thursday night. "And one of those policies right now that I'm focused on is new trade agreements with other countries."
This week, the Senate Finance Committee and House Ways and Means Committee both passed Trade Promotion Authority legislation, also known as "fast-track" legislation, which would make trade agreements like the 12-nation Trans-Pacific Partnership subject to an up-or-down vote in Congress without the ability to amend.
Many Democrats in Congress have complained about various parts of the Obama administration's push for trade deals, from the difficulty accessing negotiating documents, to concerns that the trade deal will lead to lost jobs and lower wages. Progressive favorite Sen. Elizabeth Warren has warned that the TPP could lead to weakening of labor and environmental standards in the U.S.
"If you were watching MSNBC and all this stuff, and you're thinking, 'Oh, man, I love Obama but what's going on here?'" the president joked, trying to reframe the deal as part of his push for what he calls "middle-class economics," which he said was "the idea that this country does best when everybody gets their fair shot, everybody does their fair share, everybody plays by the same set of rules."
Obama also called the deal "the most progressive trade agreement in our history," adding that it has labor and environmental enforcements. Obama compared the liberal complaints to the rumors of "death panels" during the Obamacare debate.
But the line was seen as a slap in the face to some progressives.
"It's shameful to see President Obama compare Democrats who oppose fast-tracking the TPP through Congress to Sarah Palin and the delusional 'death panels' rhetoric," said Charles Chamberlain, executive director of Democracy for America, in a statement. "Frankly, it's beneath this president to resort to such name-calling."
The speech is the latest effort in the Obama team's hard sell to progressives. A group of former Obama campaign officials have also started a pro-TPP group called the Progressive Coalition for American Jobs. On Friday, George Zornick of The Nation tweeted that Obama joined a press call with Labor Secretary Thomas Perez on Friday and criticized politicians who "send emails out to their fundraising base that they're working to stop a secret deal"—a not-so-subtle shot at Warren.
More recently, Organizing for Action sent out an email about TPA that Democratic Underground posted trying to explain the importance of the legislation. The email also argued that the term "fast track" for TPA was a misnomer because TPA would have to go through Congress like any other bill.
But progressives use the term for TPA not because the actual TPA bill would be fast-tracked, but rather because it would enable trade bills to be subject only to a vote without the ability to amend, as Warren wrote in a post on her website Thursday.
At the same time, progressive groups are increasing their opposition to the trade deal.
"Our strategy is to make it clear to anyone in the Democratic Party that this is a fundamental threshold issue for claiming to support the progressive base," Ben Wikler, Washington director for MoveOn.org, told National Journal before the speech.
Other groups are keeping their eye on the 2016 presidential election. Murshed Zaheed, deputy political director at Credo, said his organization has worked to rally its supporters to encourage Hillary Clinton to oppose TPA and TPP.
"If Secretary Clinton says fast-track is a bad idea for all the ways we've been saying, it would embolden all of the Democrats and it would provide huge momentum," Zaheed told National Journal. "If they believe their talk and mean what they're saying, this is the first pass-fail test."
Zaheed said that despite the fact that Clinton previously praised the TPP while secretary of State, opposing the deal would have a real impact and would be taken in good faith.
Ready for Warren, which is pushing for a Warren presidential candidacy, is trying to make the senator's opposition a benchmark for other candidates.
"Ready for Warren is urging all 2016 presidential candidates, including Hillary Clinton, to join Elizabeth Warren's call to make the TPP deal public," said campaign manager Erica Sagrans in a statement.
As Congress as a whole will likely begin voting on TPA—Senate Majority Leader Mitch McConnell told reporters he wants to pass it during the current work period before Memorial Day—the administration and its allies will likely keep pushing for a trade deal it sees as one of the only possible legislative accomplishments of its final years. But progressive groups hope to use it as the first real litmus test for the Hillary Clinton campaign and the fledgling Democratic primary race.