North Carolina Could Jump the Line in the GOP Presidential Primaries
Republican National Committee rules would punish the state for holding its primary in February as scheduled, but a GOP state senator stands in the way of a plan to move it.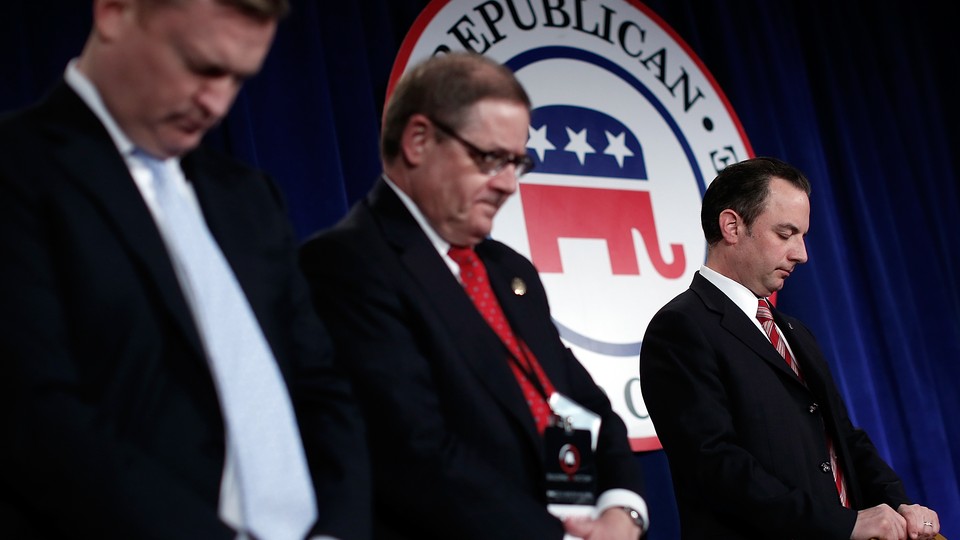 One "cantankerous" North Carolina legislator is threatening to throw a wrench into the Republican Party's carefully planned presidential primary calendar in 2016.
And right now, there's no solution in sight.
Unlike in recent election cycles, the 2016 calendar has so far fallen into place the way party leaders had hoped, with the traditional four early-voting states (Iowa, New Hampshire, South Carolina, and Nevada) on track to hold their primaries in February and others set to start in March. The notable exception, however, is North Carolina, where Republican state Sen. Bob Rucho wrote a law two years ago to move his state up and is now leading a charge to keep it there—in violation of party rules designed to preserve the early states' prestige.
Rucho's legislation in 2013 tethered North Carolina's primary date to South Carolina's in order to give his state more influence in selecting presidential nominees. Since South Carolina's 2016 primary is expected to take place on Feb. 20, North Carolina's would be on Feb. 23 under that law.
But last year, the Republican National Committee passed new rules that would strip delegates from nontraditional states, like North Carolina, that held too-early primaries. If North Carolina holds its primary in February, it could lose at least two-thirds of its delegates, making the state less important for candidates, not more.
GOP Gov. Pat McCrory and the state Republican Party support moving the primary back. Last week, David Lewis, a state representative and Republican National Committeeman, introduced a bill that would essentially bump North Carolina from February to March, correcting the conflict.
But the outspoken Rucho cochairs the legislative committee that oversees state elections, and he has allies in the Senate who oppose a later primary, meaning the measure is unlikely to make any progress anytime soon. That puts them at odds with the state and national Republican establishment, who want the primary moved.
"Senator Rucho is kind of a legend here for being one of the most cantankerous and hard-to-get-along-with senators," said Nathan Babcock, the political director at the North Carolina Chamber of Commerce. "He's not a 'go along to get along' type person."
Some North Carolina GOP operatives think those opposed to a March primary will ultimately give in and realize that the downsides of an earlier primary would outweigh the benefits. But they know that, above all, Rucho is the one who needs to be convinced.
"Others have told me behind the scenes, 'Hey, we're going to move it,'" one senior North Carolina Republican official said, referring to the state senators who support a February primary. "But Rucho's never cracked. He's always said we're not going to move it unless we get something out of it."
The way Rucho sees it, North Carolina, where Republicans have had a great deal of electoral success in recent years, deserves to have an early, potentially momentum-swinging role in picking his party's presidential nominee. Plus, he feels the state shouldn't be penalized because its law was enacted well before the RNC's regulations were put in place.
"We abided by their concerns, and then all of a sudden a new arbitrary rule said you can't come in earlier," Rucho said. "We just don't know why they're taking that arbitrary action and disenfranchising North Carolina voters since we abided by what their main concern was in not interfering with the first four primaries."
Rucho said he has yet to have the opportunity to meet with the RNC to discuss his concerns, and until he does, the Senate isn't likely to take action on Lewis's bill.
It's been clear for some time now that the timing of North Carolina's primary would likely violate RNC rules, but the issue had remained on the back burner for the state legislature. Now, the pressure to move the election date is ratcheting up.
In late March, Republican Lt. Gov. Dan Forest called for a March 22 primary in 2016. Lewis, the author of the new House bill, said he's received "several phone calls" from RNC chairman Reince Priebus about the matter.
"We are confident that all states will be in compliance with RNC rules," RNC spokeswoman Allison Moore said.
Lewis's bill would set North Carolina's primary for March 8. Unlike Forest's suggestion, that date means delegates would be allocated proportionally instead of winner-take-all. But more than anything, Lewis said he wanted to get the conversation started in the legislature, adding that he's open to any date that's not in February to avoid losing a significant share of Republican delegates.
It's happened before. In 2012, the RNC slashed Florida's and Michigan's delegations in half for holding their primaries too early. Democrats punished those states in 2008, too.
"North Carolina can choose to comply and have the desired impact of the original legislation, which is to make North Carolina voters' voices heard in a more relevant way, or we can stick to this date and gamble whether or not the presidential campaigns will bother with such a small number of delegates to be picked up," Lewis said.
Lewis and Rucho have worked together on major issues before, as the two headed up the state's redistricting effort in 2011. But state Senate leaders have not gotten along all that well with their counterparts in the House, the state party, or the governor's office in recent years. Last year, feuding with the state Senate kept state House Speaker Thom Tillis, who was running for Senate, off the campaign trail for extra weeks at a time (Tillis won anyway).
Lewis said he hopes to have the primary issue resolved by the end of May, though others speculated that the issue could drag through the scheduled end of the legislative session in July. North Carolina Republicans anticipate Lewis's bill will easily pass through the House.
But Rucho hasn't blinked yet, and it's not clear that he will. A spokeswoman for Senate President Pro Tempore Phil Berger said he is deferring to Rucho given his position on the state's elections-oversight committee.