No, You May Not Periscope Mayweather-Pacquiao
Distributors are adjusting to yet another way for people to steal video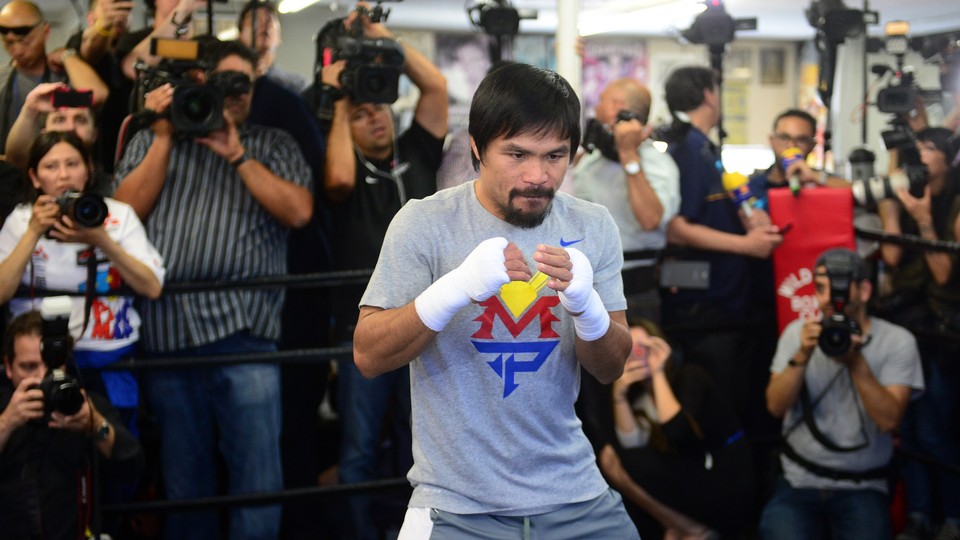 Periscope and Meerkat are ruffling the movie and TV industry's feathers, even if they're trying not to show it.
Believe it or not, it's only been roughly six weeks since the twin live streaming platforms were introduced. They now boast hundreds of thousands of users each and are inching closer to the mainstream. Someone scrolling through the list of feeds will come across charged scenes of protest in Baltimore, countless refrigerators, and, on Thursday afternoon, the campaign announcement of the newest Democratic presidential contender, Sen. Bernie Sanders.
But beyond politics, organizing, and fridges, live stream users are pointing their cameras at something that's making TV and movie executives a little nervous: paid broadcasts of everything from Game of Thrones to the next big sporting event.
And they're not sitting on their couches waiting to react.
This month, HBO sent takedown notices to Periscope when it found users were streaming episodes of Game of Thrones on the platform. And the network, along with Showtime, is also going after a pair of websites that promised to stream this weekend's "Fight of the Century," boxing match between Floyd Mayweather and Manny Pacquiao.
HBO and Showtime say the sites would be stealing the pay-per-view stream, which users are paying between $89 to $100 to watch. But unlike with these sites, which advertised their intention to steam the match, a Periscope user could start streaming it without warning, which means studios can do nothing about them yet.
When Periscope and Meerkat were just getting off the ground, representatives of the industry didn't sound very worried. A spokeswoman for the Motion Picture Association of America told National Journal in March that filmmakers and studios are more focused on large-scale piracy than individuals copyright violators.
At the time, a spokesman for the National Association of Broadcasters said then that people using live streaming platforms to share broadcast TV would be troubling, but that broadcasters weren't aware of any alleged copyright abuses.
Piracy by streaming has also caught the attention of the government. In testimony to the House Judiciary Committee this week, Maria Pallante, the head of the U.S. Copyright Office, said illegal streaming should be a felony.
"As streaming becomes a dominant method of obtaining content online, unlawful streaming has no less of an adverse impact on the rights of copyright owners than unlawful distribution," Pallante said.
For now, copyright holders are relying on the platforms to go after illegal streaming."In general, we feel developers should have tools which proactively prevent mass copyright infringement from occurring on their apps and not be solely reliant upon notifications," HBO said in a statement after it sent takedown notices to Periscope over Game of Thrones.
But neither Periscope nor Meerkat has a system to prevent users from streaming copyrighted content, instead relying on other users to flag streams that violate copyright law.
Meerkat had copyright-related growing pains when it was introduced. For weeks, the email address it listed on its website for copyright complaints was broken, and emails sent to it bounced.
But since National Journal notified Meerkat CEO Ben Rubin about the problem last month, it seems to be fixed. An email sent to the address Thursday inquiring after the copyright process got a prompt reply from Rubin: "Of course it's working. Straight to the CEO—that's how much we care."
Rubin says Meerkat hasn't received any takedown notices for user content.
Although streaming has shown to be problematic for broadcasters and film studios, the industry has remained measured in its messaging. "I don't think there's been any major shift in thinking on this since we spoke," said the MPAA's Kate Bedingfield.
Chris Dodd, a former senator and the MPAA's CEO, isn't going after the streaming platforms either. "We don't want the tech world to think we have zero tolerance for new innovations and new ideas that come along," Dodd said at an event last week.
But John Fithian, CEO of the National Association of Theatre Owners, was more transparent. "Periscope is scary stuff," Fithian, who was speaking with Dodd at the event, said.
The Mayweather-Pacquiao fight is Saturday night. But fans will need to get out their wallets to stream it legally.