New Friends Court David Vitter Ahead of Possible Senate Vacancy
If Vitter wins his race for Louisana governor, he could appoint his replacement. At least three Republicans already are jockeying for position.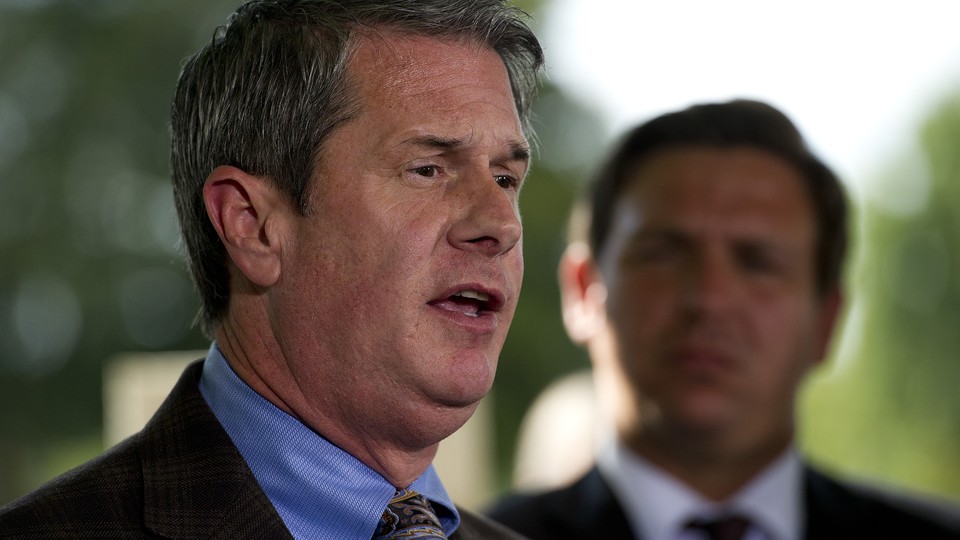 Sen. David Vitter, the front-runner to become Louisiana's next governor, has no shortage of friends and allies in his state. But one group is going to especial lengths to cozy up to Vitter this year: his potential Senate replacements, among whom Vitter would pick for a senatorial appointment should he win the governorship this fall.
Take GOP Rep. Charles Boustany, for example. He and Vitter haven't always been close, but lately, they've been spending a lot of time together. The Louisiana lawmakers teamed up for energy forums in Lake Charles and Lafayette early this year, and in April, they joined forces again for a tax forum in Lafayette, just one day after Boustany joined Vitter on the trail to endorse him for governor. Boustany repeated the pitch later that day to the Acadiana Young Republicans. Last week, they penned a joint letter to the Secretary of Veterans Affairs, highlighting their teamwork in bringing additional VA clinics to the state.
Vitter campaigned for Boustany's Republican House opponent in 2012. But ever since Vitter jumped into Louisiana's governor's race this January, he's found himself surrounded by allies likely and unlikely. At least three of those Republicans—Boustany, fellow Rep. John Fleming, and state Treasurer John Kennedy—are eyeing Vitter's place in the Senate, according to sources close to each of them.
Boustany's efforts, though a strong sign of his improved relationship with Vitter, are far from a lock on the job. Even if Vitter does become governor, he still could choose a temporary replacement while others run for a full term in 2016. And in the meantime, multiple Vitter allies are positioning themselves for the job.
"I have not asked for him to commit to appointing me, nor has he offered. We've really not even had that discussion," Fleming told National Journal in an interview. "But I've been there to introduce him, to endorse him publicly and in person, and to participate in his grassroots activities because I do think—regardless of what this means for me politically—I think he's the best person."
Fleming, a founding member of the House's ultra-conservative Freedom Caucus, passed on a Senate bid in 2014 when Vitter and others began consolidating support for then-Rep. Bill Cassidy to take on Sen. Mary Landrieu. Fleming said that if Vitter wins in November, he plans to seek the Senate seat in 2016 regardless of who gets the appointment. He's already raising money and building a grassroots organization with that in mind.
But Fleming thinks he's also in a good position to get Vitter's nod. (Vitter's office declined to comment.)
"I think that certainly since he and I are very similarly aligned from a political viewpoint—he is one of the most conservative members ... in the Senate, and I'm one of the most conservative members in Congress—I can only put myself in his shoes "¦ but if it were me and I were in his capacity, first of all I would choose someone who is of similar worldview," Fleming said. "By that, I mean obviously someone who is conservative."
While an appointed candidate still would have to run for election in 2016, they would have Vitter's stamp of approval and support from the National Republican Senatorial Committee, which supports GOP incumbents.
"At the end of the day, you want stability, and Mr. Vitter knows that the delegation has gone through a lot of change," said Jeff Brooks, a Louisiana lobbyist for Adams and Reese in Washington. "At this point with him leaving, he's going to want to have someone there that has some consistency "¦ someone who can hit the ground running and understands some of the issues."
In staying quiet on his decision, though, Vitter also has generated considerable goodwill for his gubernatorial campaign.
Kennedy, a two-time Senate candidate and Democrat-turned-Republican, also is looking at the race and believes he has a shot at the appointment as well. Though Kennedy is running for reelection as state treasurer, his campaign leaked internal polling memos earlier this spring that showed him leading a hypothetical 2016 Senate race. Some in Louisiana saw his decision to sit out the 2015 governor's race as a nod to Vitter, and a source close to Kennedy "wouldn't be surprised" if he endorsed Vitter soon.
"I have a very strong feeling that if it were to open up, he would run for it regardless of whether the appointment was given to him or not," said the source close to Kennedy, who asked for anonymity to discuss internal deliberations. "Whether he'd get the appointment or not from Vitter is unclear, but they've definitely teamed up over the years. "¦ They're allies on several issues that they share a lot of ground on."
The same is true, though, of Fleming. And in Boustany, Vitter now has an ally from the same region as one of his gubernatorial rivals, Republican Scott Angelle.
Vitter's allies have suggested the most important factor in his decision will likely be a candidate's ability to hold the seat if appointed "" an aspect not lost on those courting his support.
In the first quarter of 2015, Boustany raised more than $650,000 for his campaign, and one adviser said he could top that in the next three months. Fleming raised less in the first quarter but had more ($1.4 million) already socked away.
In January, Kennedy reported nearly $3.5 million on hand for his reelection effort. While that money can't be transferred to a Senate campaign fund, Kennedy's top aide of more than 18 years, Jason Redmond, recently started a super PAC that can raise and spend unlimited sums of money on congressional races. A Kennedy ally said he's also hired well-known GOP ad-maker Fred Davis to make TV spots for his reelection campaign in 2015, when he's not expected to face serious opposition.
In other words, like the high-fundraising Boustany and Fleming, Kennedy could be using 2015 to boost himself above and beyond what's needed with an eye on the Senate. And by the end of the year, Vitter may end up picking one of the three.