Mike Huckabee Says He's Formed an Exploratory Committee for a Presidential Run
The former Arkansas governor will provide details on his official announcement on Fox News Friday night.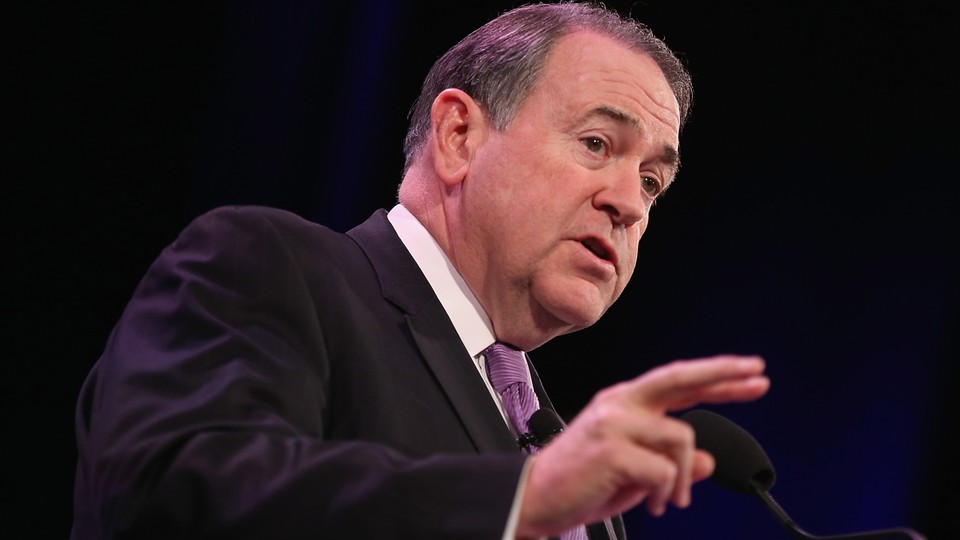 Taking another concrete step towards a 2016 presidential run, Mike Huckabee said Friday that he formed an exploratory committee for a bid in early April.
Speaking to a group of reporters in Washington, the former Arkansas governor said that he would give an idea of the timing and location of his official announcement during his 6 p.m. appearance on Fox News tonight.
"I will at least give people an understanding of when there will be an announcement and where," Huckabee said.
(RELATED: Ted Cruz and Mike Huckabee Are on a Collision Course as Evangelicals Audition 2016 Contenders)
Forming an exploratory committee allows Huckabee to raise money to fund travel and pay staff without formally becoming a presidential candidate. Paperwork hasn't yet been filed for the committee with the Federal Election Commission.
Huckabee insisted he has not made a final decision about the race yet, but he sounded like a candidate during his question-and-answer session with journalists Friday. He highlighted his experience battling "the Clinton political machine" during his Arkansas days, and sketched out a potential path to victory in the first slate of primary contests. Huckabee said he knows how to win Iowa, where he took first in the 2008 caucuses; he called South Carolina a "real good environment for us" and argued that he can be "competitive" in Nevada. He also noted that the group of Southern states planning to hold their primaries on March 1 are "strong states for me."
Huckabee did concede that New Hampshire would be a "tough environment" for his campaign.
(RELATED: Conservative Leaders Plan Two Secret Meetings Aimed at Picking a 2016 Candidate)
In January, Huckabee left his lucrative post at Fox News to consider a second White House bid. Earlier this week, he also announced that his nationally syndicated radio show would no longer be broadcast starting May 1.