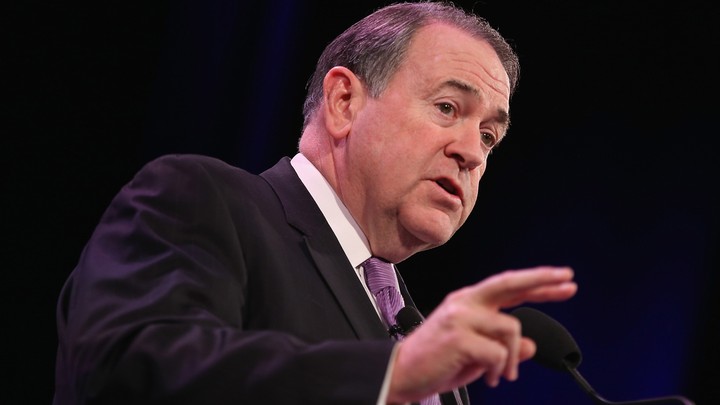 Taking another concrete step towards a 2016 presidential run, Mike Huckabee said Friday that he formed an exploratory committee for a bid in early April.
Speaking to a group of reporters in Washington, the former Arkansas governor said that he would give an idea of the timing and location of his official announcement during his 6 p.m. appearance on Fox News tonight.
"I will at least give people an understanding of when there will be an announcement and where," Huckabee said.
(RELATED: Ted Cruz and Mike Huckabee Are on a Collision Course as Evangelicals Audition 2016 Contenders) 
Forming an exploratory committee allows Huckabee to raise money to fund travel and pay staff without formally becoming a presidential candidate. Paperwork hasn't yet been filed for the committee with the Federal Election Commission.
Huckabee insisted he has not made a final decision about the race yet, but he sounded like a candidate during his question-and-answer session with journalists Friday. He highlighted his experience battling "the Clinton political machine" during his Arkansas days, and sketched out a potential path to victory in the first slate of primary contests. Huckabee said he knows how to win Iowa, where he took first in the 2008 caucuses; he called South Carolina a "real good environment for us" and argued that he can be "competitive" in Nevada. He also noted that the group of Southern states planning to hold their primaries on March 1 are "strong states for me."
Huckabee did concede that New Hampshire would be a "tough environment" for his campaign.
(RELATED: Conservative Leaders Plan Two Secret Meetings Aimed at Picking a 2016 Candidate)
In January, Huckabee left his lucrative post at Fox News to consider a second White House bid. Earlier this week, he also announced that his nationally syndicated radio show would no longer be broadcast starting May 1.
We want to hear what you think about this article. Submit a letter to the editor or write to letters@theatlantic.com.
Adam Wollner is an analyst for National Journal Hotline. Previously, he covered politics as an intern for NPR and the Center for Public Integrity. A native Wisconsinite, Wollner graduated from the University of Wisconsin-Madison in 2013 with a bachelor degree in journalism and political science.