Meet the Young, Cuban-American, Miami Republican Who Could Replace Marco Rubio in the Senate
Carlos Lopez-Cantera has many of the same connections and experiences as Rubio—as well as the senator's friendship.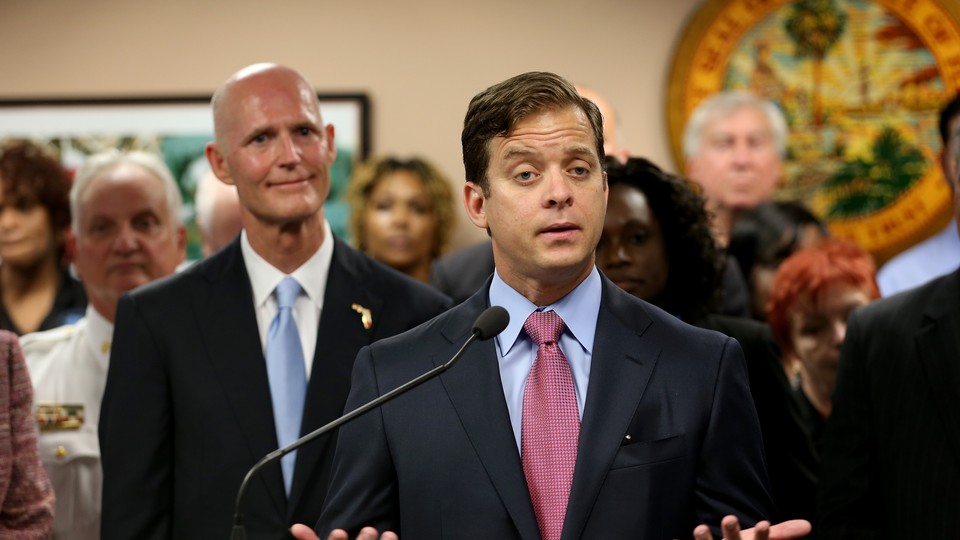 The Senate is in Marco Rubio's rearview mirror. The newly minted GOP presidential candidate still has his day job, of course, and he hasn't said much at all about the highly competitive race to replace him in Florida. But a long list of Rubio's early allies and friends say he has a favored successor, whether he makes that support explicit or not.
Young, charismatic, Cuban-American, and Miami-based, Florida Lt. Gov. Carlos Lopez-Cantera already looks Rubio-like on paper. But on top of that, Lopez-Cantera and the senator are close personal friends, with a relationship going all the way back to their work on Bob Dole's 1996 presidential campaign. And the 41-year-old lieutenant governor is about "95 percent there" on running for Senate, one source close to him said, with an announcement expected soon now that the state's legislative session is over.
If Lopez-Cantera does run, he'll take advantage of similar connections and experiences as Rubio. The two men, along with state Sen. Anitere Flores, Miami-Dade GOP Chairman Nelson Diaz, and a handful of other ambitious South Florida Republicans, got their start on Dole's race, deeming themselves the "Class of '96."
At 31, Lopez-Cantera won his first term in the state House representing Miami Beach; at 37, he was House majority leader. He built a conservative record in Tallahassee; during Gov. Rick Scott's first term, he rolled back tax hikes enacted by former Gov. Charlie Crist, before running for property appraiser in Miami, a difficult countywide office for any Republican. Rubio, by then a senator, helped boost his friend to victory.
(RELATED: Hotline's GOP Presidential Power Rankings: Rubio on the Rise)
"The lieutenant governor and Senator Rubio have literally been friends since 1995. "¦ They are considerably close," said Diaz. "In Dade County, it's hard to unseat an incumbent, whether its property appraiser or mayor or what. Marco helped him and endorsed him in that race. That helped, certainly within the Cuban community."
Both Rubio's campaign and Lopez-Cantera's office did not respond to requests for comment.
Their connections also run through the same roster of South Florida donors. At the top of that list is billionaire auto dealer Norman Braman, a former owner of the Philadelphia Eagles who has pledged to spend at least $10 million boosting Rubio's presidential campaign. Braman has donated to Lopez-Cantera's past campaigns and pledged his support for a Senate campaign.
"I think very highly of Carlos. He was an excellent legislator; he had a leadership role there. And he's done a wonderful job serving the state as lieutenant governor," Braman said in an interview with National Journal. "If he decides to become a candidate [for Senate], I will enthusiastically support him."
(RELATED: Why Bush and Rubio Can't Count on Florida)
Many Republicans hope that Lopez-Cantera, of Cuban heritage with a Catholic father and Jewish mother, might harness the same coalition as Rubio, helping the party navigate Florida's challenging demographic shift. Among Rubio's core support group in Miami, there's excitement about putting forward another young, Hispanic candidate who could motivate Hispanic voters to support Republicans—something Lopez-Cantera did on Scott's ticket in 2014.
"He's another son of the Miami Hispanic community and the diverse cultures that are there," said Flores, a long-time friend of both Lopez-Cantera and Rubio who now serves in the state Senate. "I think within the Hispanic community, this was a seat that was initially held by Mel Martinez, not just a Hispanic, but a Cuban American, followed by Sen. Rubio, and I think that it's crucial to have a statewide voice for Hispanics in a state that's as diverse as Florida."
"A lot of the skills that Marco brought to the table in 2010, the ability to alter the statewide map—those are very compelling to folks who are looking at this race; they see an opportunity with [Lopez-Cantera] to do the same thing," said one Florida Republican, who asked for anonymity to speak candidly about Rubio and Lopez-Cantera's relationship. "Marco Rubio is obviously a big fan of Carlos and encouraging him to do this, and that is not an inconsiderable factor in this race."
Lopez-Cantera's main competition for the Republican Senate nomination would likely come from Congress. Reps. Ron DeSantis and Vern Buchanan are both considering running; like the lieutenant governor, they start out as virtual unknowns outside of their districts. Despite Lopez-Cantera's statewide campaign with the governor in 2014, just 23 percent of Florida voters registered an opinion of him in an April Mason-Dixon survey. That's about the same as Rep. Patrick Murphy, the likely Democratic nominee.
(RELATED: Marco Rubio's Biggest Problem Isn't Jeb Bush)
While national conservative groups such as the Club for Growth quickly indicated their fondness for DeSantis, Lopez-Cantera's allies argue his record in the statehouse is conservative, too.
"I think that if you look at Lopez-Cantera's record in the House, he's a strong limited-government conservative who's right on issues across the board," said Florida GOP strategist Rick Wilson, a friend of the lieutenant governor's. "It's going to be hard for any candidate to say that Carlos Lopez-Cantera isn't the conservative in this race."
Within Lopez-Cantera's record, though, is a complicated history with immigration—again, not unlike Rubio. While Lopez-Cantera was serving in the state House, the chamber took up an immigration bill modeled after Arizona's SB1070, which would have allowed police to check the legal status of anyone who presented "reasonable suspicion." Democrats claim that Lopez-Cantera supported the bill in the state House, and Hispanic groups protested outside his Miami office. The House never actually voted on the bill, and Lopez-Cantera eventually changed his tone, voicing strong opposition after once calling the proposal a "reasonable and effective approach."
The Latino Victory Project, a nonpartisan organization to elect Latino lawmakers (and one that usually supports Democrats), said Lopez-Cantera's position on the issue was confusing.
"When it comes to issues Latinos care about, specifically immigration, we are unclear where he stands," said Latino Victory Project president Cristobal Alex. "We're excited by a 'first' for Florida's Latino community, but from what we know of his record so far, we're left scratching our heads. We will be watching this race carefully and, should he declare, hold him accountable on the issues that matter the most to the community."
Still, plenty of Republicans think Lopez-Cantera's potential to put south Florida in play could help the party across the ticket in 2016.
"He was one of the big assets to the [Rick] Scott campaign, he's a guy who ran as a conservative Republican and won in Dade County as property appraiser," said Wilson. "Marco Rubio won Dade County, Mitt Romney lost Dade County—you process these things as part of the big strategic picture in terms of the 2016 elections "¦ and that's a fairly unique selling proposition."
CORRECTION: A previous version of this story misstated Lopez-Cantera's father's heritage. He is fully Cuban.