McConnell's Patriot Act Bill Unleashes Long-Simmering Debate Over NSA Spying
Two years after the Snowden disclosures, a fast-approaching deadline is forcing Congress to take a definitive stand on government surveillance.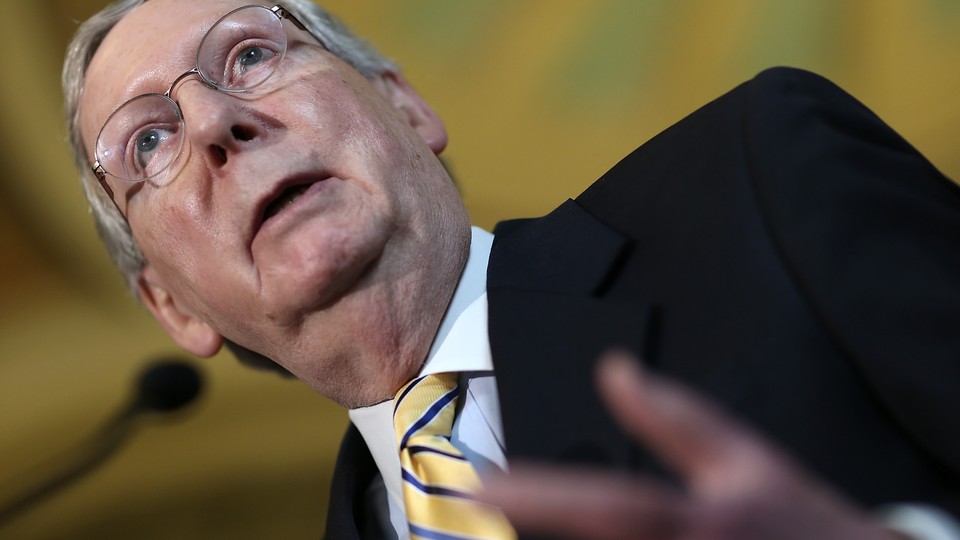 Congress is finally being forced to choose once and for all whether it wants to rein in the National Security Agency.
And the time for substantive reform is running out.
Senate Majority Leader Mitch McConnell's surprise decision late Tuesday to introduce a fast-track bill to preserve the National Security Agency's bulk collection of U.S. call records has brought a debate over government surveillance back into the limelight, as lawmakers will be forced to choose whether they favor the status quo or a new package of intelligence reforms.
(RELATED: Key Republican is Not On Board With NSA Reform)
The late-night maneuver is also magnifying a rift within the GOP on national security and privacy that has yet to close nearly two years after the Edward Snowden disclosures began. Congress has until June 1 to renew the Patriot Act before core provisions of it expire.
The bill, cosponsored by Senate Intelligence Chairman Richard Burr, would extend the expiring Section 215 of the Patriot Act until December 31, 2020, thus preserving the legal justification the NSA relies on to collect Americans' phone metadata—the numbers, time-stamps, and duration of a call, but not its content.
The political battle lines are not neatly drawn, as McConnell faces both Democratic and Republican opposition in his chamber—and likely even more resistance for a clean reauthorization in the House, where a bipartisan cohort had been expected to debut a long-awaited NSA-reform bill on Wednesday that would effectively end the phone dragnet.
(RELATED: John Oliver is the Most Powerful Tech Lobbyist in the Country)
Senate Judiciary Committee Chairman Chuck Grassley has for weeks been involved in bipartisan and bicameral talks over an NSA-reform bill, but would not comment Wednesday on whether he would support McConnell's approach. The Iowa Republican said he intended to continue reform negotiations, however.
"I am in the process of talking to people," Grassley said. "I've got the view of the Judiciary committee members, but I don't have the view of people on the Intelligence Committee."
Though Burr supports a clean reauthorization, Sen. Dianne Feinstein, the top Democrat on the Intelligence Committee, appears less inclined.
(RELATED: Where the 2016 Republicans Stand on NSA Spying)
"I doubt that straight authorization will succeed, so there needs to be a fallback," she said.
Long a vocal defender of the NSA, Feinstein acquiesced late last year and voted with her party for the USA Freedom Act, a reform measure that would have ended bulk phone collection in favor of a system that would allow records to be obtained from phone companies on an as-needed basis with judicial approval.
But after years of trying to settle on reforms to change the nature of mass surveillance, the looming deadline for the Patriot Act's renewal could present a major obstacle for activists, tea-party conservatives, and Democrats who were all hoping Congress had the appetite to overhaul the way the country collects its intelligence. For privacy advocates, McConnell's fast-track is exactly what they feared. Under the gun of an expiring clock, Congress has extended the Patriot Act before, often with pledges to have a more robust debate when they can find more time.
(RELATED: SEC Reveals It Doesn't Use Email Snooping Power It Defends)
"The problem is if [Republican leaders] jam it in at the end; they don't give you opportunities for the type of consideration we should have," said Sen. Ben Cardin, a Maryland Democrat who added that renewing the Section 215 until 2020 was too long an extension.
Even some Democrats who once were committed to changing the Patriot Act, appeared resigned to the reality that they are up against the clock at this point with an Obama administration that would rather see a complete renewal of the Patriot Act than complete expiration of the three provisions due to sunset on June 1.
"I am sure the administration wants to see something, too," said Senate Minority Whip Dick Durbin. "[McConnell] is trying to single out those issues where the administration is moving forward and he can join the parade."
(RELATED: Phone Company Refuses to Stop Denouncing ALEC's Telecom Policy)
But McConnell's gambit also puts him directly at odds with those in his own party who are making a run for president. That includes Rand Paul, Kentucky's junior senator. The libertarian-leaning White House hopeful pledged to end NSA mass surveillance "on day one" if elected president, and he voted against a reform package late last year because he said he couldn't stomach supporting anything that extended the Patriot Act.
For presidential hopeful Sen. Ted Cruz, who voted for the NSA-reform package last year, the McConnell bill is difficult to navigate. If he votes against it, it is a chance to rally against the Washington establishment and keep his commitment to reform the NSA. But, if McConnell's bill is the only option on the table, it may make it harder for Cruz to vote against it, as it could open the senator up to criticisms that he puts civil liberties too far ahead of national security.
McConnell's push forward, however, delighted many hawks in the Senate who have long advocated that the NSA's programs are a cornerstone to U.S. national security and even more important now, as the United States faces threats from every corner of the world, from the Middle East to Russia.
"If you haven't learned from the world as it is today that we need a good surveillance program and tools to keep the enemy away from our shores, then you have missed a lot," said Sen. Lindsey Graham, a South Carolina Republican who is also eyeing a run for president. "The Patriot Act's purpose is to protect us against another 9/11. If we had had the Patriot Act the first time, we could have most likely have prevented 9/11."
But even if McConnell can cobble together enough support in the Senate for a straight renewal, that doesn't mean the House will go along.
The tea-party-infused lower chamber has shown repeatedly that it holds deep reservations about the NSA. Months after the Snowden disclosures emerged, the House came within 12 votes of defunding the agency's bulk phone-surveillance capabilities. Last year, a pared-down version of the Freedom Act passed 303-to-121, though it shed the support of privacy groups and tech companies due to 11th-hour changes made by House leadership.
"It's a fringe measure that has no chance of passing Congress," said Rep. Justin Amash, a libertarian Republican, in a statement regarding McConnell's bill. "No serious representative or senator thinks it's OK to reauthorize unconstitutional spying on all Americans."