Marco Rubio Makes His Pitch as the Fresh Face of the GOP in 2016
The Florida senator officially launched his presidential campaign in Miami Monday night.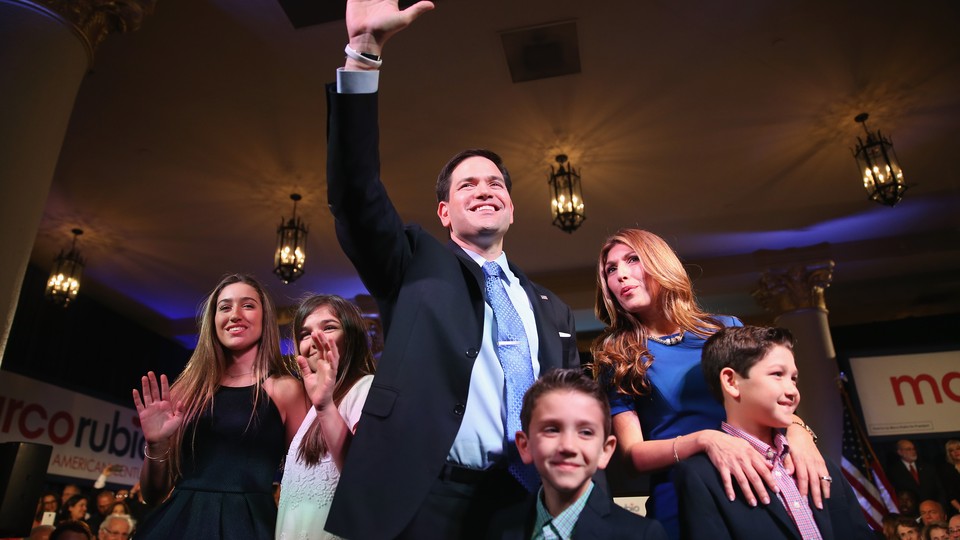 Marco Rubio officially announced Monday night from Miami that he's running for president in 2016—and he isn't looking back.
After days of promoting a "big announcement" on his Twitter feed and Facebook page, the senator had let the news slip on a conference call Monday morning, telling donors that he was "uniquely qualified" for the office, according to the Associated Press.
"I have heard some suggest that I should step aside and wait my turn," Rubio said Monday night. "But I cannot. Because I believe our very identity as an exceptional nation is at stake, and I can make a difference as president."
Rubio has repeatedly sought to drive the narrative that he is the fresh young face of tomorrow, in contrast to presumptive Democratic nominee Hillary Clinton and all-but-certain primary opponent and fellow Floridian Jeb Bush. On Monday, he emphasized that he is a part of a new crop of leaders, noting that the 2016 election would be "a generational choice about what kind of country we will be.
"We Americans are proud of our history, but our country has always been about the future," he said. "Before us now is the opportunity to author the greatest chapter yet in the amazing story of America. We can't do that by going back to the leaders and ideas of the past. We must change the decisions we are making by changing the people who are making them."
In the speech, he outlined the pillars of his campaign's "new American century."
"If we reform our tax code, reduce regulations, control spending, modernize our immigration laws, and repeal and replace Obamacare, the American people will create millions of better-paying modern jobs," he said. He also highlighted the importance of revamping higher education for the 21st century, his antiabortion stance, and his hawkish foreign policy views.
Rubio made his pitch at Miami's Freedom Tower, an iconic landmark steeped in meaning for both the senator personally and the types of voters his campaign hopes to draw. An Ellis Island of sorts for Cuban exiles arriving in Miami, the building fits well with Rubio's long-burnished narrative of the American Dream: He repeated the oft-told story of how his mother, a maid, and father, a bartender—both Cuban exiles—were able to raise a son who went on to become a U.S. senator. He even titled his treatise on the economy, released earlier this year, American Dreams.
"My father stood behind a small portable bar in the back of a room for all those years, so that tonight I could stand behind this podium in the front of this room," he said. "That journey, from behind that bar to behind this podium—that's the essence of the American Dream. And whether or not we remain a special country will depend on whether that journey is still possible for those trying to make it now."
At one point, lamenting that his father was not alive to share the moment with him, Rubio spoke in Spanish, translating what his father used to tell him as child: "In this country, you will achieve all the things we never could."
The Freedom Tower served as an assistance center for Cuban refugees from 1962 to 1974, giving thousands of exiles access to basic medical services as well as food handouts. In using the structure as a backdrop for his campaign launch, Rubio, the second Cuban-American to join the fight for the Republican nomination—his Senate colleague Ted Cruz is the son of a Cuban exile who fled Batista's rule—hopes to drive home his forward-looking campaign slogan, "A New American Century."
The setting also draws a contrast between his humble beginnings and the dynastic backgrounds of Clinton, the wife of a former president, and Bush, the son and brother of presidents.
"For almost all of human history, power and wealth belonged only to a select few," Rubio said Monday. "Most people who have ever lived were trapped by the circumstances of their birth, destined to live the life their parents had. But America is different. Here, we are the children and grandchildren of people who refused to accept this."
He even took a direct jab at Clinton—though he didn't use her name—noting that the secretary of State had announced her own candidacy Sunday.
"Just yesterday, a leader from yesterday began a campaign for president by promising to take us back to yesterday," he said. "But yesterday is over, and we are never going back."
During his speech, the senator's newly launched campaign website, MarcoRubio.com, went offline. The revamped site came back soon after the speech ended.
This wasn't the end of Rubio's day. Following the post-announcement paths of Ted Cruz and Rand Paul, the senator was set to appear on Fox News' Hannity on Monday night for an hour-long interview.