Marco Rubio: Initial Details of Iran Deal 'Troubling'
The senator from Florida blasted the Obama administration's nuclear agreement with Iran.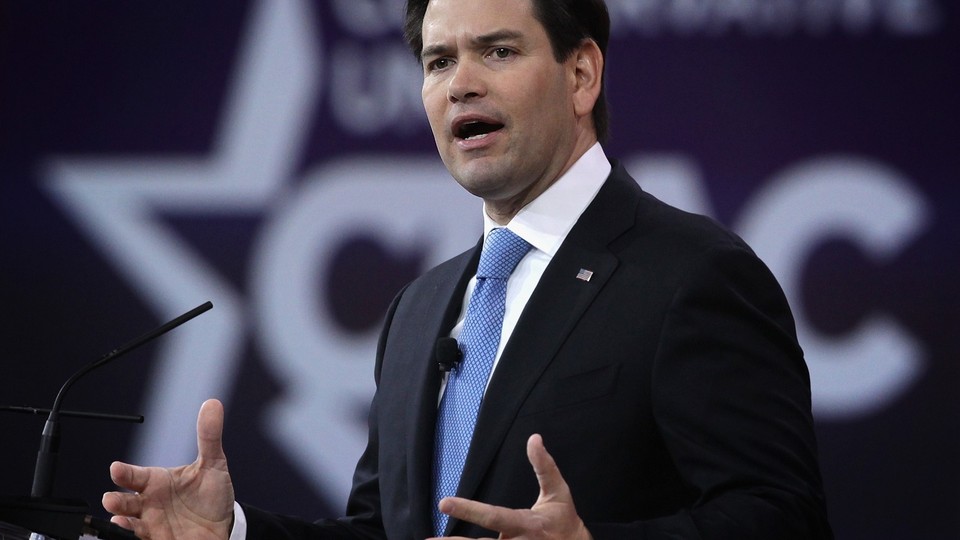 One of the biggest hawks in the 2016 GOP field is blasting President Obama's nuclear agreement with Iran.
Marco Rubio, Florida's junior senator, said in a press release just hours after the deal was announced Thursday afternoon that while he looks forward to hearing the specific terms, "the initial details appear to be very troubling."
"This attempt to spin diplomatic failure as a success is just the latest example of this administration's farcical approach to Iran," Rubio charged. "Under this President's watch, Iran has expanded its influence in the Middle East, sowing instability throughout the region. Iran's support for terrorism has continued unabated without a serious response from the United States."
Calling the framework a "colossal mistake," Rubio, who is expected to announce his presidential campaign later this month, took issue with many aspects of the agreement: that it allows Iran "to retain thousands of centrifuges" and to keep "facilities such as Fordow open," and that it does not limit the country's ballistic-missile program.
"I intend to work with my colleagues to continue to ensure that any final agreement, if reached, is reviewed by Congress," Rubio said, "and that additional sanctions continue to be imposed on Iran until it completely gives up its nuclear ambitions and the regime changes its destructive behavior."
Congressional Republicans have hounded the Obama administration on the deal in the months leading up to its unveiling. They don't trust the Iranian regime to abide by an agreement, they say, and have demanded congressional review of any negotiation reached.
Last month, Sen. Tom Cotton of Arkansas sent a letter to Iran's leaders, signed by 47 Republican senators, promising that any deal reached with Obama could be undone by Congress or the next administration. While the highly controversial move was seen by some as undermining the president's foreign policy, many Republicans—including Rubio—backed its message.
"Our message to Iran should be clear: until the regime chooses a different path, the United States will continue to isolate Iran and impose pressure," Rubio said Thursday. "Today's announcement takes us in the opposite direction, and I fear it will have devastating consequences for nuclear non-proliferation, the security of our allies and partners, and for U.S. interests in the region."