Marco Rubio: Mr. Good Enough
With many GOP voters saying they'd consider the Floridian and few ruling him out, he's got a high ceiling.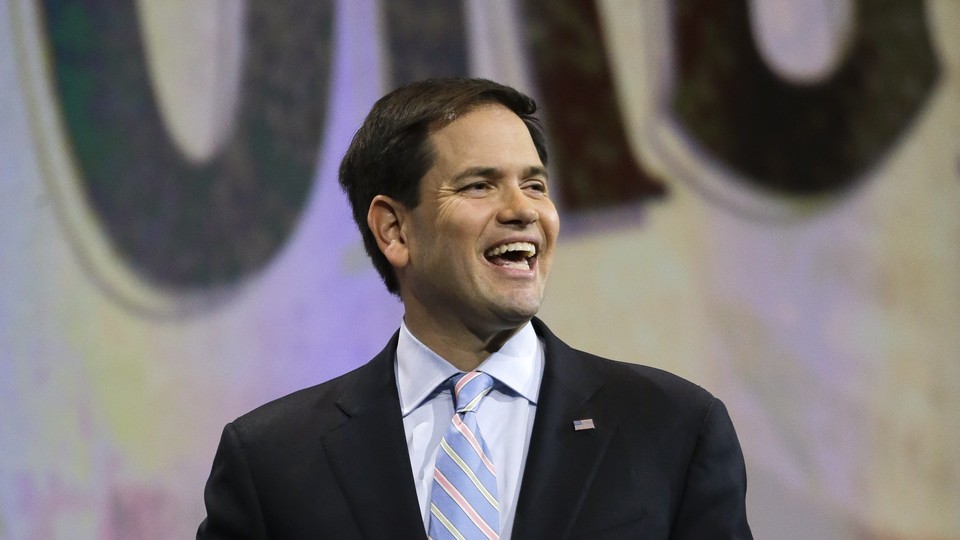 Let's say you're 42 years old—a spring chicken, and yet already a high-profile member of Congress. You've got a seat in the Senate that seems fairly secure. Meanwhile, the Republican presidential field is jam-packed, one of the strongest groups in recent memory, and running for president would mean surrendering your Senate seat. Your whole career is ahead of you. Why run for president?
Only Marco Rubio can really answer that question, and the Florida senator is unlikely to answer it in those terms. But he's made his choice. He told donors he was running on Monday morning, and he'll kick off his campaign with an appearance in Miami in the early evening.
Here's one theory, though: Rubio is the perfect second choice for GOP voters. Though he isn't leading in polls, many Republicans say they're willing to consider him and very few rule him out, compared to most of his rivals. All he needs is for other candidates who inspire more passion to falter and their supporters to coalesce around him, and he could be set to take on Hillary Clinton.
Rubio's support right now is decent but not stunning—in RealClearPolitics's average, he's at 7.3 percent, better than much of the field but behind Jeb Bush, Scott Walker, Ted Cruz, Rand Paul, Ben Carson, and Mike Huckabee. (Cruz and Paul have both benefited from recent leaps after declaring their candidacies.) Many of these candidates have extremely motivated supporters, but each of them has apparent limitations. Bush's record is more moderate than many Republican primary voters, and he's taken flak for his stances on Common Core and immigration. Walker has never run a national campaign and is under fire for flip-flopping. Cruz and Paul are both far enough outside of the political mainstream that they'd likely have to cobble together unprecedented coalitions to win. Carson is still largely a cipher and has never run a race. Huckabee's culture-warrior persona seems to limit him.
The result is that while Rubio may not inspire the same rabid loyalty that Ted Cruz does, or marshal the establishment backing that Jeb Bush can, his ceiling is much higher than the rest of the field. Here are numbers from a recent NBC News/Wall Street Journal poll that show that a huge portion of Republicans are willing to consider voting for him:
---
Who Would Republicans Voters Consider Backing?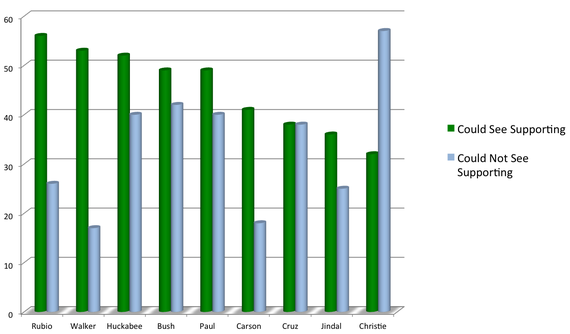 Polling from CBS News offers a similar though less dramatic picture.
This isn't to set aside Rubio's weaknesses. He has to compete with Jeb Bush, a friend and former political mentor, just for support in Florida. His support for immigration reform may continue to be an albatross among GOP primary voters. And he hasn't electrified voters yet, despite a great political presence.
But Rubio thrives on disadvantage. He reached the Senate after defeating Charlie Crist, then seen as a prohibitive frontrunner, coming from single-digit polling to win the Republican primary. (It's funny to remember that Rubio was then seen as one of the most visible avatars of the Tea Party movement. The proof that "Tea Party" is not an especially useful descriptor is that Scott Walker, Ted Cruz, Rand Paul, and Rubio all rose to prominence as Tea Party candidates, and yet all four have carved out distinct personae in the 2016 contest.)
There are good reasons why smart analysts see Bush as Rubio's biggest obstacle, but if Rubio's high ceiling is his great hope, then he needs to be worried about Walker, too. Many, many voters are also willing to support the Wisconsin governor, and the number who rule him out is smaller than Rubio. Rubio's backers wave this off, saying that Walker isn't ready for a national stage and will flame out, pointing to Walker's fumbles on foreign-policy questions—a Rubio specialty—and waffling on other issues.
But Walker has something that Rubio doesn't, yet, and that's strong polling numbers. The problem with being everyone's second choice is having to rely on more popular competitors collapsing. Rubio has enormous potential as a candidate, but as some point, he will have to convert that to actual support.