Local Party Leaders: Laura Capps Faces an Uphill Battle to Win Mother's House Seat
The daughter of retiring Rep. Lois Capps has been mentioned as a successor for years, but there's another early favorite for the California seat.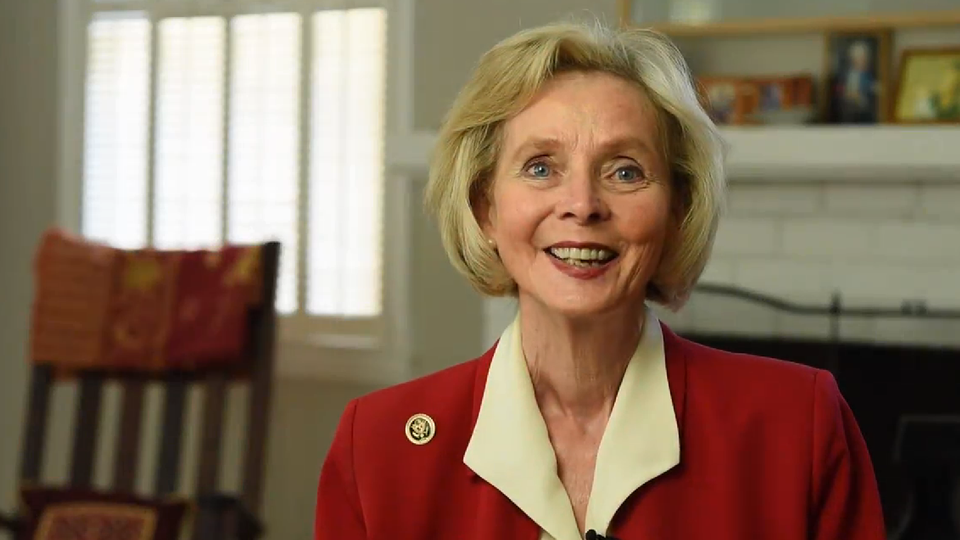 California Democratic Rep. Lois Capps's retirement announcement set the stage for a much-discussed D.C. rumor to come to fruition: that her daughter would take her place in Congress.
But Laura Capps—a consultant, former congressional staffer, and former speechwriter for Bill Clinton who moved back to the district two years ago from Washington—is far from a guarantee to win if she runs.
Santa Barbara County Supervisor Salud Carbajal looks like the early favorite, according to the county Democratic Party chairs in the district, thanks to his 11 years in office and his visiblity around the district. That's despite Lois Capps's popularity (she was named the House's nicest member, "hands down," by Washingtonian magazine) and the name-recognition advantage her daughter would inherit if she runs.
"Capps is a name that everybody in the district knows, obviously," said Santa Barbara County Democratic Party Chair Daraka Larimore-Hall. Lois Capps took over the seat in 1998 when her husband, Walter, died during his first term. "And any elected official whose last name isn't Capps has to teach the voters their name. But Salud's already got a campaign network in place throughout the district."
There's also another Democrat, Santa Barbara Mayor Helene Schneider, already running in the Democratic-leaning district, plus longtime campaign finance advocate Bill Ostrander.
"The candidate with the most institutional support is Salud Carbajal by a pretty significant margin. "¦ If I had to pick someone at this super-early stage, it would be Carbajal," Larimore-Hall continued. He noted that Carbajal's local political connections go back further than Laura Capps's.
Carbajal had already made it clear that he was interested in a congressional run, said Pat Harris, the Democratic Party chair in neighboring San Luis Obispo County.
"Salud has made himself very visible in our county, even though he's a Santa Barbara County supervisor," Harris said. "I don't know about Laura. I hadn't counted on her being a candidate. I've seen Congresswoman Capps with Salud in a number of places, and I thought that indicated support for him."
Laura Capps would have plenty of time on the campaign trail to prove herself, if she enters the race, and it's unlikely that she would struggle to raise funds. She has her own lengthy political contact list from years of working for the likes of Clinton, Edward Kennedy, and John Kerry—and Capps's husband, Bill Burton, co-founded the super PAC that backed President Obama in 2012.
And even though she hasn't entered the race yet, Capps already earned praise from one major PAC: EMILY's List, which backs pro-choice Democratic women for office.
"We are excited that Laura Capps is taking a serious look at this race," said Marcy Stech, communications director for EMILY's List. "Laura is a progressive champion for Santa Barbara women and families and would be a fantastic candidate who can keep this seat in Democratic hands."
But unlike Laura Capps, Carbajal has had the advantage of travelling the district, regardless of Lois Capps's plans.
"It was important for me to give my mom the space and time her decision and announcement deserved," Laura Capps said in a statement. "Now that she has, I am doing due diligence and will have a decision to share soon."
Schneider, meanwhile, doesn't have the same institutional support as Carbajal. Her decision to block a popular freeway expansion, for example, rankled some local Democrats, Larimore-Hall said. (Schneider conceded: "I'm sure some people were upset by it, but part of my job is and will be to speak out for my constituents.")
On the Republican side, 2014 candidate Justin Fareed, a former UCLA football player who failed to advance through the top-two primary by just 614 votes, has announced that he'll run again. State Assemblyman Katcho Achadjian said he is considering running. And actor Chris Mitchum, who unsuccessfully challenged Lois Capps in 2012 and 2014, has not said whether he'll run again.
Democrats are worried about how the Republican field will shape up. Thanks to California's top-two primary system, all candidates vie for two spots in the general election, regardless of party. If two Republicans and three or four Democrats enter the race, the vote could split such that the two Republicans move on to the general election, despite Democrats' registration advantage in the district. That happened in another California district in 2012.
"It's enough of a worry that party leaders, people whose job it is that this stays a Democratic seat, are watching very carefully," Larimore-Hall said.
Update: This post has been updated with a comment from EMILY's List.