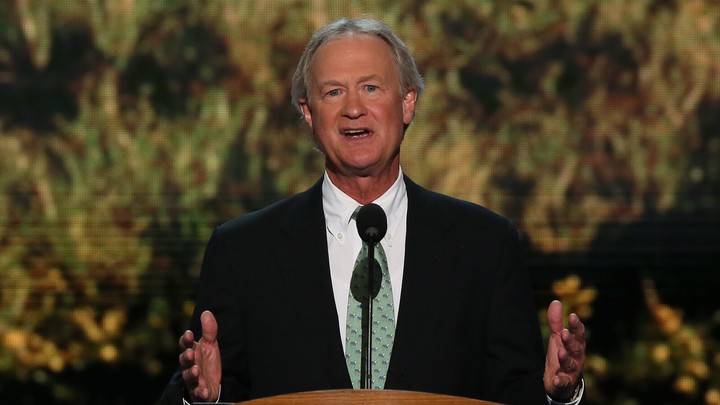 Lincoln Chafee, a former U.S. senator and governor of Rhode Island, announced that he is forming a presidential exploratory committee.
Chafee's campaign website slogan—"Politics change. Values don't."—is apt, considering that he started out his political career as a Republican, then became an independent before finally switching to the Democratic Party while he was governor. And while he was nominally Republican during his time in Congress, he was the only Republican senator to vote against the Iraq War.
"As we look to the future in this age of nuclear weapons, I am alarmed about the international instability, especially in the Middle East and North Africa. I don't like where this is going," Chafee said in his video announcement. "Throughout my career as mayor, governor, and United States senator, I exercised good judgment on a wide range of high-pressure decisions; decisions that require level-headedness and careful foresight. Often these decisions came in the face of political adversity. During the next weeks and months, I look forward to sharing with you my thoughts about the future of our great country."
Chafee's campaign website also features an endorsement from former Democratic Sen. Robert Byrd—who has been dead for almost five years. The endorsement appears to be excerpted from Byrd's farewell speech to Chafee before Chafee left the Senate in 2007 after losing reelection.
With his announcement, Chafee joins the slightly widening pool of Democratic back-benchers considering a 2016 run, along with Martin O'Malley, Jim Webb, and Sen. Bernie Sanders.
"The Republicans have lots of choices," Chafee told a Rhode Island radio station on Thursday. "I feel that Democratic voters deserve choices too."
Correction: As governor of Rhode Island, Chafee did not run for reelection.
We want to hear what you think about this article. Submit a letter to the editor or write to letters@theatlantic.com.
Emma Roller
is a former staff correspondent for
National Journal
.