Jimmy Fallon Wants Chris Christie to Be More Like the Hulk
The host and New Jersey governor talked presidential politics on The Tonight Show.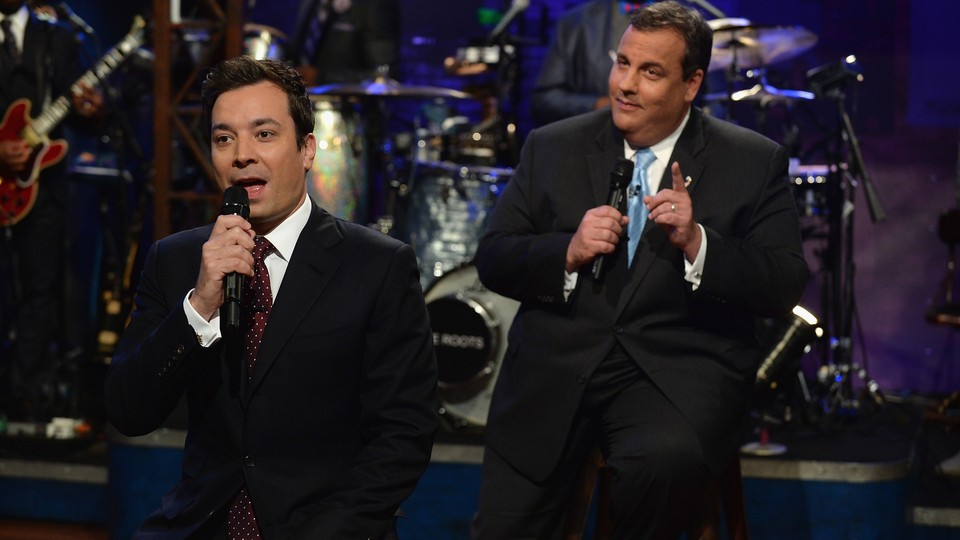 Chris Christie has a new communications director: Jimmy Fallon.
As the New Jersey governor has bounced around the East Coast these past two weeks ahead of a potential presidential run—a New Hampshire town hall here, a foreign policy conference there—he has showcased a more demure side of himself, with little of the fiery personality that made him famous on the national stage. And Fallon must have noticed.
On Wednesday's episode of The Tonight Show, the comedian-host asked Christie how he feels about the 2016 candidates who've already hit the campaign trail. Christie's coy reply—that they're all "fine Americans"—set Fallon off, and he gave the governor some messaging advice.
"This is not the Chris Christie that I want," Fallon said.
Christie and Fallon have a longstanding guest-host relationship, with the governor appearing on the show a half-dozen times since he took office. The governor has been the target of Fallon's friendly jabs over the years, and the two have slow-jammed and danced together over the course of their "bromance."
Fallon's chiding on Wednesday night prompted the governor to revise his answer.
"If I run, oh, you'll find out exactly what I think of them," Christie said, to the delight of Fallon.
"See, this is what I'm talking about—that's what I want," Fallon said. "I want the Hulk. I want the Hulk to come out. I want you to get green, I want you to get mean, I want you to get loud, I want you to tell people, 'Shut up and sit down'—that guy. We love that guy."
Fallon was quoting something Christie yelled at a heckler during a Hurricane Sandy anniversary ceremony last year. After correcting Fallon on his phrasing—"It's 'Sit down and shut up'"—Christie insisted he has been his true self all along.
"I hate politics where people are like programmed robots. They all sound like Charlie Brown's teacher," he said. "I tell you: They'll say a lot of stuff about me—they won't say I sound like everybody else."
Fallon said Christie's signature style is "refreshing" to Americans, and he wants to see Christie yell at the opposition during presidential debates. The governor didn't rule out getting loud.
"I just have to be myself," he said. "That's it, and if people like it, great. If they don't, I can get another job."