Jeb Bush to National Review: 'I Love You,' But 'You're Wrong on Immigration.'
The likely presidential candidate did not equivocate at the conservative magazine's summit on Thursday.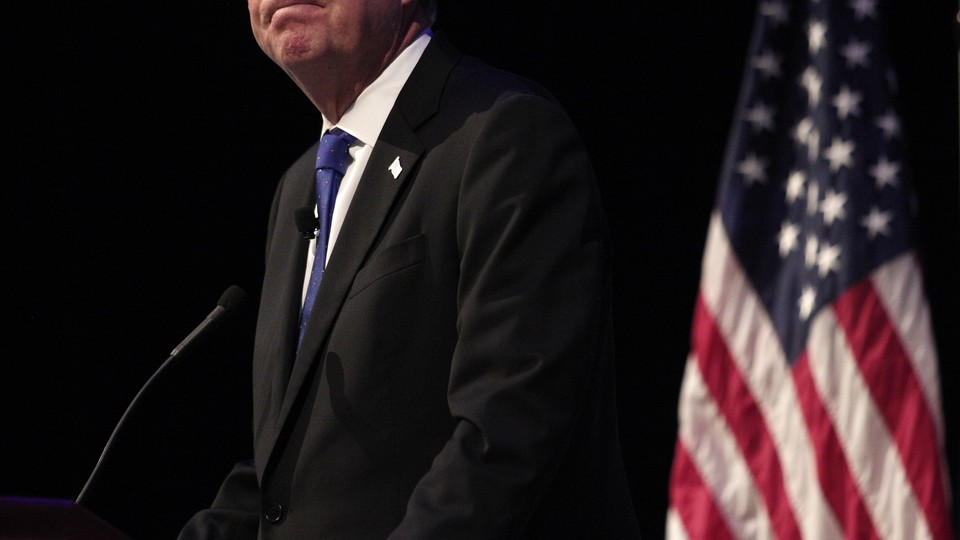 In the Republican presidential field, Jeb Bush appears more and more to be a moderate outlier—not necessarily because he is changing his views, but because so many of his potential competitors are racing each other to the right.
This dynamic was on full display on Thursday, when the former Florida governor spoke at a summit hosted by National Review, where Sen. Marco Rubio, Gov. Bobby Jindal, and Gov. John Kasich will speak on Friday. In an interview with Rich Lowry, Bush held fast on his immigration record, and argued that it is better to narrow access to citizenship to spouses and children and "expand based on need," rather than cutting off that pathway completely.
"That's how you're going to grow your economy, is bringing young, aspirational people in," Bush said. "I think I'm right about this, and if we're going to grow economically, then we better figure out how to fix this quick."
Bush said President Obama wants to see reform delayed, so he can continue to use it as a cudgel against Republicans.
(RELATED: Why Jeb Bush is Talking About Income Inequality)
"He uses this as a wedge issue, and we always lose," Bush said. "We're gonna turn people into Republicans if we're much more aspirational in our message, and I think our tone has to be more inclusive as well."
"I love you and I love National Review," he added. "I just think you're wrong on immigration, and you think I'm wrong."
Indeed, the conservative magazine has shown ample skepticism about Bush on his immigration record. One recent story was headlined, "Is Jeb Bush Too Enthusiastic about Immigration?" Another recent story called into question Bush's connection to American Action Forum, an outside group pushing for immigration reform.
In the interview, Lowry pushed back on Bush, saying that some would argue bringing in more low-wage workers is an issue of supply and demand that would disadvantage American job-seekers.
(RELATED: Is Immigration A Poison Pill For Jeb Bush?)
"Who's suggesting that?" Bush shot back. "That's a false argument."
There is a real fault line here between prominent conservative thinkers and the establishment Republicans who want to be their president. To a lesser extent, Rubio has felt the burn after putting forth his own immigration reform plan in 2013. Since then, he's been much more wary of hinting at any kind of P-A-T-H-W-A-Y.
Bush, meanwhile, continues to forge ahead with what he's believed since at least 2009: that the government should offer undocumented immigrants living in the U.S. a path to citizenship. Back in 2012, Bush told a reporter that he supported citizenship for the children of undocumented immigrants, otherwise known as Dreamers.
"Having a solution to the fact that we have all of these young people—many of whom are making great contributions, don't have a connection to their parents' former country—yeah, of course I'm for it," Bush said at the time. "But then again, I'm not running for anything, and I can speak my mind."
Now that he is (potentially) running for something, Bush's gamble is that he can continue to speak his mind without getting a swift smack upside the head.