Jared Polis Just Proposed Something Unusual: Banning Steve King From Legislating
Fed up with King's policies, Polis attempted Friday afternoon to silence his conservative colleague.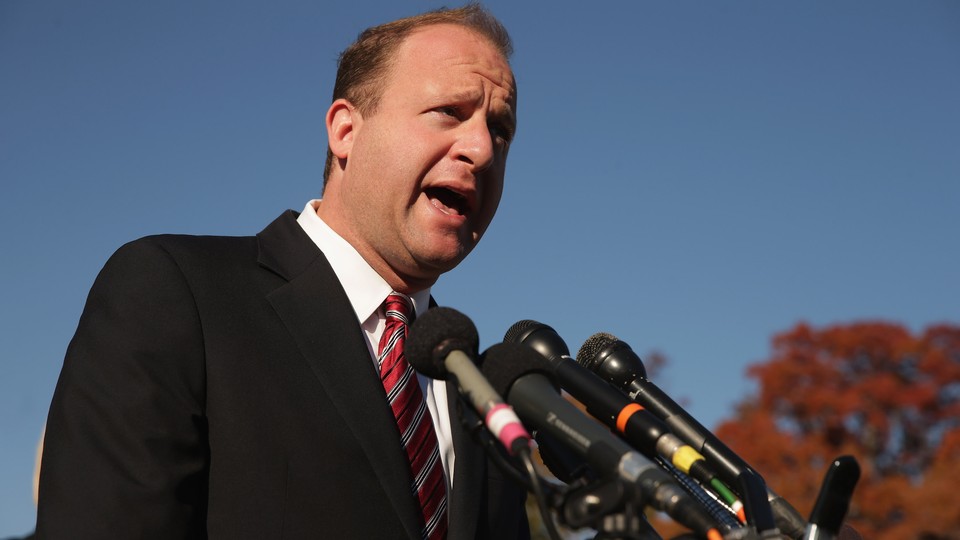 What do you do when you're fed up with a fellow lawmaker in today's gridlocked Congress?
Propose a bill that bans your adversary from legislating.
On Friday, Jared Polis—the eccentric Democratic congressman from Colorado who once funneled a Coors Light with then-Comedy Central funnyman Stephen Colbert—announced that he was introducing the "Restrain Steve King from Legislating Act" in response to King's most recent attempt to stop federal courts from ruling on gay marriage. Two days ago, King introduced the "Restrain the Judges on Marriage Act," just before the Supreme Court is poised to hear a case on same-sex marriage next week.
As you might expect, there are no plans to formally propose a bill to stop King from legislating, Polis's office said Friday afternoon. The satirical announcement was merely meant to draw attention to King's contentious proposals, his office said.
"For too long, Steve King has overstepped his constitutionally nonexistent judicial authority," Polis said in a relatively tongue-in-cheek statement released by his office. "Mr. King has perverted the Constitution to create rights to things such as discrimination, bullying, and disparate treatment. These efforts to enshrine these appalling values as constitutional rights were not envisioned by the voters, or by King's colleagues who must currently try to restrain his attempts to single-handedly rewrite the nation's founding principles on a bill-by-bill basis.
The statement continued: "I urge the House to bring this bill to the floor. If passed, my bill would preserve the right of millions of voters in all 50 states who would prefer that Steve King refrain from legislating a role for himself in their marriage decisions."
King, one of the most socially conservative members of the House, has built a reputation as a hardliner on immigration. He has sponsored bills to take away birthright citizenship for children who are born to immigrant parents residing in the U.S. illegally, and also has sought to make English the official language of the United States.
This is not the first time Polis has proposed an obviously improbable solution to mock a fellow lawmaker with whom he disagreed. In a press release in January, Polis argued that if Florida Sen. Marco Rubio wanted to permanently extend government surveillance, maybe the national security infrastructure should spy on Rubio 24 hours a day.
"If Senator Rubio believes that millions of innocent Americans should be subject to intrusive and unconstitutional government surveillance, surely he would have no objections to the government monitoring his own actions and conversations," Polis said in a statement back then. "Maybe after his 2016 strategy documents are accidentally caught up in a government data grab, he'll rethink the use of mass surveillance."