Is Virginia Becoming a Liberal State? Some Democrats Are Betting on It.
Democratic leaders in Virginia are embracing liberal stances on social issues in a way that would have been unthinkable just a few years ago.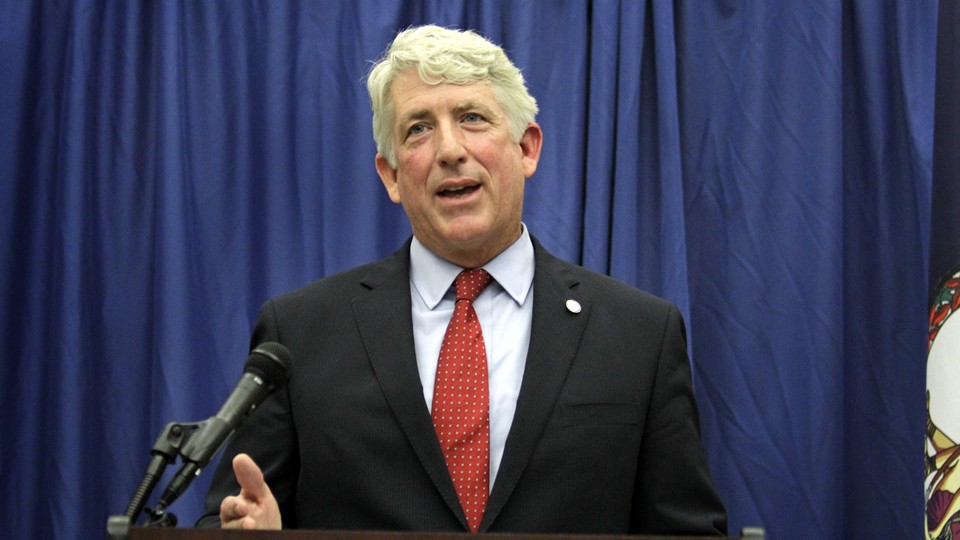 As two of Virginia's top Democrats weigh running for governor in 2017, potentially against each other, they are embracing traditionally liberal issues in a way that would have been politically toxic just years ago in the Upper South state.
The bet that both Attorney General Mark Herring and Lt. Gov. Ralph Northam are making is not only that the strongest possible progressive record would help win a Democratic primary, but that it will also help in the general election. Nationally, Democrats have grown emboldened on cultural issues over the past few years, and Virginia—where demographic shifts have widened their path to victory through diversified, left-leaning urban and suburban regions—might be the place feeling that trend most acutely.
Northam already has said he'll run, but Herring (who has not announced his plans) has attracted national attention since taking office for a series of actions derided as "activist" by Virginia conservatives. The attorney general declined to defend the state's gay marriage ban in court, interpreted that Virginia law qualified children of some undocumented immigrants for lower in-state college tuition rates, and filed a brief supporting President Obama's 2014 executive order on immigration.
Republicans in the state legislature saw Herring's moves as antithetical to his 2013 campaign pledge to "take politics out of the attorney general's office." One columnist dubbed Herring the "liberal Cuccinelli," referring to hard-charging former Republican Attorney General Ken Cuccinelli. Cuccinelli's conservative record as AG helped him secure his party's gubernatorial nomination two years ago, but it also proved harmful in the general election, when Democrats ripped his record on social issues. Already, they appear to be positioning to run affirmatively on social issues again. Herring has described his moves as positioning the state "on the right side of history and the right side of the law."
And Herring's embrace of positions that would have been unthinkable for past generations of Virginia Democrats is nothing new. After Herring barely won his post—by 165 votes out of over 2.2 million cast—in 2013, campaign manager Kevin O'Holleran wrote a post-election op-ed arguing that Herring won because of—not in spite of—his strict stances on gun control. In the state where the National Rifle Association is headquartered, Herring backed comprehensive background checks and reinstatement of Virginia's discarded one-gun-a month law.
Nervous Democrats advised O'Holleran and Herring to "soft-peddle" the topic, but O'Holleran, who now serves as Herring's chief of staff, felt that view "reflected a state and a voter mind-set that no longer exists."
Even Republicans admit the tide has shifted, to a point. "There's absolutely been a change in Virginia," said Tucker Martin, a former communications director for Gov. Bob McDonnell.
"There used to be a distinction between 'Virginia Democrats' and national Democrats, and that of course was the [Mark] Warner model of 2001 when he ran for governor," Martin continued. "It was all about 'I'm a Virginia Democrat.' That distinction has been erased."
Warner still embraces that "Virginia Democrat" ethos, and it may have saved him from defeat in the unexpectedly close 2014 election. (Tellingly, during that contest, Republican nominee Ed Gillespie was one of a handful of GOP Senate candidates who embraced making birth control available over the counter.) But cultivating a Warner-like identity is becoming more of a personal choice rather a political necessity for state Democrats. Martin believes Creigh Deeds, who lost the governor's race in 2009, will likely be the last Democratic gubernatorial candidate to publicly waffle on whether to associate with his national party.
Northam, the Democratic lieutenant governor, lacks the inherent visibility and responsibility associated with the attorney general's office. (State law bars current Gov. Terry McAuliffe from seeking another consecutive term.) But Northam too intends to highlight his record on progressive issues as he lays the groundwork for 2017.
When discussing Northam's qualifications for a promotion, Northam political adviser Brad Komar is quick to highlight the lieutenant governor's tie-breaking state Senate votes to repeal Virginia's mandatory ultrasound law for women seeking abortions, increase the minimum wage, and enact a LGBT employment non-discrimination law.
Demonstrating fiscal conservatism and a strong focus on bread-and-butter issues such as jobs, the economy, education, and transportation are still central to winning statewide in Virginia. Virginians also still lean conservative on some public safety issues. Statewide Democratic candidates remain unlikely to run on a platform that includes raising taxes or repealing the death penalty.
The danger for Herring or Northam, should either or both chose to run for governor in 2017, is not so much their positions on social issues, but appearing too focused on them at the expense of other priorities. "Virginians generally do not elect a chief partisan as governor," Martin said.
For that reason, Democrats see Gillespie or another Republican in the same mold as a potentially formidable foe in 2017 than someone like state Sen. Mark Obenshain, another potential Republican candidate. Obenshain has a conservative record on abortion that Democrats used against him in 2013 when he narrowly lost to Herring.
Herring and Northam may not end up running against each other in a primary—they are close personal friends who shared a desk during their years in the state Senate. But their aggressive compilation of progressive goals over the last few years hints at a new model for Democratic success in Virginia.