Is the Bipartisan 'Doc Fix' Bad News for Obamacare?
Republicans have been trying to convince the Supreme Court that they could pass a big health care fix—and then they did just that.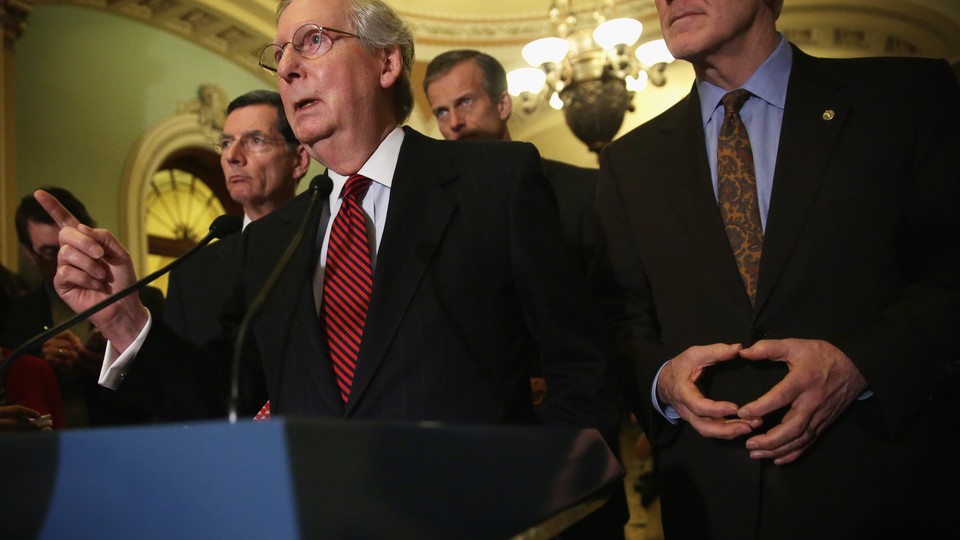 Congress just passed a big bipartisan health care bill, overwhelmingly and on a tight timeline. Now, some Democrats might hope the Supreme Court didn't notice.
Republicans and Democrats defied just about everyone's expectations by passing a permanent "doc fix" after punting on the issue for more than a decade. Tuesday's 98-2 vote in the Senate was the kind of thing that isn't supposed to happen, especially on health care policy, in a gridlocked Congress.
"This bill represents what is possible when members of Congress work together in good faith to accomplish results for the American people, and I am hopeful this is the start of many more bipartisan solutions to come," Senate Finance Chairman Orrin Hatch said in a statement.
Democrats praised the bill as well, though Kumbaya might not be what they are looking for at the moment—not while Republicans are trying to convince the Supreme Court to blow a massive hole in the Affordable Care Act by promising justices that Congress will be able to patch it up.
(RELATED: Rick Scott Says He Will Sue Obama Administration Over Medicaid Hardball)
The high court is expected to rule this summer on a challenge to Obamacare's insurance subsidies. A ruling against the Obama administration would unleash tremendous disruption on state insurance markets, and could drive some states' individual markets to the brink of collapse—unless Republican governors or the Republican-controlled Congress steps in.
Congressional Republicans have worked hard over the past several months to make the case that they'll be ready with a fix. And the most important audience for that public-relations campaign isn't the public, but rather the justices themselves.
It's a hard sell. You don't need to be particularly cynical to question whether Congress is seriously going to be able to come to a bipartisan agreement on the most controversial law in decades—a deal that would be polarizing, extremely expensive, and politically toxic from multiple angles.
But hardly anyone in politics or health care thought the permanent doc fix would happen, either. Congress had patched the payment formula 17 times over 13 years. Lawmakers complained all the time about the need for a permanent replacement, but they never actually passed one.
Until they did.
(RELATED: 2016 GOP Hopefuls Split as Senate Sends Doc-Fix Bill to Obama)
So, did Democrats hurt their own cause by helping Republicans get a big, seemingly impossible health care bill across the finish line? Although some Democrats privately acknowledge that the risk is theoretically real, they're not worried.
For starters, the doc fix ain't Obamacare: The debate over Medicare's payment formula has not consumed and defined a presidency, and replacing that formula did not put a sitting president's legacy on the line.
Perhaps most importantly, although action on the permanent doc fix seemed sudden, it took a long time to get to this point. Lawmakers had grown frustrated with more than a decade of increasingly expensive short-term patches, which forced them to scramble for offsets every six months of the year just to preserve Medicare's status quo.
It took years of lobbying and negotiating to reach a deal on the policy substance of the fix, and even when that was in place, another year passed before Congress could come up with the offsets to accompany that policy.
(RELATED: Will Obamacare Ever Be as Popular as Medicare?)
All of that background movement paved the way for what seemed like a relatively quick deal between House Speaker John Boehner and Minority Leader Nancy Pelosi. But the search for a subsidies fix has barely begun, and it's a much taller order.
Lawmakers would need to reach a far bigger, more expensive agreement on a far more contentious issue, in the middle of a GOP primary. It's an open question whether Republicans could even agree internally on a policy framework, much less find one that would satisfy President Obama as well. And even if they had an agreement now, which they don't, the search for spending offsets would be even harder than it was with the doc fix.
All the same, though, Republicans pointed to the doc fix as a sign that Congress can solve big problems.
"It's another reminder of a new Republican Congress that's back to work," Senate Majority Leader Mitch McConnell said following Tuesday's vote.
And some members of the Supreme Court already are inclined to believe Congress would step in to minimize the damage from an anti-Obamacare ruling.
Justice Samuel Alito suggested during oral arguments that the court could postpone the effects of its ruling, to provide some time for a state-based solution. And Justice Antonin Scalia expressed faith in Congress' response.
"What about Congress? You really think Congress is just going to sit there while ­­all of these disastrous consequences ensue?" Scalia asked Solicitor General Donald Verrilli. "I mean, how often have we come out with a decision "¦ [and] Congress adjusts—enacts a statute that ­­takes care of the problem? It happens all the time. Why is that not going to happen here?"
Verrilli's reply: "This Congress, your honor?"