Iowa Dems Are Reeling. Can Hillary Clinton Help?
The 2016 contender is deploying significant resources in Iowa, and her party hopes it helps more than her own candidacy.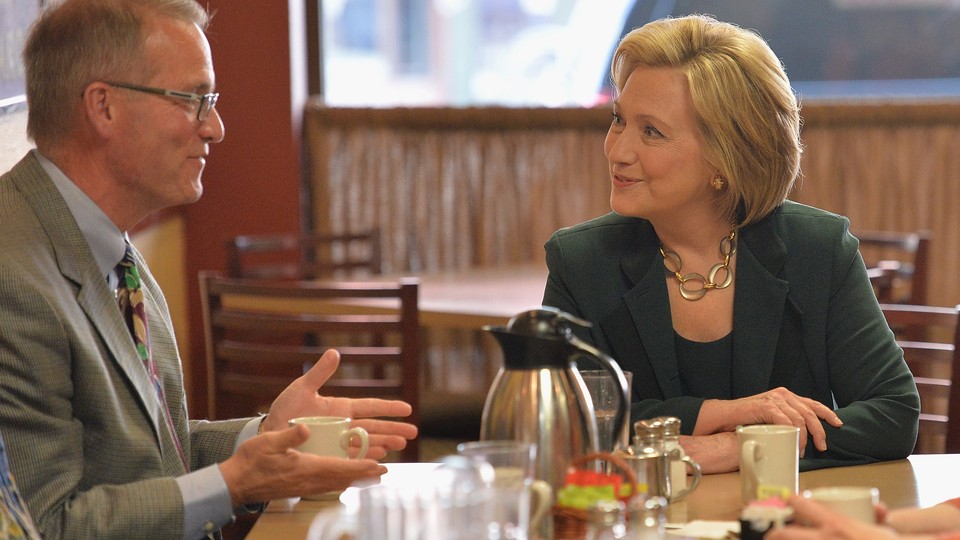 DES MOINES—Hillary Clinton's aides started calling activists here early this month, asking for support—and advice. What they heard was the same thing over and over again: We need help getting the state party back on track.
After bruising Senate, House, and gubernatorial losses last year, Iowa Democrats are reeling. Bruce Braley could have won the Senate seat, they lament. They now hold just one of the state's four congressional seats. The number of voters registered as Democrats has dropped.
Now, state party activists think they need Hillary Clinton—to recruit candidates, to encourage voters, and to raise money.
(RELATED: For Clinton, It's About the Concord Monitor, Not The New York Times)
"The best way if there's not a competitive caucus is to have your lead singer, the thing that the ticket's going to ride on, invest the energy," said Kurt Meyer, chairman of the Tri-County Democrats in northern Iowa.
Clinton's team is listening. State lawmakers left a closed-door meeting with Clinton last week convinced of her desire to help rebuild the state party, and her advisers have indicated the same priorities in their outreach to local activists and county-level leaders.
Her top staffers began arriving in Iowa in late March, with a full field team ready to spring into action the day the former secretary of State announced. The campaign has field directors in place as well as regional field staffers who are coordinating with local party activists to recruit caucus-goers for next February.
That includes Matt Paul, a Cedar Rapids native who was a longtime aide to former Gov. Tom Vilsack and now serves as Clinton's Iowa state director, as well as Troy Price, the former executive director of the Iowa Democratic Party who served as President Obama's political director in the state for the 2012 campaign.
(RELATED: The Clinton Conundrum)
Their attention will be focused on ground organization and aiding in the recruitment of local and state-level candidates, according to aides in the state and others with knowledge of the campaign's plans.
"It's something the campaign wants to undertake and build out, because the caucuses provide a unique opportunity where people can get involved," said Paul.
And certainly, Clinton's efforts in Iowa could create enough excitement to boost the whole party. At least that's what local party operatives hope.
"People know that it's a win-win situation," said Jerry Crawford, a Des Moines-based lawyer and longtime Clinton supporter who advised Ready for Hillary in the lead-up to Clinton's announcement. "Anything she does to improve her own standing "¦ improves the standing of our entire ticket."
(RELATED: The Questions Hillary Clinton Doesn't Want Answered About the Clinton Foundation)
The 2008 Iowa caucuses generated a great deal of enthusiasm and interest among Democratic voters, helping to boost voter turnout both that fall and in the 2010 midterms. But 2012 was a different story. That year, Obama—running as the incumbent president—had no opposition in the caucuses, which veteran Iowa operatives cite as a major reason for the lower 2014 turnout and ultimately in Braley's Senate loss.
"The change in turnout really mirrored the change in voter registration between 2010 and 2014," said Jeff Link, who advised Braley's 2014 campaign. "And if that trend continues, which I have every reason to believe it will, we've got to do something about voter registration."
So Clinton's camp is aiming to fill that gap—and in the process, prepare for the possibility of a competitive Democratic caucus (against Maryland Gov. Martin O'Malley, perhaps) while also helping calm fears about having a primary that undoubtedly has fewer candidates available to barnstorm than the Republican side.
"The caucus is about party-building," state Democratic Party Chairwoman Andy McGuire said. Though the state party doesn't take sides in the primary, she said Clinton's Iowa hiring spree can only help. "Certainly as they hire staff and they get people to volunteer and get excited about the caucuses, that really helps us in the general."
(RELATED: The Rise of Hillary Clinton)
Another big benefit of Clinton's sizable Iowa operation and the resources the campaign will invest here is the impact for Iowa-based staffers in the general election—and even to the 2018 midterms.
"What they bring is cutting-edge techniques: how to organize, how to engage voters with cutting edge tactics," said Norm Sterzenbach, a longtime Democratic operative in the state and former executive director of the Iowa Democratic Party. "They teach our potential staff members, teach our volunteers and that translates down to down-ballot races in 2016 "¦ That also then helps longer term for the 2018 cycle: everybody's gone, but we've got a group of staff and volunteers in the state that know how to run modern campaigns."
Meyer echoed that sentiment. "Hillary Clinton has more talent in her field program than probably all the other efforts combined," he said. "More money, more talent, more savvy—so all our campaigns can learn."
Where Clinton doesn't seems as willing to commit yet is in fundraising for other candidates, and those requests already are coming in. Tim Tracy, chairman of the Carroll County Democrats, for example, said he told Clinton's team he would like her to appear at his county's July fundraising dinner. "We certainly want to see Secretary Clinton to be involved," he said.
But Paul suggested that the campaign's party-building activities would remain focused on the organizational and candidate-recruitment side of the equation, rather than the financial side.