How Much Longer Can Hillary Clinton Go Without a Firm Position on Trade?
Clinton's potential 2016 opponents are trying to put her in an uncomfortable spot on the Trans-Pacific Partnership.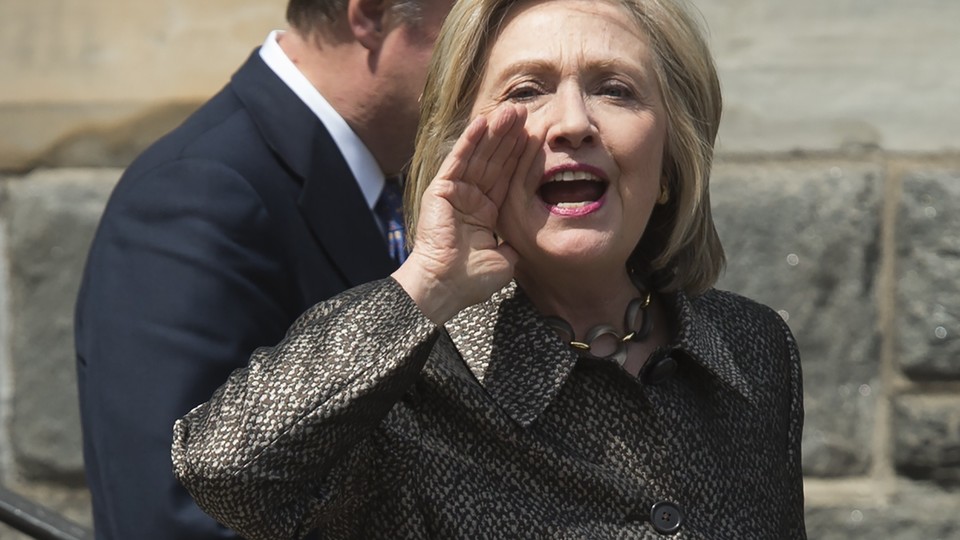 The Trans-Pacific Partnership may soon prove to be a headache for Hillary Clinton as her potential challengers are making their stances on the deal known—and she's so far staying blurry.
When Clinton served as secretary of State, she said the Obama administration-backed trade agreement was the "gold standard" for promoting free, open, transparent, and fair trade. Now, she's hedging her support, saying Tuesday that any agreement must produce jobs, increase prosperity, and strengthen American security.
Clinton's potential Democratic presidential opponents have been vehemently and more definitively criticizing the trade deal for weeks. And on Wednesday, former Florida Gov. Jeb Bush, who is expected to run in 2016, called Clinton's shift in language a "politically motivated flip-flop."
"These new reservations are conveniently timed," Bush wrote in a post on Medium that emphasizes his own support for the deal. Bush compared it to Clinton's shift in rhetoric regarding the North American Free Trade Agreement among the United States, Canada, and Mexico, which was signed by her husband. She said it had not lived up to its promises when she started campaigning for the 2008 Democratic presidential nomination.
Many Republicans, such as Senate Majority Leader Mitch McConnell and House Ways and Means Chairman Paul Ryan, are supportive of the trade deal and tend to support free trade in general. But many progressive Democrats have been critical of free-trade deals, saying they hurt American workers and can lead to lost jobs or lower wages.
"We've heard over and over again, not just more recently but over a generation, that trade agreements and the promotion authority that's connected to them will lead to tremendous job growth and tremendous benefits for states like Pennsylvania, but I have not seen evidence of that case," Sen. Bob Casey told National Journal.
Former Maryland Gov. Martin O'Malley, a likely Democratic presidential contender, has called the TPP a "bad" trade deal. In an email to supporters Wednesday, O'Malley stated his opposition to the Trans-Pacific Partnership with a subject line that's a near-direct dig at Clinton, playing off her recent memoir: "Hard Choice?"
As a candidate with no official office—and very little political support for a presidential run—there is little O'Malley can do to force Clinton's hand on the TPP.
But Sen. Bernie Sanders, an independent from Vermont who consistently criticizes the TPP and has expressed interest in running for the Democratic nomination, actively tried to block progress on legislation Wednesday when he objected to a request for unanimous consent by McConnell to allow the chamber's finance committee to meet for more than two hours while the Senate is in session for its markup of trade-promotion authority legislation. Sanders, like the rest of the non-Clinton Democratic candidates, has very little public support for a candidacy. But he's using his capacity as a senator to actively stall legislation, which indirectly puts Clinton's position under a magnifying glass.
"Instead of rubber-stamping the agreement, Congress and the public deserve a fair chance to learn what's in the proposal," Sanders said in a statement.
The Trade Promotion Authority bill, which would allow trade deals like the TPP to be subject to an up-or-down vote with no amendments, caught Senate Democrats off guard last week when a hearing was announced before the legislation was released.
Without unanimous consent, the markup was delayed. Finance Committee Chairman Sen. Orrin Hatch said the committee would have its markup in the afternoon, as opposed to the morning when it was scheduled.
By using Senate procedure to delay markup on TPA, Sanders clearly articulated his opposition to free trade, and he was praised by groups opposed to it, like the Communications Workers of America and Public Citizen, showing not only is he on their side, but he will take action to put the brakes on legislation.
Neither Sanders's nor O'Malley's actions were direct call-outs to Clinton. But they were clear messages of solidarity to progressives, giving them a platform to stand on and a way to stand out among Democrats while Clinton continues to be more guarded.