How Loretta Lynch's Justice Department Is Going to Act in Baltimore
The new attorney general released a plan Monday to handle unrest in the city.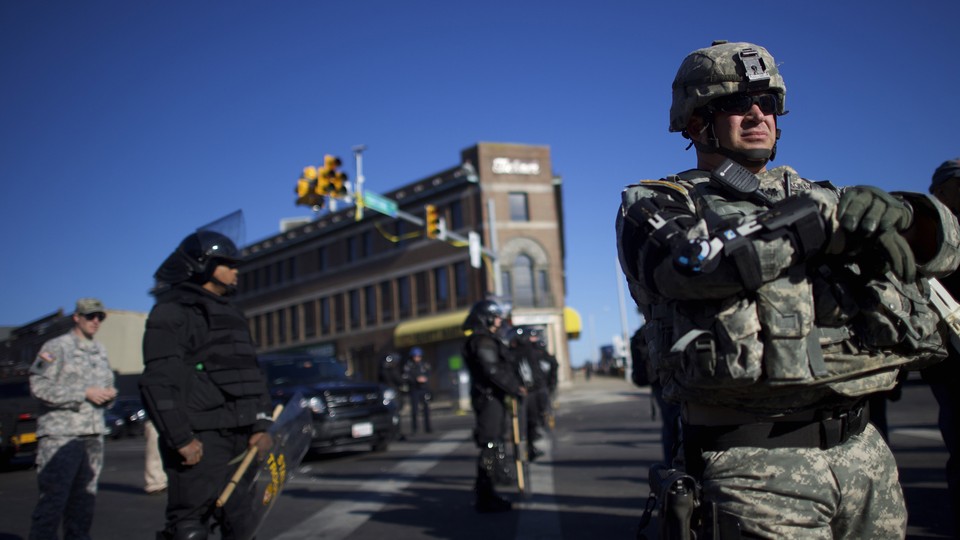 Loretta Lynch wasted no time on Monday—her first day in office—laying out exactly how she wants the Justice Department to handle the recent unrest in Baltimore.
The city's discord is rooted in the death of 25-year-old Freddie Gray, who died on April 19 after a confrontation with police officers left him with fatal spine injuries. The events leading up to his death are still unclear, and peaceful protests began last week to demand answers from police. But by Monday afternoon—hours after Gray's funeral—the demonstrations were replaced by violence and looting in West Baltimore.
The new attorney general released a statement late Monday describing how her office will examine what's happening from several different fronts, going beyond the criminal civil rights investigation into Gray's death launched last week by her predecessor Eric Holder.
(RELATED: Loretta Lynch Walks the Thin Blue Line)
Lynch said that members of the Community Relations Service have already been at the scene "to reduce tensions and promote the safety of the community." Two officials—one with the Civil Rights Division and the other with the Office of Community Oriented Policing Services office—plan to meet with city officials and local community leaders within the next few days.
Lynch said the Community Oriented Policing Services office is also reviewing the Baltimore City Police Department. That's in addition to the ongoing civil rights probe, the third civil rights investigation related to police conduct that the Justice Department has opened in the last year. In 2014, the department launched investigations into the deaths of Eric Garner, a Staten Island man who died in July after being placed in a choke hold by a police officer, and Michael Brown, who was shot by a police officer in Ferguson, Missouri, in August.
Lynch seems eager for the Justice Department to take the lead on such investigations. She asked the New York City Police Department, which already wrapped its investigation into Garner's death, to sit on its findings until the Justice Department finishes its own probe.
(RELATED: Obama on Baltimore: Violent Rioters 'Need to Be Treated as Criminals')
Lynch indicated Monday that she won't be moving on from Baltimore anytime soon.
"I will bring the full resources of the Department of Justice to bear in protecting those under threat, investigating wrongdoing, and securing an end to violence," she wrote in her statement.
On Tuesday morning, the Baltimore mayor's office released information on the damage done overnight in the city: nearly 200 arrests, more than 140 vehicle fires, 15 building fires, and 19 police officers injured. Hundreds of Maryland state troopers and police officers from five Maryland counties have descended upon the city, and Gov. Larry Hogan mobilized the National Guard late Monday.