How Do Americans Feel About Socialism?
Bernie Sanders will run for president on a far-left platform. Is that pitch doomed from the start?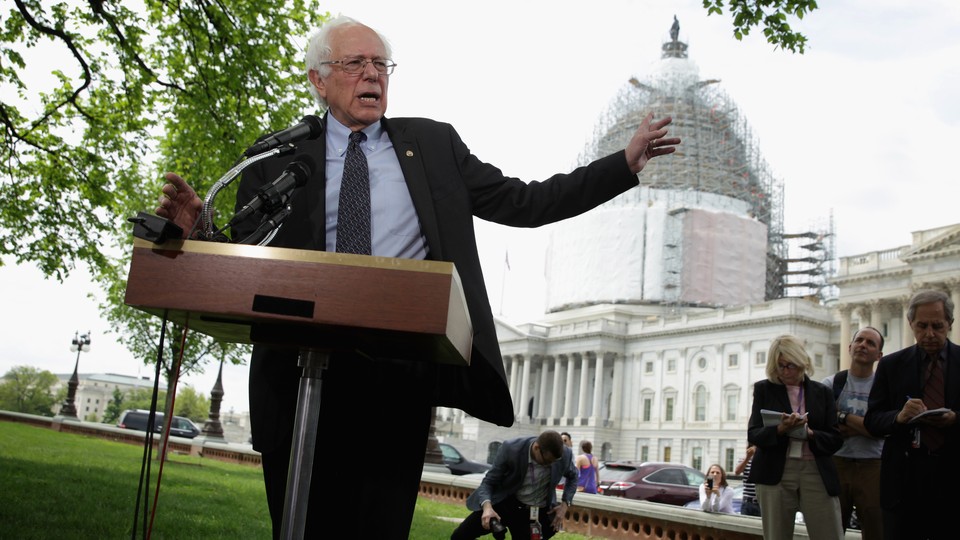 Sen. Bernie Sanders is a self-described democratic socialist, and he's running for president of the United States. Sounds improbable, right? After all, the term "socialist" most often appears in American political conversations as a pejorative (As in "President Obama's socialist agenda," etc.).
There's a reason for that: A majority of Americans hold a negative view of socialism. According to a 2011 Pew poll, 60 percent of respondents indicated they viewed the term "socialism" unfavorably. Of the terms they polled—libertarian, capitalism, liberal, conservative, progressive—"socialism" was by far the most negatively received.
Does this mean Sanders campaign is doomed from the start? Not necessarily; at least not for the Democratic primary. On that same survey, Pew found that liberal Democrats mostly find favor in the term—59 percent view it positively (but just 37 percent of moderate democrats did). Gallup found a similar response in 2010. On their survey, a small majority, 53 percent, of Democrats said they had a positive image of socialism.
Sanders will run a campaign to the left of Hillary Clinton, taking hard-line positions on fighting income inequality. "This is a rigged economy, which works for the rich and the powerful, and is not working for ordinary Americans," Sanders told The Associated Press after announcing his candidacy. "You know, this country just does not belong to a handful of billionaires."
While he'll find a base sympathetic to his causes, it's unlikely they'll propel him to the general election. But he'll be able to make some noise.