Hillary Clinton's 2016 Campaign Kickoff Will Look a Lot Like Her 2000 Senate Run
The Democrat is starting with an up-close-and-personal approach, mirroring a strategy she successfully employed in her first campaign for Congress.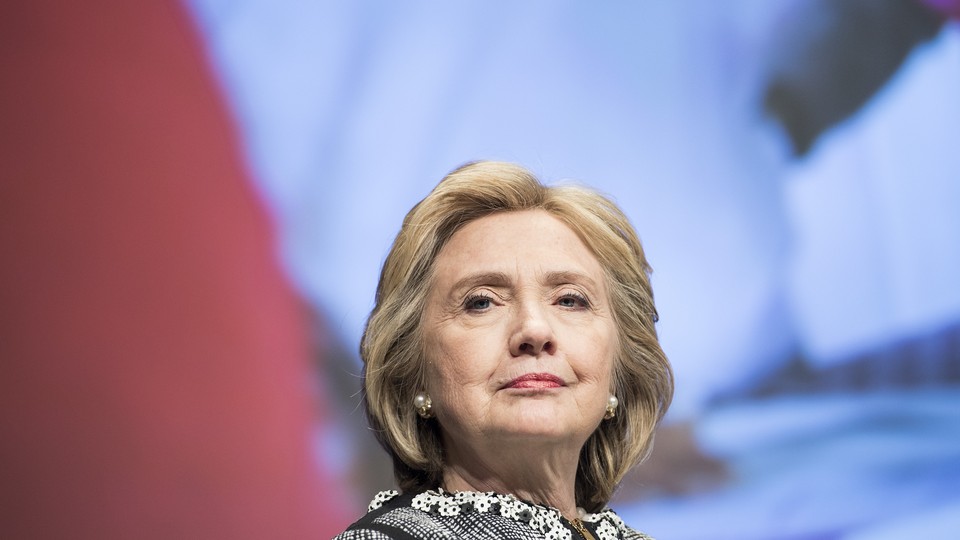 Hillary Clinton's 2008 primary loss looms large at every step of her 2016 campaign, but the Democratic frontrunner's team is looking farther back for lessons from the past, namely to the summer of 1999. That was when Clinton—then the first lady and still living in the White House—embarked on a "listening tour" across the state of New York ahead of the official launch of her 2000 Senate campaign.
Now, as she prepares to officially start her campaign Sunday, Clinton's plans are strikingly similar. Out are the mega-rallies. Instead, the candidate is planning a series of smaller, less-scripted events that allow her to interact one-on-one with voters. And on both her 1999 listening tour and her 2016 kickoff, the goal is the same: build the candidate's credentials as one that connects with voters, knows the issues they care about and makes it clear she isn't taking anything for granted.
"In 1999, it was an introduction to voters, it was an introduction to her as a candidate," said Lee Miringoff, a veteran pollster at Marist College in New York. "That's why it worked for her, because it sort of took on the issue directly that she wasn't from New York and therefore was going to have to do some listening."
Karen Finney, an aide to Clinton at the time and a staffer for her emerging 2016 campaign, said the former secretary of State is "very good at making the people who she's talking with very comfortable and at ease." In thinking about the current campaign, Finney added that Clinton herself will play a big role in how comfortable and connected voters feel at events like these.
(RELATED: The Rise of Hillary Clinton)
That will be critical for Clinton to right the problems that sundered her 2008 effort. Then, as now, she was the frontrunner bolstered by a massive campaign funding apparatus and a legion of political connections. But she didn't build the personal connection with Democratic voters that then-candidate Obama rode to victory.
Among the biggest questions about the up-close-and-personal approach is whether Clinton will be to create events that actually feel intimate, given the political and media circus that already track her every move. Some say that true one-on-one interaction for her is near impossible. "It's a tremendous challenge to be an average person when 200 people follow you everywhere," said veteran New York Democratic strategist Hank Sheinkopf.
Ann Lewis, a longtime Clinton adviser who was involved in the 2000 Senate effort, said that with increased national attention to presidential politics, they've become more "ceremonial"—making it hard for voters to see the actual human being behind the celebrities presidential hopefuls become. "It gets harder, obviously with the size of the press corps and the size of the attention," she said. "My guess is there will be a certain tension in there between what the campaign hopes to achieve, and just the reality of how much attention it is likely to get."
In 1999, Clinton kicked off her listening tour at the Pindars Corners, New York, farm of retiring Sen. Daniel Patrick Moynihan, whom she was running to replace. According to The Washington Post at the time, protesters stood outside with signs like "Hillary Listen: Go Home!" or "A New Yorker for New York."
(RELATED: "Hillary Can Be Beat")
The carpetbagger issue was one she addressed directly that day. "It's a fair question," she told reporters there. "I have some work to do to demonstrate that what I'm for is as important if not more important than where I'm from."
After the farm, her tour took her outside of New York City and its suburbs, which make up the Democratic core of the state, and into all of the state's 62 counties—including significant time in the traditionally Republican upstate. And mainly, the 1999 tour was about proving that she could handle New York issues and had a genuine interest in the state and its people. The events varied: Some were small meet-and-greets at a diner or a farm; others involved a speech to a bigger group, aides from the 2000 campaign said, with Clinton shaking hands and meeting voters on the rope line afterward.
In her 2003 memoir Living History, Clinton described it as "getting a nonstop crash course in New York and its issues," adding that it took time before voters stopped viewing her as "a curiosity" and started having "real conversations about the issues that mattered to them."
It wasn't immediate: the initial listening tour events weren't quite as small as the ones that later became a big part of her campaigning style. And even then, Clinton's star power meant she traveled with a large press corps in tow—the New York press corps can be large and unruly, and the level of interest in a First Lady running for office brought national reporters along for the ride too. Events near New York City tended to succumb more to the political circus, former aides said; ones far upstate were often far smaller and felt more intimate. ("What a lot of us really enjoyed about going upstate is that you could do those kinds of events," Finney said.)
At events, Clinton would listen, nodding her head and taking notes in the notebooks she carried with her to events—her way of showing she was really paying attention, aides say. "She would come back to the campaign office with notebooks full of notes," Lewis said, adding that "you could watch in her early years in the Senate" as ideas she'd written down in the notebooks made their way into policy proposals. (Her body language didn't go unnoticed by the press: "Now Playing In Our Area: Nodding Hill," said one Newsday headline out of the tour, in a play on the 1999 movie "Notting Hill.")
Though she had a few slip-ups along the way, Clinton generally received high marks for the tour—and on the whole, it did what it set out to do. "Something like that can achieve the goal even if she flubs a line here and there, because the notion, by its title, it suggests that you're reaching out and taking in," Miringoff said.