Hillary Clinton Calls for Body Cameras for All Police Officers Nationwide
At a speech at Columbia, the presidential candidate went more in-depth on criminal-justice reform than she has on any one issue since announcing her candidacy.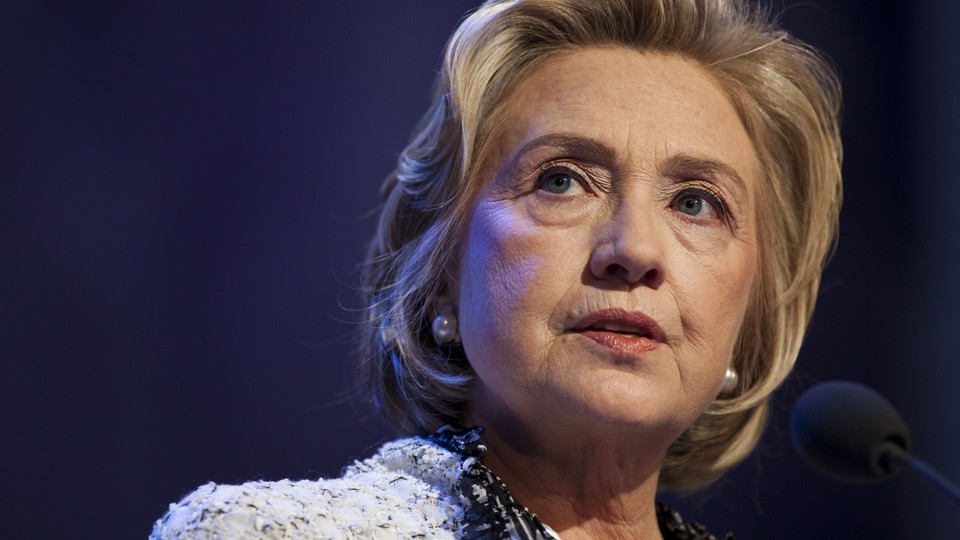 Hillary Clinton gave her most extensive remarks yet Wednesday morning on the unrest in Baltimore, calling for mandatory body cameras for police nationwide and for an end to the "era of mass incarceration."
"We have to come to terms with some hard truths about race and justice in America," she said in her keynote at Columbia University at the David N. Dinkins Leadership and Public Policy Forum.
Clinton tied the recent death of Freddie Gray in Baltimore to broader problems in the country, including the economic inequality that "stalks our streets," the differences in life expectancy between white Americans and black Americans, and the problems with the country's education and mental health systems.
"The conversation needs to be much broader," she said, cautioning against allowing criminal-justice issues to be "siloed" away from other domestic issues. "Because that is a symptom, not a cause, of what ails us today."
She listed the names of black men who have been killed by police officers this year, saying, "My heart breaks for these young men and their families"—not only Baltimore's Freddie Gray, but also South Carolina's Walter Scott, Cleveland's Tamir Rice, and Staten Island's Eric Garner.
"Yet again, the family of a young black man is grieving a life cut short," she said. "Yet again, the streets of an American city are marred by violence, by shattered glass. "¦ Yet again, a community is reeling, its fault lines laid bare and its bonds of trust and respect frayed."
She also called for an end to the looting and violence in Baltimore, saying that "those who are instigating further violence in Baltimore are disrespecting [Freddie] Gray's family."
The speech was Clinton's most extensive yet on criminal-justice reform—and also her most detailed comments on a single issue since announcing her campaign in mid-April. Thus far, Clinton's campaign has focused on smaller-scale events in which she listens more than talks, saying detailed policy proposals are forthcoming. Wednesday's address was only her second big speech of the campaign and her first to focus extensively on one topic.
Calling for body cameras for all police officers nationwide, Clinton said the measure would be a "common-sense step."
"That will improve transparency and accountability," she said, adding that she supports President Obama's proposal to match funds for local and state governments to help purchase the cameras. "It will protect good people on both sides of the lens."
Speaking about prison reform, Clinton noted the "stark fact" that the United States accounts for 5 percent of the world's population but 25 percent of the world's prison population.
"We need a true national debate about how to reduce our prison population while keeping our communities safe," she said, adding that keeping "low-level offenders" behind bars does not make the country safer.
Clinton argued that bipartisan consensus is beginning to emerge on criminal-justice issues, naming "senators as disparate on the political spectrum as Cory Booker and Rand Paul, Dick Durbin and Mike Lee."
"It is rare to see Democrats and Republicans agree on anything today, but we are beginning to agree on this," she said, adding that more bipartisanship will be needed to achieve any of the reforms she has mentioned.
Clinton previously spoke briefly about Baltimore at a fundraiser in New York Tuesday night, telling attendees, "Baltimore is burning."
"It is heartbreaking," she continued. "The tragic death of another young African-American man. The injuries to police officers. The burning of people's homes and small businesses. We have to restore order and security. But then we have to take a hard look as to what we need to do to reform our system."