Who's Afraid of the Benghazi Hearings?
The former secretary of state wants to turn the House inquiry into a sympathetic spectacle, while the committee chair maneuvers to keep its profile low.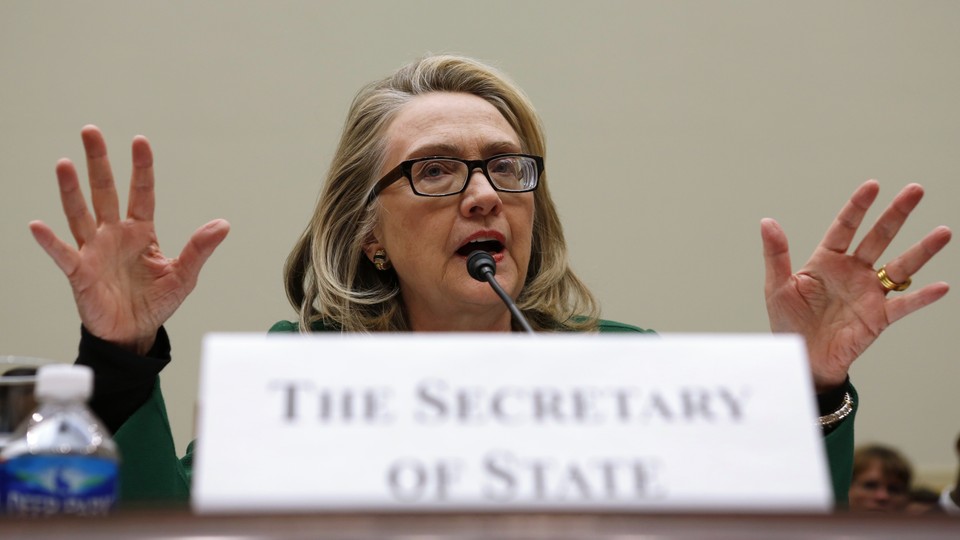 There are few experiences more intimidating than having to testify before a congressional committee, on camera and under oath, about something that went horribly wrong on your watch. You are surrounded by photographers—to your left, to your right, a dozen on the floor pointed at your chin, and a few more behind you, their lenses aimed at the back of your head. Arrayed on the dais—a few feet higher to emphasize their authority—are a dozen or more politicians eager for the chance to play prosecutor. For at least half of them, this will be a zero-sum game: They look good when the witness looks bad.
It's no surprise, then, that this is a gauntlet that many current and former officials over the years have sought to avoid—either by sending a deputy, claiming executive privilege (if they work directly for the president), or negotiating with the committee to speak privately, off-camera and out of the spotlight.
Not Hillary Clinton—at least not anymore. The former secretary of state, having just officially launched her second campaign for the presidency, practically begged the Republican chairman of the House Select Committee on Benghazi, Representative Trey Gowdy of South Carolina, to allow her to testify in public. Gowdy wants to question her about the 2012 terrorist attack and her much-criticized decision to use a personal email server during her tenure at the State Department and then to wipe it clean after leaving office. Yet in an equally puzzling move, Gowdy initially said no: He demanded that Clinton first come in for a private interview about the emails, an arrangement that he said would, among other things, "best protect the secretary's privacy."
What is going on here? Why is the presumptive Democratic nominee for president so eager to testify about a pair of topics that may be the two biggest threats to her candidacy, and why did Gowdy not schedule an immediate hearing—instead resisting the offer for weeks? After all, Clinton's last congressional appearance on Benghazi, shortly before she left office in January 2013, produced a moment that Republican ad-makers and conservative TV hosts have replayed countless times since. ("What difference, at this point, does it make?" a frustrated Clinton snapped at Senator Ron Johnson of Wisconsin back then.)
Let's take Gowdy first. From the moment Speaker John Boehner selected him to lead the select committee nearly a year ago, the third-term conservative and former federal prosecutor has been out to prove that this inquiry is a Serious Investigation. The burden was high to begin with: After a half-dozen inquiries by congressional committees into the attack that killed four Americans, including Ambassador Christopher Stevens, Democrats considered the matter closed. They denounced the new panel as a partisan exercise aimed both at damaging their party in the 2014 and Clinton in 2016.
Gowdy's approach was to be the opposite of Darrell Issa, the attention-grabbing former chairman of the Oversight Committee whose over-the-top style frequently backfired, to the annoyance of fellow House Republicans. Gowdy took his time getting the committee set up and made a point of holding few public hearings, arguing that closed-door depositions were often more effective than the spectacle of televised testimony. Democrats on the panel went along with Gowdy for a time, but as the investigation continued, they have increasingly accused Republicans of dragging it out with the 2016 election in mind.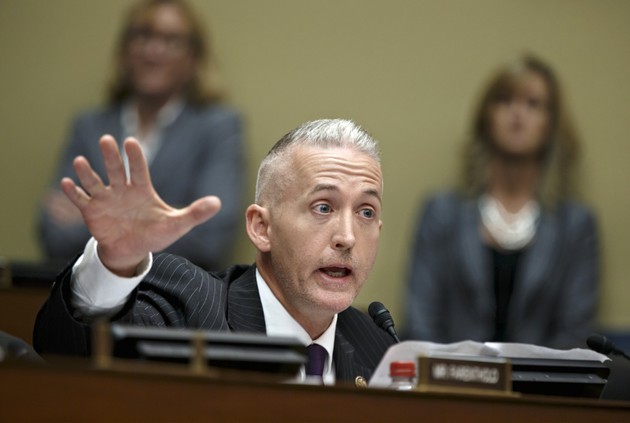 The disclosure earlier this year that Clinton conducted State Department business on a private email account rejuvenated the investigation. It was the committee's request for Clinton's Benghazi-related correspondence that helped bring the news to light. And Clinton's admission that she deleted her emails after choosing which ones to turn over to the State Department prompted a whole new line of questioning from Gowdy, who sought access to her server to determine if the 300 Clinton emails that the department submitted were all that she had on Benghazi. Clinton is refusing to turn over her server to an independent third party, and Republicans could ultimately vote to have the full House subpoena the server. (In an interview with Bloomberg News last Thursday, Boehner said she "violated the law" with her email arrangement.)
Jamal Ware, a spokesman for the Benghazi committee, said calling Clinton to testify in a public hearing "was always going to happen" and that Gowdy requested an initial private, transcribed interview out of respect for the former secretary. "This wasn't a preference. This was a consideration for her," he told me. Gowdy also wanted to wait to speak with Clinton until the committee had all the documents it would need to adequately question her.
Clinton's eagerness to testify is, on the surface, a departure from the defensive posture she and her husband took in response to Republican congressional investigations in the 1990s. And it reflects a confidence that despite Gowdy's best efforts to keep the hearing on track, it will devolve into a circus in which GOP lawmakers will compete to offer the most damaging interrogation. Clinton would then come off as sympathetic rather than secretive. The hearing, one Democratic aide predicted, "will give air to the most conspiratorial elements and make the committee look like more of a farce." The theme that Republicans are somehow obsessed with Clinton—an update on the vast right-wing conspiracy that she coined 17 years ago—has already come up just weeks into her new campaign. "I think it's worth noting that Republicans seem to be talking only about me," she said in New Hampshire last week. "I don't know what they'd talk about if I weren't in the race."
The bring-it-on attitude isn't all about confidence, of course. Clinton's willingness to appear immediately before Congress, along with her request that the State Department expedite the release of her emails, allows her to claim a small measure of transparency as she is being attacked for deleting her emails and refusing to turn over the server from which they might be recovered. Republicans have learned a thing or two about overreach themselves, and regardless of how well Clinton thinks she'll do in the hearing, it is in her best interest to dispense with it quickly, while few voters are paying attention to the campaign. Democrats on the Benghazi panel are complaining about Gowdy's "glacial pace," and are convinced that he is asking only for a private interview now so that he can call Clinton back for public hearings closer to 2016. (The chairman has said some aspects of the investigation, such as the State Department's work in turning over documents and emails, are out of the committee's control. If Clinton cooperated fully, he has said, the committee could be done with her by Independence Day.)
Clinton appears likely to get her way, at least when it comes to a public hearing. On Thursday, Gowdy dropped his request for a private meeting and instead asked Clinton to testify in two separate hearings: one on her email arrangement by the middle of May, and the other on the Benghazi attack itself about a month later. He also submitted a list of 136 written questions on her email use and what happened in Libya. Clinton's attorney, David Kendall, has yet to respond, but it now seems clear that Clinton will be returning to Capitol Hill, and the unique theater of a congressional committee room, sooner rather than later.