Harriet Tregoning: The Futurist
Washington's doyenne of urban-planning is seeking a sustainable solution to homelessness.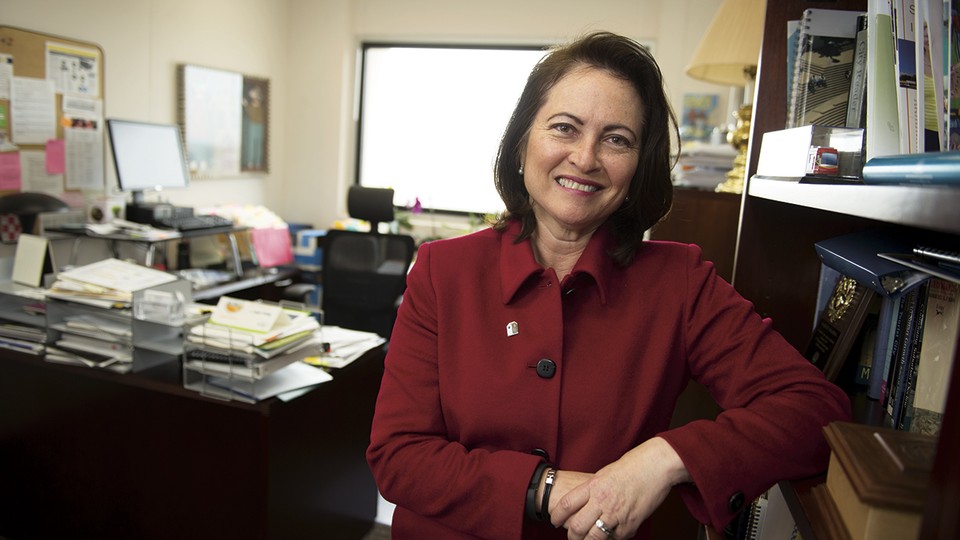 When Harriet Tregoning left the District of Columbia's Office of Planning for the U.S. Department of Housing and Urban Development a little over a year ago, she brought with her "a certain energy and intolerance for bureaucracy from the city government—which is a really good thing; they need that at the federal level," says Gabe Klein, who worked closely with Tregoning when he was D.C.'s transportation commissioner under Mayor Adrian Fenty. Harriet Tregoning is Director of the Department of Housing and Urban Development's Office of Economic Resilience. (Chet Susslin)
This week, D.C.'s doyenne of the urban-planning philosophy known as "smart growth" will train her sights on a new target within the agency: ending homelessness for all veterans by 2016. Tregoning, 54, just became the principal deputy assistant secretary for HUD's Division of Community Planning and Development, where she will manage an annual budget of roughly $6 billion and oversee more than 40 field offices around the country. According to the division's website, its goal is to develop "viable communities by promoting integrated approaches that provide decent housing, a suitable living environment, and expand economic opportunities for low- and moderate-income persons" through the administration of federal grants. Tackling homelessness will be a main focus of her work, she tells me.
It's the kind of high-powered, high-impact post Tregoning has been preparing for her entire career. Born in St. Louis, Missouri, she started taking college classes at Washington University as a high school senior. She graduated early with a degree in engineering and was studying at the law school by the time she was 20. Her first job out of school was working on Superfund policy at the Environmental Protection Agency, but her focus quickly shifted to land use. "I realized that, at the EPA, I was basically swabbing the deck of the Titanic," Tregoning recalls. "Worrying about vanishingly small amounts of pollution coming out of smokestacks and tailpipes, when the entire landscape was being transformed." She would spend 17 years at the agency, eventually serving as director of development, community, and environment.
Following her stint at EPA, Tregoning served as Maryland's secretary of planning and then as the state's first special secretary for smart growth—a planning theory that stresses building walkable, sustainable neighborhoods. Former Gov. Parris Glendening still raves about her. "I needed somebody tough, because we were going to try to break down some of the traditional, old ways of doing things," he recalls. "She was not in my office talking for more than 15 minutes when I knew that she was the person." After he recruited Tregoning, she turned around and recruited him to work for the advocacy group Smart Growth America, an organization she helped launch.
Tregoning then spent seven years at D.C.'s Office of Planning, where she made waves in her quest to make the city more walkable, bikeable, and sustainable, collaborating with her transportation colleagues to bring the nation's largest bike-sharing program to the district under Mayor Fenty. Fenty's successor, Vincent Gray, kept her on, although some district residents were less enamored of her than the mayor's office was. "The thing people sometimes forget about Harriet is, she's viewed as a hero in the smart-growth movement, but a lot of D.C. residents really didn't like her," says Jonathan O'Connell, who followed her work for years as The Washington Post's land-use and development correspondent. Her detractors, whom O'Connell describes as mostly NIMBYs (an acronym for "not in my backyard" and a pejorative term for residents opposing any new developments near them), accused Tregoning of high-handedness and of imposing her will on the city's zoning code, which was rewritten for the first time in half a century.
"No plan in D.C. is self-implementing," she says in response, noting that proposals must be adopted by the City Council, an elected body, and that city zoning laws specifically must be adopted by the Zoning Commission. "In general, things I did in the District of Columbia were designed to give people more, not fewer, choices," she says.
Last year, Tregoning became the director of HUD's Office of Economic Resilience, where she helped launch the $1 billion National Disaster Resilience Competition, which asks applicants to propose "resilience-enhancing" recovery projects in order to qualify for special disaster-relief funds. The goal, Tregoning says, is to "help them think about how to future-proof their own investments."
When I ask if what she'll be doing in her new job is a direct extension of her smart-growth work, she says, "I wouldn't say that it is explicitly smart growth," noting that the grant money she manages is used "entirely at the discretion of the local governments and the states," but she expects to see some of those ideas make an appearance. In general, she says, communities "want a clean and safe environment. They want choices in housing and transportation. There is a lot of overlap there between that and the smart-growth principles—but we're never going to be doctrinaire at HUD about that."
CORRECTION: An earlier version of this piece said Tregoning would oversee a $4 billion budget as principal deputy assistant secretary for HUD's Division of Community Planning and Development. In fact, she will oversee a $6 billion budget.