Father Ted, Fisher of Men
How the president of Notre Dame reeled in support for a landmark civil-rights report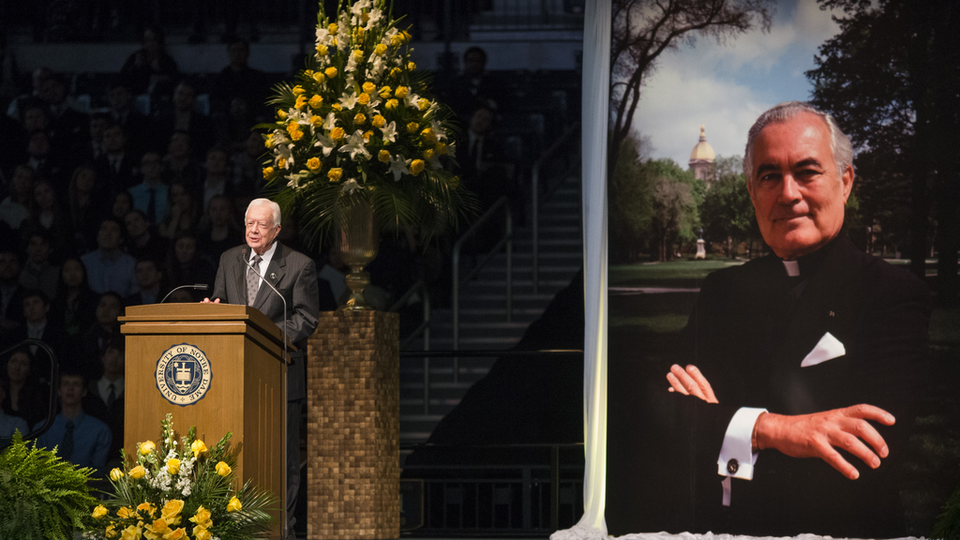 One night in March, some 10,000 Notre Dame students waited on a freezing cold night to enter an arena, not for a game, but for a memorial service to a 97-year-old man who had left the presidency of Notre Dame before any of them had been born.* Such was the power of Father Theodore Hesburgh. He deeply touched their lives and their spirits, just as he touched my own.
In the spring of 1957, I answered the phone at my law office to hear a man who said he was Father Ted Hesburgh of Notre Dame. He wanted to talk with me about the new Civil Rights Commission, where he was one of six members appointed by President Eisenhower. They had just had their first meeting and he wanted to discuss a memorandum I had written concerning the prospects of the new Commission.
The Civil Rights Act of 1957 was enacted with the support of President Eisenhower and then-Senator Lyndon Johnson. To the disappointment of Civil Rights leaders, it created a Commission that was to be only a fact-finding and recommending agency. "Why study the situation any more?" NAACP friends asked. "For nine decades since the Thirteenth Amendment the problem has been studied. We're tired of being studied."
Senator Johnson told them that if this Civil Rights law was enacted every Congress thereafter would be expected to take the next steps forward. However, when the President appointed three northerners and three southerners, with the southerners committed against any strong action for civil rights, almost no one thought that anything positive could come out of such an impasse. I was then a young lawyer at the firm of Covington and Burling, and the memorandum I wrote argued that this deadlock could be turned into a valuable asset: If the Commission made real progress it would be viewed as an unexpected success.
On the telephone, Father Hesburgh asked me to meet him in Lafayette Square across from the White House, half way between his new Commission office and mine at Covington.  We sat and walked in the Square for some two hours and had a conversation that I won't forget. At their first meeting, the Commissioners had decided that they would each select a legal assistant. Before we parted, I realized he might be considering me to be his aide.
Soon Catholic partners at Covington began coming into my office asking what was up; they were getting calls from Dean O'Mara of Notre Dame's Law School asking if Harris Wofford was fit to join Father Hesburgh's team. A few weeks later I was again happily crossing Lafayette Square, going to work to help the Commission become a success.
Father Hesburgh set out to befriend each member of the Commission and bring them together. His success in this effort was illustrated by his relationship with the staunchest opponent of desegregation on the Commission, former Virginia Governor John Battle. Battle had led the Southern segregationist walkout from the 1952 Democratic Convention. Father Hesburgh discovered that Battle was his only fellow Commissioner who drank alcohol and they quickly formed a tradition of sharing a bourbon nightcap and talking into the night.
Our first challenge came when no complaints of discrimination were sent to the Commission, which lacked the power to hold hearings without a sworn complaint. Civil Rights leaders remained dubious that the Commission would produce anything constructive.  Despite our urging, no leaders—including Martin Luther King and Roy Wilkins of the NAACP—would encourage the filing of such complaints. They feared that complainers in the Deep South would be harmed with no assurance of federal protection.
When a complaint did arrive from someone named "Professor Bashful" in Northern Florida, we first imagined it was a joke. But we soon learned that he was real. His complaint was not what Congress had originally intended: He had not been personally prevented from registering to vote, but was complaining on behalf of others. Nevertheless, the Commission unanimously decided to send investigators down to Florida.
We discovered that in Florida's populous Miami-Dade and Jacksonville counties registration rates among non-whites exceeded 40 percent. In three rural counties not a single non-white voter was registered, and in Professor Bashful's Gadsden County, out of the 11,000 of voting age, only seven non-whites were registered.
With that sign of life in the Commission, complaints started coming with sworn allegations of the denial of voting rights to citizens of color from other states. The Commission investigators soon were checking and assembling shocking facts from Mississippi, Louisiana and Alabama. This led to the Commission holding hearings that made history.
Former Governor Battle and Father Ted had grown to respect and like each other, so much so that Battle did not want to disappoint his friend in the Commission's later decisions.  When the Commission encountered total resistance from Southern voting registrars, Battle grew angry. Remembering his grandfather had been denied a seat in Congress for having served in the Confederate Army, he told the stubborn witnesses: "I come to Alabama as a friend—returning to the house of my father." Father Hesburgh was delighted when Battle then made a strong statement, asking the registrars to reconsider, "I am not proud of this city and I am not proud of all the witnesses that have come before this commission ... making this mockery of democracy."
During the Commission's two-year term we held dramatic hearings, North and South, and investigated an ever-growing number of complaints of racial discrimination, in voting rights above all, but also in racial discrimination in housing and in public school desegregation—which the Supreme Court had ordered schools to move "with all deliberate speed" but was still being delayed.
When the term was about to end, the Commission gathered in Shreveport, Louisiana to hold a final hearing and then act upon its proposed report with findings and recommendations for the President and Congress. Because segregation was the rule in Louisiana, the Commission stayed at Barksdale Air Force Base, listening to jets passing overhead and enduring stifling heat. It was not an atmosphere conducive to good will and compromise. Father Hesburgh soon persuaded the Commission to move to the Notre Dame retreat at Land O'Lakes, Wisconsin.
Once there, Father Hesburgh asked his fellow commissioners if they enjoyed fishing. He had already arranged for boats to be prepared and equipment made ready, and soon all six of the Commissioners were out on the water, having a good time on the lake. When they returned, the legal assistants presented them with a completed draft of the Commission report, including strong recommendations for federal intervention against racial discrimination in education and housing in addition to the primary focus on the right to vote.
When the Commissioners voted, it was a surprise that they unanimously approved most of the findings and recommendations.  Former Governor Battle dissented on an important one, but asked Father Hesburgh to forgive him.  He agreed to the crucial finding that the investigation and hearings had found that in many parts of the South voting was being denied to those of color.
Father Hesburgh was given much credit by the other Commissioners for the progress that was made. Former Governor Carlton of Florida spoke very little during the meetings and we presumed he would oppose bold recommendations. He took us by surprise when he finally spoke up saying that the hearings that we had held had made him see that the time had come when bold action was needed, and he was ready "to take the bull by the tail and look the ugly facts in the face."
The Commission's investigations uncovered some of the ugliest facts. In Alabama, in three quarters of the counties with nonwhite majorities, there was either not a single registered non-white voter, or those registered represented less than five percent of the voter pool. In Louisiana, four of the eight parishes with nonwhite majorities lacked a single registered non-white voter. Likewise, in Mississippi 24 of the 26 counties with non-white majorities had less than five percent registered non-whites. Although non-whites represented 41 percent of Mississippi's population, they were only four percent of its registered voters.
After the Commission sent its report to the president, he called the commissioners to the Oval Office. President Eisenhower asked Father Hesburgh how the Commission had reached its shocking recommendations. "I didn't think you fellows would agree on anything," Ike said, "Three of you are Democrats, three Republicans." Father Hesburgh responded, "Mr. President, you didn't appoint three Democrats and three Republicans; you appointed six fishermen."
"Well," Ike replied, "I guess I'd better start appointing more fishermen to these commissions."
As a priest, Father Ted was a leader who put passion and power into helping solve the pressing problems of the world, our nation, and Notre Dame. Bring any big problem needing attention to Father Ted and the needle on his moral compass would point to the common good. But above all, he never forget to be human, nor to recognize the humanity of others. And his ability to connect with allies and opponents alike changed the nation for the better.
---
*
This article originally included an image featuring a Notre Dame official who was misidentified as Father Ted Hesburgh. We regret the error.