Elizabeth Warren Strikes Back at Obama For Calling Her 'Wrong' On Trade
After the Obama administration called Warren out, Democrats came back in force.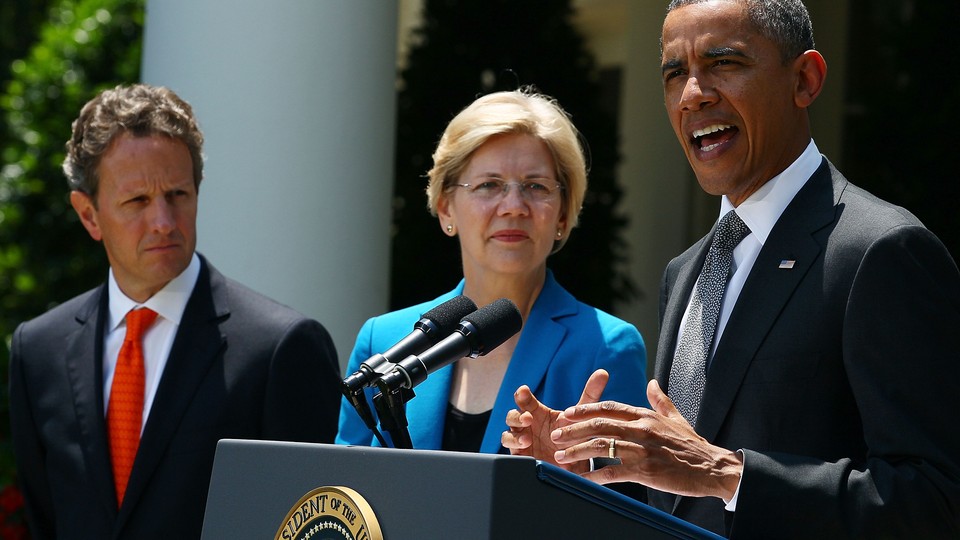 Sen. Elizabeth Warren and other members of the Democratic caucus showed the White House they are not going to let trade legislation pass without a fight, after facing criticism from the president for their opposition.
On Tuesday, Obama criticized the progressive favorite over her oppositional stance on the 12-nation Trans-Pacific Partnership, saying: "I love Elizabeth. We're allies on a whole host of issues. But she's wrong on this." The statements were part of a larger split between the White House and Democrats in Congress over trade agreements and the way they're being handled.
In a response Wednesday, Warren hit back at the White House in a statement on her website, saying that the administration has been conducting the Trans-Pacific Partnership negotiations out of the public eye.
(RELATED: Elizabeth Warren's New Agenda for Democrats on Financial Reform)
"The administration says I'm wrong—that there's nothing to worry about," she wrote. "They say the deal is nearly done, and they are making a lot of promises about how the deal will affect workers, the environment, and human rights. Promises—but people like you can't see the actual deal."
Warren also hit the administration on its desire to pass Trade Promotion Authority, also known as "fast-track authority," which would make trade deals like the Trans-Pacific Partnership subject to an up-or-down vote, without the ability to amend.
"If most of the trade deal is good for the American economy, but there's a provision hidden in the fine print that could help multinational corporations ship American jobs overseas or allow for watering down of environmental or labor rules, fast track would mean that Congress couldn't write an amendment to fix it," she wrote.
(RELATED: Progressives and Elizabeth Warren Die-Hards Are Preparing for Life With Hillary Clinton)
Warren had previously penned an op-ed in The Washington Post on TPP, saying one aspect of the trade deal could weaken labor and environmental standards, which led to the administration responding to the concerns raised. Then again, last month after a conference call about the same subject, the White House put out a fact sheet disputing Warren's statements.