Cracking Hillary Clinton's Energy Code
Clinton has offered few hints of her campaign agenda, and top oil company execs don't know what to make of it.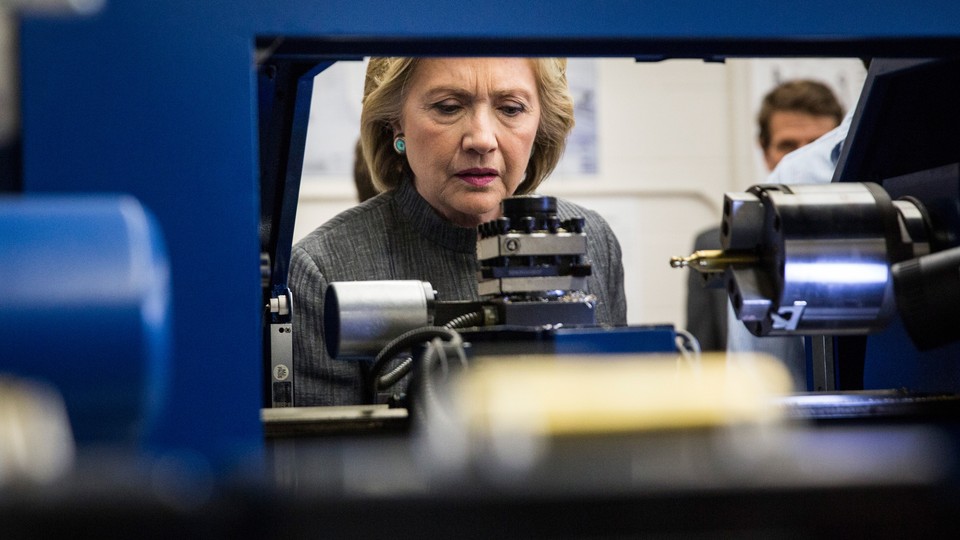 HOUSTON—On Monday night, a few reporters at a major energy conference here cornered BP CEO Bob Dudley in the lobby of the Hilton Americas hotel.
Dudley, overriding a spokesman who tried to keep media at bay, agreed to field one question. But when it was about how a President Hillary Clinton would treat his industry, Dudley said he was flummoxed. "You need to ask a different question because I have no idea how to answer that," he said.
"I really have no idea. She has got incredible international experience. That's all I can say. I mean, she's a tireless, tireless secretary of state. But I really—I have no idea," he said.
His colleague in the Big Oil CEO club, ConocoPhillips' Ryan Lance, didn't claim that his crystal ball was any more accurate. "I don't know. I have not talked to her or any of her representatives," he said told reporters at the CERAWeek conference here. "I have not heard her espouse what their energy policy and beliefs might be."
(RELATED: The Great Fracking Slowdown and Its Aftermath)
Both were downright chatty compared to Exxon CEO Rex Tillerson, who stiff-armed National Journal with "I don't have any comment on that."
Even Harold Hamm, the outspoken CEO of Continental Resources who served as Mitt Romney's energy adviser in the 2012 campaign, didn't want to go there.
"I don't know that I want to answer that, comment on it," Hamm said when asked about what a Clinton presidency would mean for his industry. "I think I'd rather not."
There is probably little upside for oil company CEOs in wondering aloud how Clinton may address an industry that has clashed with Democrats in Congress and the White House for years, and which heavily favored Romney with its political spending in the 2012 cycle.
At the same time, there is genuine sense of uncertainty about the front-runner, who has yet to offer detailed energy policy positions. There is some hope among oil industry types that Clinton would be more open to their cause than President Obama, a fear that has some environmentalists wary of her. But that feeling is not based in anything but reading the tea leaves of old statements and positions.
(RELATED: Why Environmentalists Are Anxious About a Hillary Clinton 2016 Run)
Clinton has not yet made energy and climate a big focus of her early-season travels to Iowa and New Hampshire, where she's focusing on economic issues. Her campaign's first wave of major policy hires—Maya Harris, Jake Sullivan and Ann O'Leary—don't come from energy backgrounds.
On the other hand, her campaign chairman is Democratic uber-strategist and recent White House climate adviser John Podesta, a hero to many environmentalists who opposes Arctic drilling and the Keystone XL pipeline.
Podesta, in a widely circulated tweet when Clinton launched her 2016 campaign, said the top of Clinton's agenda would be "Helping working families succeed, building small businesses, tackling climate change & clean energy."
But what that means in practice remains a mystery.
"I think we want to wait and see what she has to say as she comes forward in the coming weeks and starts outlining what her policy agenda is going to be," said Louis Finkel, a top lobbyist for the American Petroleum Institute.
(RELATED: Big Oil and Pro-Keystone Groups Gave Millions to Clinton Foundation)
He sees reason for optimism. "I think Secretary Clinton has talked time and time again about the role that energy plays in global security. Clearly she has an expertise in that area and we look forward to having that conversation with her and all the other candidates for president," Finkel said.
Last year Clinton called climate change the "most consequential, urgent, sweeping collection of challenges we face" and has backed Obama's rules to set carbon emissions limits on coal-fired power plants. But that's largely a problem for the coal industry (and even a boost for natural gas producers).
Clinton's past provides some other clues.As secretary of state, the agency launched a program to try and help other nations tap their shale gas reserves, the stuff obtained via fracking, with environmental protections.
The wide-ranging energy platform of her 2008 White House campaign called for cap-and-trade legislation to address climate change, obtaining 25 percent of the nation's electricity from renewable sources by 2025, and creating a "strategic energy fund" to boost green energy that's funded by removing oil industry tax breaks. All those goals face huge hurdles in Congress.
(RELATED: Ready for Warren Prepares to Launch Climate Activist Coalition)
But when it comes to her specific policies going forward, there's far less meat on the bones of issues central to oil-and-gas producers: Policies on crude oil exports, Arctic drilling, whether to target refiners with carbon rules, Keystone, and more.
The oil-and-gas industry, despite the U.S. production surge, has clashed with the Obama administration. Industry officials complain that too few offshore areas are made available for drilling, don't like Interior Department regulations on hydraulic fracturing, and attack the president's inaction on Keystone, to name a few areas of conflict.
But for some, there are already reasons to believe that Clinton might—might—be friendlier to the industry than Obama. Scott Sheffield, CEO of Pioneer Natural Resources, predicts that Clinton, if elected, "will be more bipartisan, like her husband was."
"I think she will probably do a better job in regard to getting both sides together and negotiate," said Sheffield, a vocal advocate for ending 1970s-era restrictions on crude oil exports. He also noted Clinton's now-famous comment in 2010 that she was "inclined" to approve Keystone. However, she has stayed mum on the project, which remains under federal review, since it blew up into a major partisan battle.
(RELATED: The BP Deepwater Horizon Oil Spill In Photos)
David Goldwyn, who was State's special envoy and coordinator for international energy affairs under Clinton from 2009 to 2011, said in an interview that Clinton would be green, but bring a different approach than Obama.
"She is a committed environmentalist so I am absolutely certain that she will pursue implementation of the [planned] Paris [climate] accords and be aggressive in finding ways to move the US down the carbon chain and expand access to clean energy and grow jobs and innovation in that space," he said.
"I think what may differentiate her from the president here and maybe in terms of overseas policy is that in the end she is a pragmatist. She looks at problem-solving from a non-ideological point of view," said Goldwyn, who is now president of Goldwyn Global Strategies, a consulting firm with energy-sector clients.
One oil lobbyist predicts that Clinton would have at least a somewhat different posture toward the industry than her predecessor.
"Clinton is far less rigid ideologically than current president and secure enough to be able to work deals that can be mutually agreeable," this lobbyist said. "That is not to [say] hers will be a favorable administration, just less unfavorable to the industry."