Congress Might Get Back Into the Energy Business
Murkowski tells the oil industry about plans to move energy legislation, pointing to recent bipartisan successes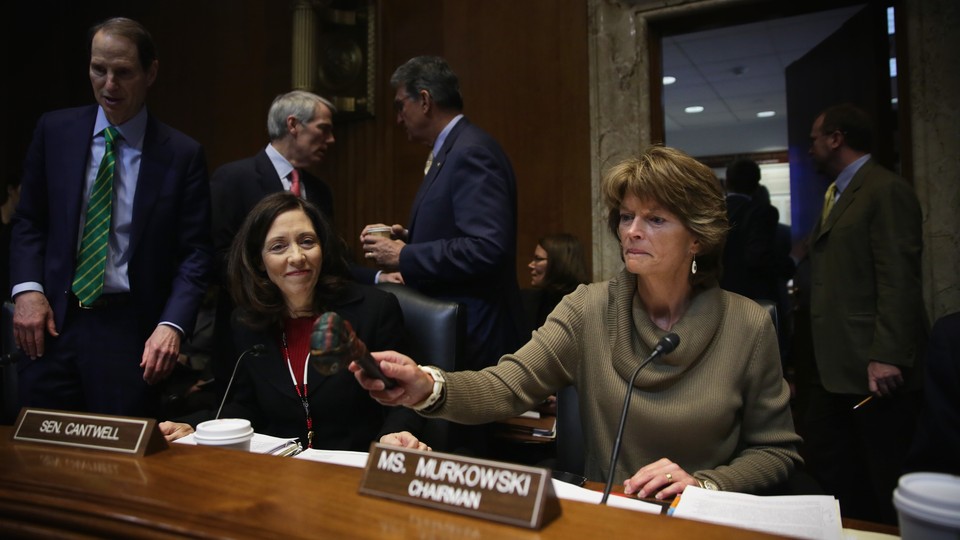 HOUSTON—Lisa Murkowski, the Alaska Republican who chairs the Senate's energy committee, told a roomful of industry officials that she's introducing legislation this year to end the nation's decades-old ban on crude oil exports.
Murkowski also said she has begun mapping out the broader, separate energy bill she hopes to shepherd through the panel with Democratic buy-in.
Here's the kicker: Murkowski argues that if the recent past is prologue, it might not be hopeless, despite years of gridlock on Capitol Hill and Congress's failure to pass major energy legislation since 2007.
Congress recently experienced a boomlet of bipartisanship on thorny issues, striking deals on review of the potential deal over Iran's nuclear program and the Medicare "doc fix." Could that extend to energy legislation? "I think that we are starting to work together and I think that that is a very good sign," Murkowski told reporters at the IHS CERAWeek conference here.
Unlike legislation to approve the Keystone XL pipeline, Murkowski noted that President Obama has not signaled rejection of an exports bill. "We haven't heard that there's a hard stop here. I am reading that as a positive," she said. Murkowski also is pressing the White House to ease crude export restrictions, such as granting exemptions on a per-country basis.
Murkowski's comments come as oil producers push to ease or dismantle bans imposed in the wake of the 1970s Arab oil embargo.
ConocoPhillips CEO Ryan Lance, who has been among the most aggressive industry officials on crude exports, noted that his company has been working on two fronts—meeting with the administration on steps it could take using executive authority, and supporting legislative efforts.
He said that time is of the essence on legislation. "If we can get something out there this year, I think that's important," Lance said.
"Going into 2016, we know it may be too difficult to legislate given the elections that are going on," he said. "Which is why I think it is important that we press the issue this year."
Still, Murkowski acknowledged that it's a tough climb for export legislation in Congress, let alone getting agreement from the White House. Over the past year, she has been trying to assuage concerns that lifting the export ban could raise domestic gasoline prices.
"We are dealing with a fear factor that we have to acknowledge," she told the industry audience, later noting: "I do think that it is coming around but it is slower than I think we would like."
Murkowski's announcement drew a quick response from Massachusetts Democrat Edward Markey, who linked exports to Monday's anniversary of the BP oil spill.
"On the fifth anniversary of the largest offshore oil spill in America's history, oil companies and their allies in the Republican Party are trying to export America's oil abroad," he said. "We shouldn't have to choose between spilling America's oil here or selling America's oil abroad, because in both cases it is ordinary Americans who pay the steepest price."
Still, it's not just Markey who can use a ripped-from-the-headlines approach to push a view on exports. Murkowski tied the issue to the brewing U.S.-Iran nuclear deal, in which Tehran would agree to major limits on its nuclear program in exchange for sanctions relief.
"We should not lift sanctions on Iranian oil while keeping sanctions on American oil. It makes no sense," she said.
"There is a broader discussion going on right now about sanctions and oil, and I think the discussion about oil exports from the United States needs to now be part of that conversation," she said.
Murkowski also shared the very broad outlines of wider energy legislation, which she hopes to craft in concert with Maria Cantwell, the top Democrat on the Senate energy committee. (Murkowski said it's not clear whether she would try and put exports into the mix of the broader bill.)
"Those of us on the Senate Energy Committee are beginning work on a broad energy bill, and we are breaking with tradition. Instead of dividing our bill into oil, renewables, gas, electricity, pipelines, and so on, we are focusing on four broad titles: efficiency, supply, infrastructure, and reforms to promote accountability," she said. That last pillar, Murkowski suggested, involves looking at whether energy-related regulations are duplicative or overburdensome.
Murkowski is hopeful that the bill will be on the Senate floor this summer.