Christopher Hart: Flying's in His Blood
For the new head of the National Transportation Safety Board, flight safety is personal.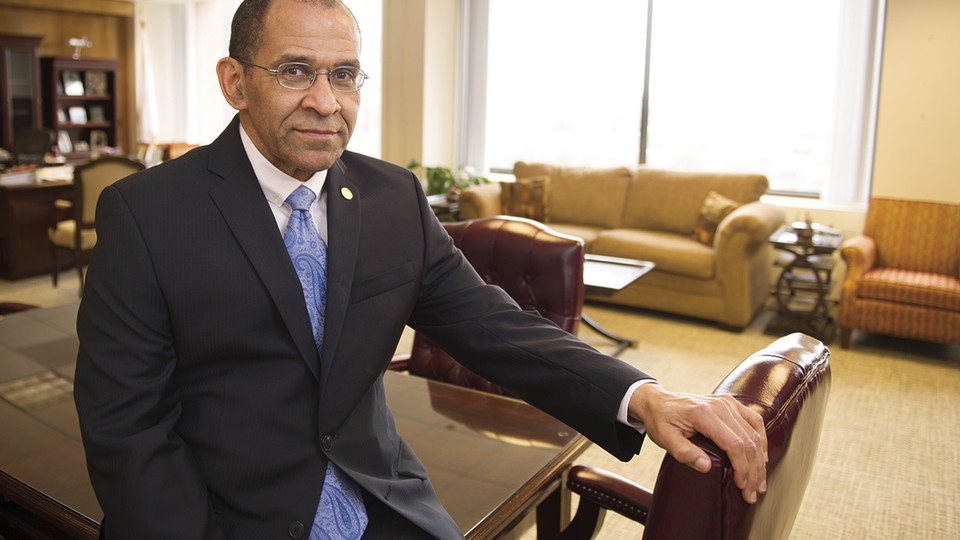 Christopher Hart's great-uncle James Herman Banning was the first African-American to receive a U.S. pilot's license. He also died in a plane crash. So, since last month, when Hart became head of the National Transportation Safety Board, the U.S. agency responsible for understanding and preventing aviation and other transportation accidents, that piece of his family history has been on his mind. "I feel he's looking down with a great deal of excitement and pleasure at his great-grand-nephew being the head of NTSB," Hart tells me during an interview at the agency's headquarters. Christopher Hart is the chairman of the National Transportation Safety Board. (Chet Susslin)
It's a very personal connection to the responsibility Hart shouldered when he agreed to oversee the more than 400 employees charged with getting to the bottom of the roughly 1,500 aviation accidents that take place under U.S. purview each year, as well as the numerous highway crashes, ship and marine incidents, pipeline spills, and railroad accidents NTSB also investigates. ""Š'Why' is the tough part," Hart says. "And even tougher is, 'What can we do to keep this from happening again?'"Š"
Hart, 67, grew up in Denver, and even as a child, he was fascinated with planes. He recalls asking for a ride on a charter flight for his birthday one year during middle school. (To his delight, his parents complied.) He majored in aerospace engineering at Princeton and then got his master's in the subject. He also became a licensed pilot; he still enjoys flying for recreation. And, judging from the model plane he has recently assembled and conspicuously left out on the table, he hasn't lost his interest in the engineering side of things. "I'm an airplane nut!" he says.
As much as he loved airplanes and engineering, however, Hart says, "I didn't feel enough of a connection with the beneficiaries of what I did." So after Princeton, he went to Harvard Law School. He worked as a general civil lawyer, mostly in the private sector, from 1973 until 1990, when he became an NTSB board member. He then served as deputy administrator of the National Highway Traffic Safety Administration before moving over to the Federal Aviation Administration in 1995. There he honed his skills in transportation safety, first as assistant administrator for system safety, and later as deputy director for air-traffic safety oversight. Among his proudest achievements while at FAA, he says, was spearheading the Global Aviation Information Network, or GAIN, a government-industry project that developed tools for collecting, analyzing, and sharing aviation-safety data for the purpose of identifying potential problems and fixing them before they resulted in a mishap.
Then, when President Obama was elected in 2008, Hart networked aggressively for the position he'd long had his eye on—the one he holds today. He says he worked his connections to the president (Harvard Law) and the first lady (Princeton), and used whatever other tools he could think of to land the job. "I just threw a bunch of spaghetti against the wall and saw what stuck," he says. In August 2009, he was sworn in a second time as a board member of NTSB; in July 2014, Obama nominated him for the NTSB chairmanship. He was confirmed by the Senate in March.
With two years left in the administration, the biggest remaining issue on Hart's agenda isn't aviation related: It's distracted driving. With people relying on their phones and gadgets more than ever, he says, the potential for a disaster behind the wheel is enormous. His beloved planes are far safer, he notes: "People are more afraid of flying than driving. The danger is the drive to the airport."