Capitol Locked Down After Shooting Incident
Police investigating possible suspicious package, suicide attempt on a day when Capitol Hill was packed with tourists.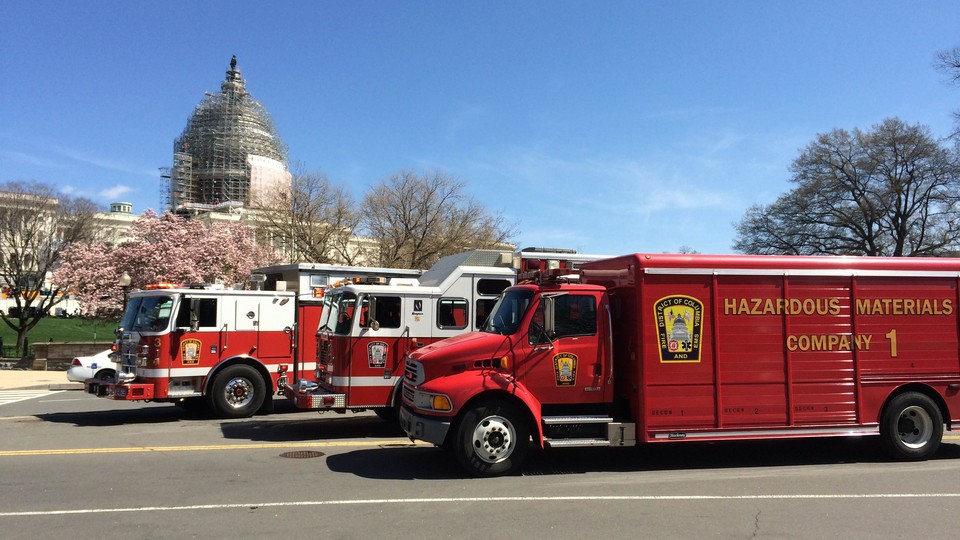 The west front of the Capitol was locked down and swarming with police Saturday after a man shot himself outside the building.
U.S. Capitol Police Chief Kim Dine told reporters Saturday evening that at 1:05 pm, a suspect had "produced a weapon and engaged in a self-inflicted gunshot wound" in a public area on the west front terrace of the Capitol. Dine would not reveal any details about the man or his name while next of kin were being notified.
Dine said that the man had a backpack in addition to a suitcase and a sign. Dine could not confirm what the sign said, but called it a "social justice" message.
Dine would not discuss the weapon used, but said no others were found. Officers have cleared the area and the Metropolitan Police Department of Washington will continue to investigate the death. Dine said that there did not appear to be any "nexus to terrorism."
Police initially locked down the Capitol itself as well as the Capitol Visitor Center and surrounding grounds. Just before 4 p.m., the department announced that the Capitol building and East Front had been reopened, but the West Front remained closed.
The incident occurred on a day when the Capitol grounds and the entire National Mall were packed with tourists. Robert Bishop of Annapolis, Maryland, was walking around the west terrace of the Capitol, on his way to meet his daughters for the Cherry Blossom Festival, when he heard a shot. "I thought it was a balloon," Bishop said.
But he then saw a mother and her daughter throw up their hands and start crying. Another woman facing behind him told him that a man had shot himself, just 10 to 15 feet behind them, Bishop estimates.
"When I turned around he was laying on the ground. I saw him with the gun. ... And the suitcase was there," Bishop said.
Bishop said the man was "an older gentleman," and "nondescript." The man had with him a black carry-on suitcase with a handle, which police were investigating as a suspicious package, and a sign that Bishop says said something about "the one percent."
"He had just raised the sign and then he shot himself," Bishop said. "I didn't see him that well."
Two ambulances were seen leaving the area around 2 p.m. Personnel from the U.S. Capitol Police, the FBI, Metropolitan Police, and Homeland Security Department were on hand. Police dogs were seen sniffing all of the cars on the west side of the Capitol just before 3 p.m.
This article has been updated.
---
Rachel Roubein contributed to this article