Can Republicans Have it All on Iran?
Republicans are committed to a freewheeling amendment fight, but it's not without political risks.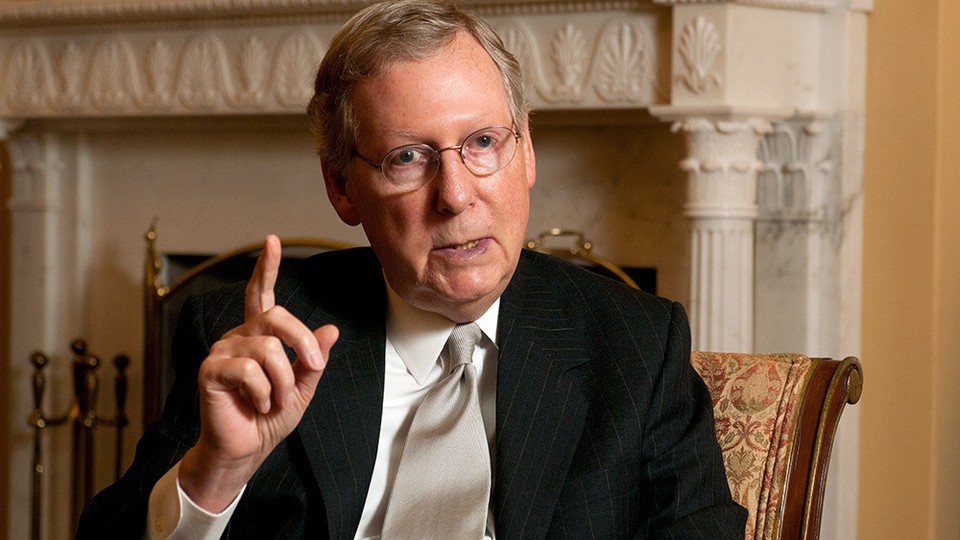 Senate Majority Leader Mitch McConnell is proud that, under his rule, senators have large amounts of leeway to offer up amendments to legislation—and he loves needling his Democratic predecessor, Harry Reid, with that fact. The open-amendment process has been a "new experience for a huge number of senators, but I think they have been able to survive it," McConnell quipped Tuesday afternoon.
Now, as the Senate votes on legislation regarding Iran's nuclear program, McConnell is about to experience the flip side of the coin: He has given his colleagues the chance to offer amendments, but in so doing, he has risked one of them successfully tagging the bill with a poison pill—a provision that would upset the careful compromise that led the White House to recently drop its veto threat.
Republican lawmakers, including some of the party's presidential hopefuls, have filed amendments that, if successful, probably would revive the White House's opposition. "Obviously, we want to keep the end goal in mind, and that's we want to get this bill on the president's desk," said Sen. John Thune, a member of the GOP's leadership team.
(RELATED: A Test for the Iran Deal -- and the 2016 Contenders)
The first amendment vote on the bill was a bipartisan rebuke of a major change, which could suggest that a substantial number of Republicans aren't in the mood to add provisions to the bill that could upset the agreement.
Lawmakers voted 39-57 against GOP Sen. Ron Johnson's amendment that would have required that the hoped-for U.S.-Iran agreement to limit Iran's nuclear program be handled in the Senate as a formal treaty. Twelve Republicans joined Democrats in opposition to the amendment.
But other tough votes may await.
Controversial amendments include Sen. John Barrasso's measure that would require White House certification that Iran is not supporting terrorism against the U.S. and Sen. Marco Rubio's amendment to require that Iran recognize Israel's right to exist, among others.
(RELATED: How Obama Is Spinning Congress's Iran Deal)
Asked if he is urging GOP lawmakers not to support amendments that could be poison pills, Thune was ambiguous. "We just have to be realistic about the amendment process, know that our guys are going to want their opportunity to offer amendments and get debates, but in the end we are going to want a signed bill," he said.
But Arizona Republican Jeff Flake, a member of the Senate Foreign Relations Committee, told National Journal that he'll vote against amendments that could upset the compromise—and predicted that a number of his GOP colleagues would do the same.
"There is always that risk, but it is a risk we said that we would take. We are going to have an open amendment process," Flake said in the Capitol. "But I think there are a sufficient number of members who would want to see this pass."
He predicted that "a number" of GOP colleagues would take the same position and vote against Republican amendments like the one on Israel.