Bernie Sanders Is Running For President To Talk About Policy, Okay?
In his first public appearance as an official 2016 candidate, he laid out his policy visions in an underdog bid and berated the media for its focus on "gossip" and "making campaigns into soap operas."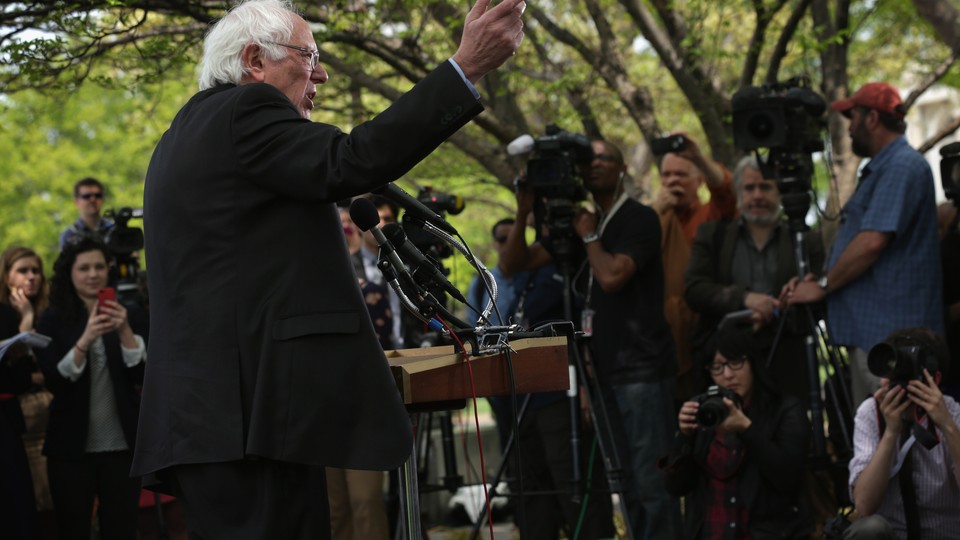 A President Bernie Sanders is a longshot. But that didn't stop the socialist senator from rallying for a miracle Thursday, albeit without saying the word "president," or directly acknowledging that he officially announced his 2016 bid early this morning.
In a speech that lasted only five minutes just outside the Capitol building, the 73-year-old senator from Vermont declined to invoke lofty imagery of a Sanders White House. Instead, he laid out his agenda of economic populism and how his brand of Democratic socialism can best tackle the "enormous issues facing this country."
Sanders officially announced his candidacy for the Democratic presidential nomination in an email to press and supporters early Thursday morning. But his brief appearance Thursday—just ten minutes long with questions from reporters—was an extension of his decades-long crusade for economic equality, though with a more visible platform.
The rampant economic inequality in the U.S., he said, "is not only immoral, it's not only wrong, it's unsustainable. It can't continue."
The senator didn't waste any time before diving into policy, distilling into the short speech what he sees as the great menaces of America's middle class: the Koch brothers, Citizens United, the country's "crumbling infrastructure," the billionaire "top one percent" who own "almost as much wealth as the bottom 90 percent." And he urged the media, including the scrum of reporters gathered for the event, to focus on the "serious debate over serious issues" in lieu of "gossip" and "making campaigns into soap operas."
Though he said Thursday "we're in this race to win," his polling shows that a Sanders victory will be nearly impossible. Only 5 percent of Democratic respondents said they'd back him in a CNN/ORC poll from last week, while Democratic frontrunner Hillary Clinton garnered 60 percent support. Sanders' entry into the Democratic primary fray, some progressives hope, will nudge Clinton further to the left, filling the vacancy left by Sen. Elizabeth Warren, who—despite pleas from progressives for her to run—has said she will sit out 2016.
In the face of such a formidable opponent, Sanders's strategy, it seems, is to corner the market on progressive policy, name-checking the need to alleviate student debt, tackle "real unemployment in America," and the need to "recognize the reality of climate change."
When pressed, however, he drew contrasts between himself and Clinton.
"I voted against the war in Iraq," he said. "And not only did I vote against it, I helped lead the effort, and many of the things that I said back then turned out to be true." He also highlighted his efforts to stop the Trans-Pacific Partnership, as well as the Keystone XL Pipeline.
While he trails Clinton with single-digits in the polls, Sanders has a devoted following in Vermont, where he won reelection in 2012 with 71 percent of the vote, and in left-wing circles across the country.
Brian Walden, a Virginia hemp farmer who was on Capitol Hill with the hemp lobby Thursday, happened upon Sanders' press conference as he walked through the Capitol grounds. As the senator vilified the "billionaire class," Walden let out a whoop of agreement.
"He makes my hair stand on end. He says all the right things. He knows what he's talking about," Walden told National Journal. "I'm from Vermont and he's my hero."
Because the senator maligns the Citizens United decision and the billionaires who he says can buy elections, Sanders said Thursday that he "seriously" wonders "whether it is possible for any candidate who is not a billionaire or who is not beholden to the billionaire class to be able to run a successful campaign."
"One of the hesitancies I had about deciding whether to run or not is obviously dealing with money," he said. "I'm not going to get money from the Koch brothers, and I'm not going to get money from billionaires. I'm going to have to raise my campaign contributions with Berniesanders.com, small individual contributions. That's how I'm going to do it."
He plans to rally his devoted following through grassroots campaigning on social media: The senator has 296,000 followers on Twitter and nearly one million Facebook likes.
"The way you get over that skepticism and not be considered a fringe candidate," Sanders adviser Tad Devine told National Journal last fall, "is by putting together the resources that you need to communicate a message, putting together a campaign mechanism that people can look at and can see that there is the capacity to run a serious campaign on the ground in the early states, through mass media, and through the new tools of politics which President Obama has succeeded so well with in two presidential campaigns."
It seems quixotic, but Sanders is prepared to forge ahead.
"The question is, if you raise the issues that are on the hearts and minds of the American people, if you try to put together a movement that says we have got to stand together as a people and say that this capitol, this beautiful capitol, our country, belong to all of us, and not the billionaire class, that's not raising an issue, that's winning elections," he said. "That's where the American people are."