Barack Obama's New Trade Lobbyist
Japanese Prime Minister Shinzo Abe is in Washington to talk trade.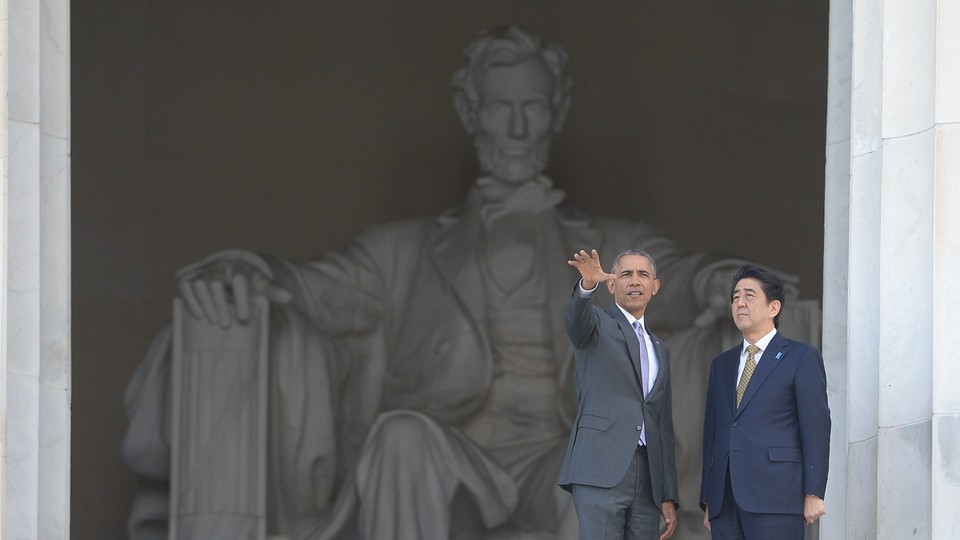 President Obama is likely to be smiling when Japanese Prime Minister Shinzo Abe goes to Capitol Hill on Wednesday—something he definitely didn't do one of the last times a foreign leader spoke before Congress.
Back in March, Israeli Prime Minister Benjamin Netanyahu warned Congress, "Don't be fooled" by the president, and he lobbied against the White House's efforts to work out a nuclear agreement with Iran. Now, 55 days later, on another controversial issue—trade—Abe steps forward as an important ally lobbying for an Obama deal.
With the administration's request for Trade Promotion Authority hanging in the balance, the White House sees Abe's visit—and his intervention with Congress—as coming at a key moment, even as the United States and Japan struggle to wrap up their parts in the negotiations on the Trans-Pacific Partnership, a 12-nation free-trade deal.
"I don't think Abe will repeat the performance of the previous guest," said Sheila A. Smith, senior fellow for Japan Studies at the Council on Foreign Relations. "That's not at all in his interests, and I don't think he is inclined to identify Japanese interests as being divergent from our administration's." She predicted Abe will "make a strong case" for TPP and will "try to sell TPP to those congressmen and women who remain a little bit on the fence."
Other analysts agree. "This is not a Netanyahu moment," Shihoko Goto, a senior associate in the Wilson Center's Asia Program, told National Journal. "With TPP, Japan wants to move forward. America wants to move forward. It is good for both countries. It is good for Asia. It is good for the world, and that's what he wants to talk about."
What this speech doesn't have is the same buildup as Netanyahu's, whose appearance was marked by controversy over the protocol of the invitation and hyped further by subsequent boycotts. But while Abe's speech won't have nearly the same national impact, the White House hopes his personal appeal is enough to nudge a few more members to appreciate the economic benefits of the trade deal.
The fact is, for the White House, TPP remains a tough sell in Congress where most of the president's own party is abandoning him on the issue.
At the same time, the TPP negotiations are stalled over the last remaining obstacles—the tariffs protecting Japanese farmers and American protections for U.S. trucks and autos. In an interview with The Wall Street Journal released Monday, Obama acknowledged the sticking points will probably prevent a deal from being finalized while Abe is in Washington.
"Negotiations are tough on both sides because he's got his own politics and interests," said Obama. "Japanese farmers are tough, Japanese automakers want certain things. I don't expect that we will complete all negotiations" this week. Though he added that the "parties (are) much closer together."
Abe has championed TPP from the start, pushing it hard on his first visit to Washington after his election in 2013—even though he has his own domestic critics, including Japanese farmers who do not want to lower the tariffs that protect them from U.S. competition. That is one reason why the congressional dispute over trade is big news in Japan. "The Japanese are watching our debate here," said Smith. "They are trying to gauge whether we are well positioned to move forward."
The speech to a joint meeting of Congress—the first ever by any Japanese prime minister—will be the highlight of what is an extraordinarily long U.S. visit by Abe. It started Monday in Boston and featured an unscheduled visit with Obama to the Lincoln Memorial later in the day. Tuesday, Abe will get the most pomp and ceremony a White House can deliver, with a full formal arrival ceremony on the South Lawn, talks in the Oval Office during the day, and a State Dinner in the evening. Then, it's to Congress on Wednesday before leaving for New York and, later in the week, to California.
The breadth of his schedule is designed to show the depth of Japan-U.S. ties even as both countries mark the 70th anniversary of Japan's surrender to conclude World War II. And to both governments, nothing says that those hostilities are long gone more than the deeper economic ties symbolized by the TPP and the deeper military ties discussed on Monday.
Both sides contend the two leaders have a good relationship—certainly a contrast with the Obama-Netanyahu friction. An official in the Japanese Embassy privately boasted that they enjoy an easy compatibility that allows them to use first names in their meetings. That recalls the days of the "Ron and Yasu" show, starring President Ronald Reagan and Prime Minister Yasuhiro Nakasone. But it still falls short of last decade, when President George W. Bush delighted his Elvis-loving counterpart by taking Prime Minister Junichiro Koizumi to Graceland.
"On the personal relationship, this isn't as good as Bush and Koizumi," said Goto. "You know Obama—this is as passionate as he's going to get."