Arkansas Reconsiders Its Religious-Freedom Law
Legislators passed a bill critics said was even more sweeping than Indiana's law, but Governor Asa Hutchinson says he won't sign it until controversial sections are fixed.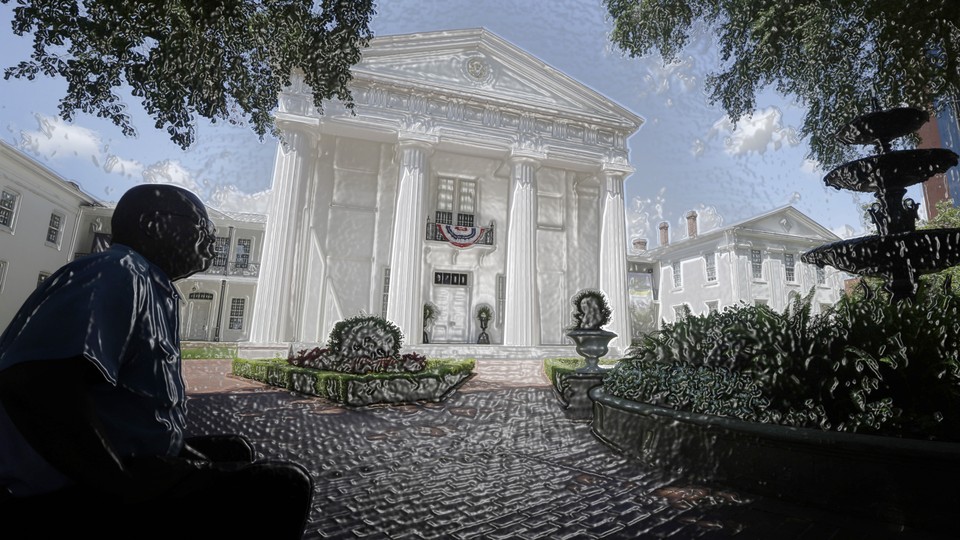 Arkansas Governor Asa Hutchinson was surely watching what happened over the last week in Indiana. And it looks like he didn't like it.
Just like in Indiana, Arkansas legislators have passed a bill that they say is needed to protect the religious rights of their citizens. Just like in Indiana, its drafters have said the law is simply an echo of protections at the federal level and in other states, despite some notable differences in the legislative language. Just like in Indiana, the governor initially supported the bill. Just like in Indiana, the state's most powerful business interests spoke against it.
Even Hutchinson's son signed a petition calling on the first-term Republican to veto the bill. The governor listened, announcing on Wednesday that he won't sign the bill as it currently exists, citing differences between the Arkansas bill and its federal model. Hutchinson called on leaders in the legislature to either recall the law and change the wording or else to pass supplementary legislation achieving the same effect.
What's in the Law?
My colleague Garrett Epps noted two ways in which the Indiana law was different from RFRAs that preceded it. First, it allows for-profit private businesses to assert a right to exercise religion. Second, it allows an assertion of religious freedom as a defense in lawsuits that don't involve the government. That is what critics say set up the possibility of businesses refusing service to gay and lesbian patrons, though Pence insists the law does nothing of the sort.
Arkansas's law is similar (you can read its text here, and the Indiana law's text here). For example, it states that "regardless of whether the state or one of its political subdivisions is a party to the proceeding, a person whose exercise has been substantially burdened, or is likely to be substantially burdened ... may assert the violation or impending violation as a claim or defense in a judicial or administrative proceeding."
One difference between these two state-level bills, though, lies in the language that discusses when a person's religious practice may be burdened by state action. Indiana's law says that could only happen when it is "in furtherance of a compelling governmental interest." The Arkansas bill, by contrast, sets a higher standard—a government action must be "essential," which would make it easier for individuals to claim that the state was burdening their religious liberty.
How the Politics Shifted
So why did Hutchinson decline to sign the bill while Pence did? He says he continues to support the act and insists that the bill does not extend discrimination, but he and other Arkansas leaders had the benefit of seeing the Hoosier State's hectic week. When Pence held a news conference Tuesday, he looked beaten by events. National figures called for boycotts of Indiana; organizations like the NCAA condemned it; local business leaders spoke against the law; and a split emerged in the Republican Party, with the GOP mayor of Indianapolis criticizing the law.
Meanwhile, Bentonville-based Walmart, Arkansas' economic powerhouse, called on Hutchinson to veto the bill.* Republican leaders, appearing with Hutchinson Wednesday, said they remained committed to passing a religious-freedom bill but were determined not to license discrimination. The controversy has also created a headache for the national Republican Party and for its 2016 presidential hopefuls, who had hoped to sidestep divisive culture-war issues.
Skirmishes in that war are nothing new. This time, though, Arkansas has backed down from the bill over the discrimination concern, while Indiana is scrambling to fix its law. While Democrats maintained a hold on Arkansas politics until the last election, both states are solidly conservative. The travails of each state's RFRA show that public opinion has moved so fast on gay rights that even the suggestion of discrimination is anathema in right-leaning states, and it suggests that same-sex-marriage opponents, who had viewed religious-freedom laws as their best protection against gay marriage, will have to look for a novel strategy.
---
* This story originally stated that Walmart is based in Benton. We regret the error.