Anthony Brown Tries Political Comeback in Maryland After 2014 Debacle
He's trying to rebuild his political career in the House—but there's no guarantee he'll even get there.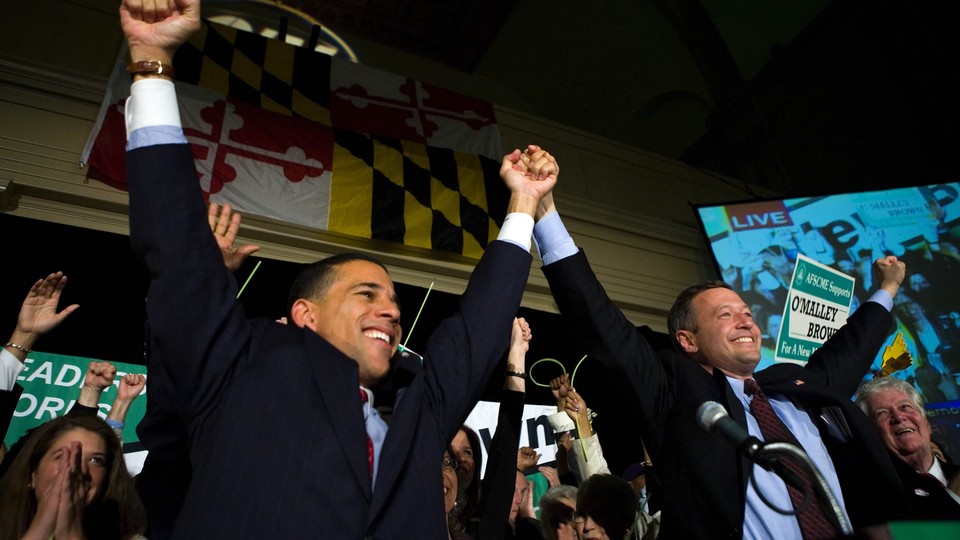 Anthony Brown seemed poised to make history by becoming Maryland's first African-American governor. Now, Martin O'Malley's former lieutenant governor can't even clear the field for an open House race.
Brown's stunning defeat in 2014 shut Democrats out of the governor's mansion for only the second time in over four decades and left many in the state party disillusioned even now, months later, as Brown attempts a comeback in Rep. Donna Edwards's House district. But after win­ning a six-way statewide primary with 51 per­cent of the vote in 2014, Brown—a one-time rising star who quickly climbed Mary­land's polit­ic­al lad­der with help from O'Mal­ley and oth­ers—is just an­oth­er can­did­ate for Mary­land's 4th Con­gres­sion­al Dis­trict.
"It's tight, it's competitive, and anyone who says differently is not giving this a fair assessment," said one of Brown's former senior aides, who requested anonymity to discuss Brown and the race candidly.
In addition to Brown, former state's attorney Glenn Ivey, state Del. Joseline Peña-Melnyk, state Del. Dereck Davis, and former Prince George's County Council member Ingrid Turner have piled into the race to replace Edwards, who is leaving her safely Democratic district to run for Senate. In the first quarter of the year, Ivey raised more than twice as much money as the well-connected Brown, $116,000 to $52,000.
For his part, Brown said he's no stranger to com­pet­it­ive races and is con­fid­ent he'll have the re­sources he needs to com­pete—and re­deem him­self polit­ic­ally.
"There's a tremendous amount of support for me for my efforts to continue to serve the public," Brown told National Journal. "There continues to be widespread appeal for the vision I've articulated."
Brown has long ties to the Prince George's County-centered district. He began his political rise in part of it, representing a slice in the Maryland House of Delegates from 1999 through 2007. After Brown vaulted to the post of majority whip in his second term (and served in the Iraq War for 10 months), then-Baltimore Mayor O'Malley tapped Brown to join his winning gubernatorial ticket in 2006.
Brown was widely expected to succeed O'Malley, who endorsed him over then-Attorney General Doug Gansler in the Democratic primary, in heavily liberal Maryland. And with help from the state Democratic establishment, he raised more than $18 million for that 2014 race. But fellow Democrats criticized Brown for running a passive campaign that didn't do enough to react as the GOP wave started boosting Larry Hogan, the Republican victor.
Still, Brown is now planning to draw on the support he did receive: His federal campaign finance report notes that he spent $2,850 to rent a fundraising list from his old statewide campaign.
But one observer noted that Brown's first-quarter fundraising haul was notably small for a politician with a contact list as long as his. Keith Haller, a pollster and strategist in Maryland, said Brown's fundraising is an indication that state Democrats remain unhappy with him after his gubernatorial loss.
"You'd think you ought to be able to raise a couple hundred thousand from your closest friends and closest relationships," Haller said. "It just seems like the spigot has been shut down."
Brown dismissed concerns about his fundraising, saying his focus is fixed now on issues like economic security and safe neighborhoods. "This campaign is not going to be won or lost on how much a candidate raises," he said. "It's going to be won or lost on the message that is conveyed to voters."
Brown retains some political advantages. In November, he handily won Prince George's County, taking in 84 percent of the vote. And the millions in television advertising he spent in the Washington media market boosted his name recognition in the district, probably far above anything his Democratic opponents enjoy.
"Regrettably in a day and age where a week of media can cost close to a million dollars, it is a serious political advantage," said Justin Schall, Brown's campaign manager in 2014.
And Brown wouldn't be the first politician in Maryland to lose statewide before waging a federal comeback. House Minority Leader Steny Hoyer fell short in a 1978 bid for lieutenant governor, but later was elected to Congress, while Sen. Barbara Mikulski lost a Senate campaign in 1974.
But for the first time in his political career, Brown is fighting not to climb up the ladder, but just to get back on it.