An Unabashedly Liberal Hillary Clinton
After decades of centrist triangulation, the newly declared presidential candidate unexpectedly embraces a more liberal focus on domestic policy.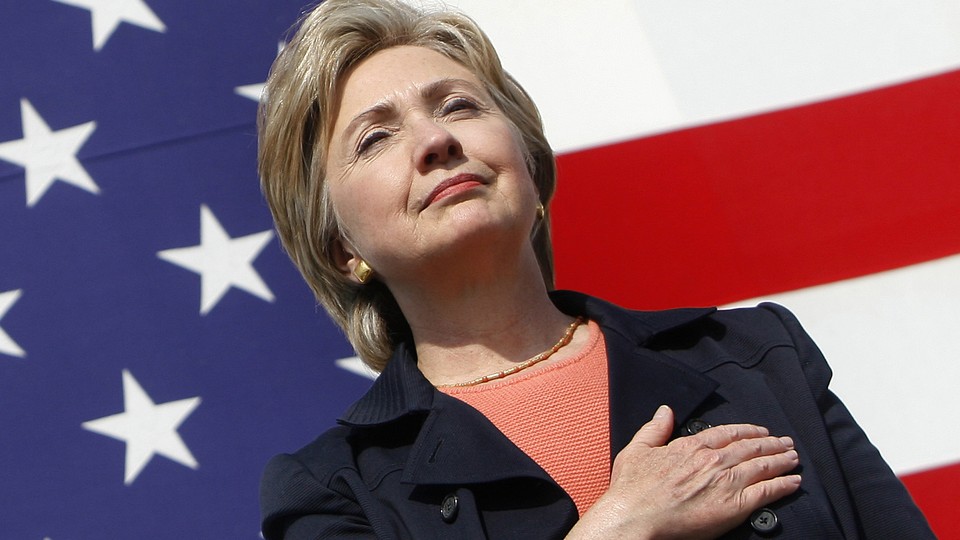 Every presidential campaign is a bet on the American mood at a given moment in time. I watched Hillary Clinton's presidential announcement video alongside the one she issued in 2007, and the speech she gave declaring her senate candidacy in New York in 2000. The upshot: America, as seen by Hillary and the people advising her, is a lot further left than it was a decade or two ago.
Here are some of the phrases that appeared in Hillary's 2000 senate announcement: "voluntary uniform rating system for movies and films," "welfare," "more police on the streets," "teacher testing in the face of boycotts," "I don't believe government is the solution to all our problems" and "parents, all parents, must be responsible." The message was pure Clintonism, as developed when Bill ran the Democratic Leadership Council in the early 1990s: To deserve government help, people must be morally responsible. And it came naturally to a senate candidate who, although caricatured as a sixties radical, was better described, by a former White House aide, as "a very judgmental Methodist from the Midwest."
In 1993, Hillary had declared herself "not comfortable" with distributing condoms in schools. In 1994, she had endorsed "three strikes and you're out" laws that expanded prison sentences.
In 1996, she had backed Bill's decision to sign the anti-gay Defense of Marriage Act.
And in the 2000 senate campaign, she supported parental notification laws for children seeking abortions, a position that placed her to the right of her initial Republican challenger, Rudy Giuliani.
All that cultural conservatism is gone in the video she issued last night. It's not just the image of a gay male couple holding hands while announcing their impending wedding, followed later by what appears to be a lesbian couple. It's not just the biracial couple. Or the brothers speaking Spanish. It's also the absence of culturally conservative imagery: no clergymen, no police, one barely noticeable church. Instead, the video starts with a woman who is moving so her daughter can attend a better school. A bit later it features a woman who after staying home with her kids is going back to work. In both cases, there's no father in sight. Whether or not Clinton and her advisors were trying to showcase single mothers, they certainly weren't afraid of being accused of showcasing them. In 2000, in the wake of a welfare reform debate in which single mothers were made symbols of the moral irresponsibility the Clintons campaigned against, these positive depictions would have been unimaginable.
The video Hillary released yesterday was also devoid of soldiers. And it contained no discussion of foreign policy. Compare that to Hillary's 2007 video, the first substantive words of which were: "let's talk about how to bring the right end to the war in Iraq and to restore respect for America around the world." Later in that video, she championed her work "protecting our soldiers."
In 2007, while backpedalling from her vote to invade Iraq, Hillary was still intensely focused on convincing Americans she was tough enough to be commander in chief. In 2003, she had called for expanding the military.
In 2004, she had been one of only six Senate Democrats to support the deployment of an untested missile defense system. In 2006 she told other senators, in explaining her opposition to setting a deadline for the withdrawal of US troops from Iraq, that "I face the base all the time." And in the days before announcing her presidential candidacy, she had travelled to Afghanistan and Iraq.
Today, Republicans still see foreign policy as politically central. Jeb Bush dwelled on it in the video he released in response to Hillary's.
And, of course, Clinton will spend plenty of time talking foreign policy as the campaign wears on. But the message of yesterday's announcement video, unlike the one in 2007, is that international affairs are secondary. The core of Hillary's campaign will be economics. More specifically, it will be championing the "everyday Americans" who face a "deck still stacked in favor of those at the top." That kind of swipe at the ultra-rich was absent from Hillary's announcements in 2000 and 2007 too.
It's striking that, absent serious primary competition that might have forced her left in the primaries, Hillary has gone left anyway: with culturally progressive imagery, a class-oriented economic message, and a purely domestic focus. If the aim was to produce something fresh, the Clinton campaign succeeded. One reason the announcement felt fresh was because since they entered national politics more than two decades ago, the Clintons have expended enormous energy protecting themselves from right-wing attack. The message of yesterday's announcement video was that Hillary thinks that in the America of 2016, she no longer has to play that game.