An Animated Look at the 2012 Republican TV Primary
The longest-lasting GOP presidential campaigns waited until late to go on TV, and other lessons from animated maps of the 2012 race.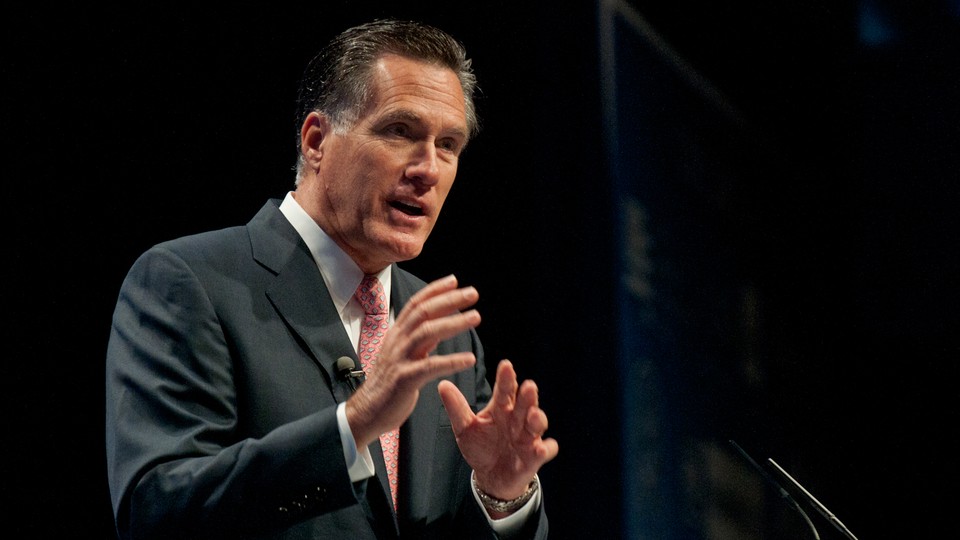 The battle for the Republican presidential nominee is, for now, largely going on behind closed doors, with candidates chasing donors, staff, and big-name supporters. But when the chase moves past that "invisible primary" and onto actually communicating with large groups of voters, the biggest indicator will be TV ads—lots and lots of TV ads.
Though expensive, TV ads among the best ways for politicians to communicate with voters en masse. In large part, the donor meetings that take up the campaigns' days right now are so important because they will ultimately fund weeks and weeks of positive and negative ads. How—in what states and at what times—those ads were deployed was a huge part of the 2012 election, and that will undoubtedly be true again in 2016.
David Seawright of Deep Root Analytics, a Republican media-targeting firm, created a pair of animated maps showing how the most recent GOP presidential primary played out on TV. The maps don't show the volume of advertising (which Mitt Romney and groups backing him dominated), but they do show where TV advertising moved over time and when it happened as Romney, Rick Santorum, Newt Gingrich, and others fought for votes in different primary states.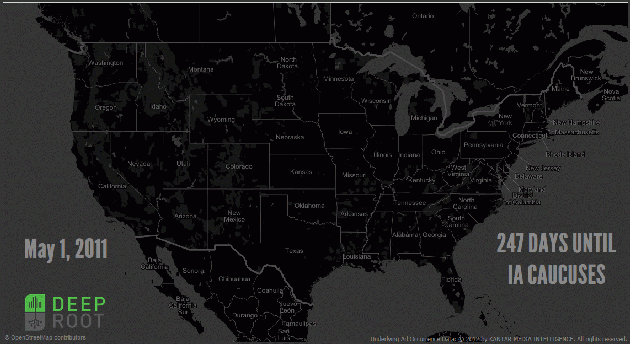 The maps outline several key trends from 2012 that could play important factors in the crowded 2016 presidential race, including when the major candidates decided to go on the air and how they decided to hop around from state to state as they moved through the primary calendar.
Here are the three biggest things that the animations highlight:
The candidates who advertise early generally didn't last very long. Romney, the eventual nominee, didn't go on TV until November 2011. Part of that was because he already was a well-known favorite (when he was running from a less-known position in 2007, Romney started running TV ads in February of that year, nearly 12 months before the 2008 Iowa caucuses). In 2012, Romney's campaign, as well as those of Gingrich and Santorum, stayed off the air over the summer. Meanwhile, Tim Pawlenty, Michele Bachmann, and others farther back in the pack were trying to make noise with early campaign ads. Instead, they ended up running themselves out of cash.
The early signs for 2016 indicate that more candidates will have serious financial resources, both in their own campaigns and in supportive super PACs, and none start off in the position Romney did in 2011. But the presidential campaigns also realize the dangers of peaking too early. Whether that translates into saving resources for TV ads until later in 2015 remains to be seen, but the candidates who waited latest in the last primary also did the best.
All roads don't go through New Hampshire. In the second map, we can see Santorum's late charge to the front of the pack in Iowa. And then, as color pours across the map into New Hampshire, the next state on the calendar, Santorum's efforts split off. Instead, his campaign and super PAC put their money into South Carolina, a state with a much more conservative, evangelical-dominated GOP primary electorate than New Hampshire's.
New Hampshire, with its first-in-the-nation primary, plays a huge role in the nominating process, but not every candidate's potential path to the presidency traverses the state. Santorum wasn't the first Iowa caucus winner to largely skip New Hampshire and focus on South Carolina, and he might not be the last.
Big states can cause big problems. Of course, Santorum didn't win South Carolina; Newt Gingrich did. Gingrich's first primary win gave his campaign a jolt of momentum heading into the fourth, most populous state on the early primary calendar—Florida—and you can see that pro-Gingrich TV ads flooded into the state accordingly. But not only did Romney beat Gingrich in the Florida primary, the expense of competing in the state's many media markets crippled Gingrich's campaign.
After Florida, Gingrich's campaign and his super PAC basically disappeared from the airwaves until just before Super Tuesday, leaving space for Santorum to reclaim the "Romney alternative" mantle after fading post-Iowa. Pro-Santorum advertising picked up throughout the Midwest and then the South during that time, where he notched a few more primary wins and ran very close to Romney in several "Rust Belt" states.