Almost-Candidate Chris Christie Is a Lot More Boring Than Governor Chris Christie
The New Jersey governor and potential 2016 contender outlined policy positions in front of a favorable New Hampshire audience on Wednesday.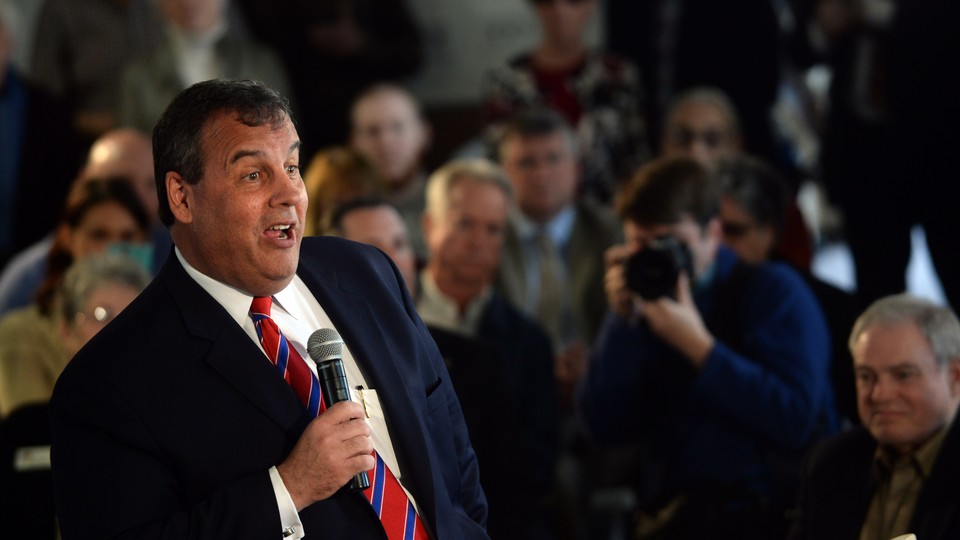 Chris Christie isn't known for pulling his punches. And neither, for that matter, are the voters of New Jersey, who are known for confronting the governor about in-state issues during the town-hall meetings he regularly conducts.
But at a similar kind of meeting in New Hampshire on Wednesday, the attendees were polite, the questions were polite, and the only person Christie got heated with wasn't there: President Obama.
One attendee even began her query—on social programs—with a compliment for the governor.
"I almost didn't recognize you walking in," one woman said, referring to Christie's recent weight loss. "You're looking really good."
But even with that one, presumably sympathetic voter, Christie isn't all that popular among New Hampshirites partial to the GOP, according to a recent poll. By swinging through the early primary state this week on a "Tell It Like It Is" tour, the potential presidential candidate is hoping to change some hearts and minds before formally announcing his intentions for a 2016 campaign.
If the voters who spoke Wednesday are any indication, the hearts and minds of New Hampshirites are focused as much on foreign policy and America's role abroad as they are on domestic policy issues.
Christie seized on queries about the Islamic State and Iran to criticize the current administration. When asked how he would handle the current Islamic State crisis, the governor said the United States must reaffirm commitments to allies abroad, who "don't have any degrees of certainty" that the U.S. government will keep its word.
(RELATED: Chris Christie's Iowa Bromance)
"The only way we're going to fight terrorism effectively is to make sure we have strong allies around the world," Christie said. "America cannot do it all by itself. America must lead."
And just one day after Congress took a step forward in its effort to weigh in on a possible Iran nuclear deal, Christie indicated it should be entirely done away with, saying Iran has "no basis to have earned our trust."
There's a school of thought, he said, that it takes guts to make a deal with an enemy. But "it also takes guts to walk away from a bad deal, to admit that this isn't what I thought it was going to be, and that's what the president should have the guts to do."
(RELATED: See what 2016ers are up to with the TwentySixteen Travel Tracker)
Christie also took on the president for his attempts to normalize relations with Cuba and his removal of the country from the state sponsors of terrorism list. The president's actions are personal to people in New Jersey, Christie said, because the Castro regime has "supported" a terrorist who shot and killed a New Jersey state trooper back in the 1970s and now lives in Cuba. Christie said President Obama "should be ashamed of himself."
"It is a national disgrace that this president would even consider normalizing relations when they are harboring a terrorist murderer who belongs in a prison in New Jersey," Christie said.
Throughout the town hall, Christie painted himself as a truth-teller who knows when to compromise and said, "What the people are starving for is a president who is strong and who will lead."
(RELATED: Sign up for National Journal's TwentySixteen newsletter)
Christie also periodically referenced a speech he'd given the day before in Manchester, wherein he outlined an entitlement-reform strategy that he says would save $1 trillion over 10 years. Several main points in the plan: raising the retirement age to 69, implementing a "modest means test" for Social Security for those making more than $80,000, changing means-testing procedures and the eligibility age for Medicare, and giving individual states control over Medicaid.
Christie—who has faced controversy in his own state for his proposed state pension reforms—said Wednesday that "there's no political upside" to talking about changes to social programs.
But he's concerned about "ensuring the solvency of these programs" and not reverting back to a time when "many, many elderly people lived out their last years in poverty" without their support. He said young people and the middle class shouldn't pay higher taxes while those who can afford to take fewer Social Security subsidies still collect a monthly check.
Christie told attendees he'd address policy positions on tax reform, among other issues, in a series of four speeches planned for the coming weeks. The governor is headed back to New Jersey Wednesday afternoon so that he can conduct a town hall in state on Thursday. But he's not staying away from New Hampshire long. He'll be back on Friday to attend the #FITN Republican Leadership Summit—along with every other bold-faced name in the Republican 2016 bench.