Al Gore's Grassroots Fight
The former vice president hopes to win hearts and minds ahead of the Paris climate talks.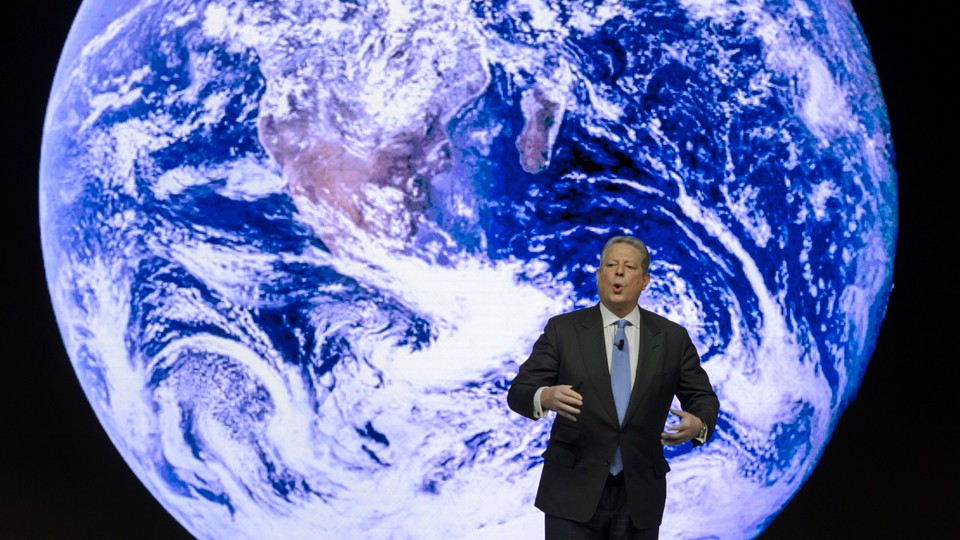 In India, Aditya Pundir is training teachers to talk to middle school, high school, and college students about climate change.
In Brazil, Roberto Vámos is meeting with high-ranking government officials to push for a strong pledge to cut greenhouse-gas emissions.
In Australia, Adam Majcher is laying the groundwork for major rallies calling for action on climate change.
All three work for Al Gore.
Climate Reality Project, Gore's green group, is recruiting activists in eight countries expected to play a key role at a major climate summit in Paris later this year. The group hopes that each country will sharply curb greenhouse-gas emissions by signing onto an international agreement to stave off the most devastating impacts of global warming.
The effort extends across Australia, Brazil, Canada, China, India, the Philippines, South Africa, and the United States. "We're pushing to make urgent action a necessity and really create the will for political action on climate change," Climate Reality president and CEO Ken Berlin said in an interview.
But Gore isn't just looking overseas.
The former vice president, Nobel Prize winner, and star of an Oscar-winning documentary has raised some eyebrows with his plans here at home. In May, Gore is headed to Cedar Rapids, Iowa to train the next batch of Climate Reality Leaders, volunteers taught to talk about climate science and call for action to rein in rising emissions.
In September, Gore will travel to Miami, Fla., the home turf of Republican 2016 contenders Jeb Bush and Marco Rubio, to do it all over again.
For Gore, the fight is familiar. But despite his star power, Climate Reality has struggled at times to hold on to volunteers, staff, and funding, and in some cases, the name recognition of its most high-profile patron may hurt more than help.
In 2011, the Climate Reality Project had 3,500 volunteers, 95 employees, and just over $19 million in revenue, according to tax records. Two years later in 2013, the tally had dropped to 2,148 volunteers, 60 employees, and roughly $6 million in total revenue.
The group attributes this transformation to a shift in priorities. After the demise of cap-and-trade legislation, Climate Reality opted to focus on a big-picture effort to shape the national debate around climate change, shutting down its U.S. field offices along the way.
Today, the group counts 44 full-time staff members, 10 international branch managers—including Pundir, Vámos, and Majcher—and roughly 7,500 trained volunteers. Climate Reality did not specify a dollar amount for its 2015 revenue, but said that the total so far exceeds the $19 million it pulled in during 2011.
Climate Reality's outposts abroad are locally operated by regional environmental organizations and nonprofits and are set to run unique campaigns in each country. That strategy reflects a calculation that tailored efforts will be more successful than a one-size-fits-all push.
In India, Pundir says there is virtually no debate over the reality of climate change, unlike in the U.S., where controversy continues to rage over the impact of human activity on rising temperatures.
"People are connecting disasters all over the country to climate change, and they don't take it lightly," Pundir said, adding that his focus will be convincing the public that clean energy can cut emissions and improve the quality of life.
In Brazil, Vámos is working alongside other conservation groups to engage the government in talks about the country's pledge for Paris, a benchmark that the country has not yet formally announced.
In Australia, Majcher hopes that organizing rallies will demonstrate strong public support for action in a country that has seen a backslide in efforts to tackle climate change.
"If we're all on the road to Paris, Australia seems to have pulled down off a gravel road somewhere and driven in a different direction," Majcher laments. "We have a bit of a job to do."
Of course, there's no avoiding the polarizing impact of Gore's celebrity status and the political debate that surrounds it.
"It's not always a good thing for you to be branded as 'Al Gore's organization.' Depending on who you talk to, that might sometimes backfire," Vámos said, adding that, overall, "Gore has a very good reputation in Brazil."
Majcher believes that Gore's out-front activism helps Climate Reality recruit volunteers in Australia and lends an air of credibility. "His political and public influence is still absolutely profound, although that does at times make him an easy target for criticism," he said.
In the U.S., Sen. Lindsey Graham, a Republican presidential hopeful, and various political commentators have accused Gore of polarizing the climate debate by positioning himself as a de facto spokesman on rising emissions.
"I think the way he's embraced the climate-change issue, trying to make it a religion and coming up with pretty extreme solutions, has made it hard to sell," said Graham, who was intensely involved in cap-and-trade negotiations before the Senate bill fell apart in 2010. "It's a problem for most of us, not a religion, and his solutions will destroy the economy."
It remains to be seen whether Gore's group will have a lasting impact on the road to Paris and in the run-up to 2016.
Some countries, including the U.S., have already outlined goals for the Paris summit, while others are expected to follow suit in the coming weeks and months.
"Popular efforts likely won't radically change the emissions commitments of major countries so much as create political support for a robust negotiating position in Paris and an agreement," said Paul Bledsoe, a senior fellow on climate and energy at the German Marshall Fund.
Regardless of what happens at the climate talks and in 2016, the Climate Reality Project plans to play the long game.
"We're trying to increase the number of activists who care about climate change, the people who can go out and talk about climate change, can speak to their neighbors about it, can move the effort forward," Berlin said.