After Trafficking Deal, the Senate Isn't Stuck Anymore
A bipartisan Senate deal should let long-delayed trafficking measure—and a confirmation vote for Loretta Lynch—move forward.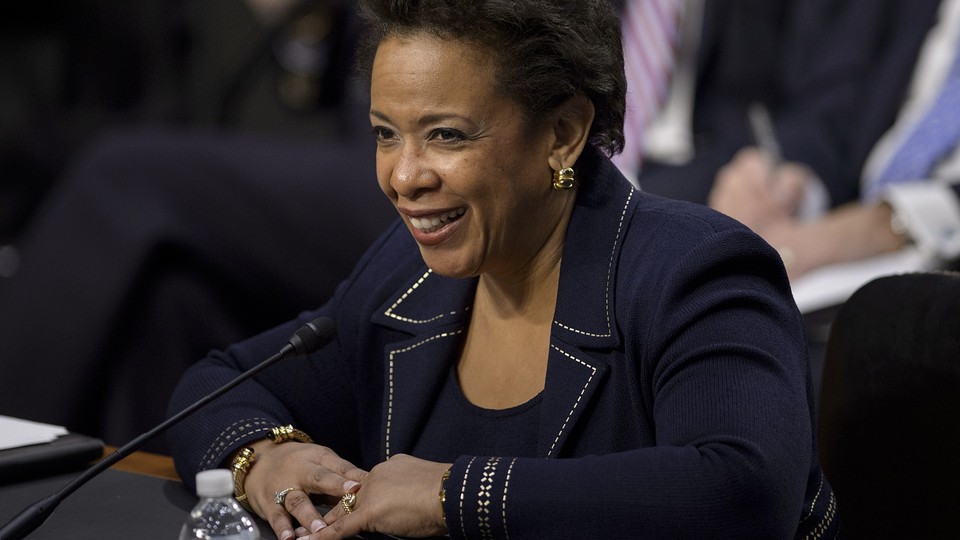 After several weeks of bickering, the Senate has come unstuck.
The new Republican majority has spent its first months in control funding the Homeland Security Department, reauthorizing the Terrorism Risk Insurance program, and eliminating the long-hated formula for reimbursing doctors under Medicare. But all that progress came to a halt last month over bitter disagreements with Democrats over a human-trafficking proposal.
That will all end as early as Wednesday with a vote on a compromise trafficking deal hashed out by Sens. John Cornyn and Patty Murray. That, in turn, starts a domino effect that will allow the upper chamber to approve Loretta Lynch's nomination to be the next attorney general after waiting for 160 days (as of Wednesday), and then pass legislation allowing Congress to review a U.S. deal with Iran. All three measures are expected to pass in the next two weeks.
(RELATED: Glimmers of Hope on the Hill)
Amid signs over the past several weeks that Congress actually is beginning to function, the abortion-related stalling on a bill to help the victims of human trafficking—one which had previously enjoyed huge bipartisan support—was an uncomfortable reminder for many of the standstill so common in previous Congresses.
The solution turned out to be a fairly simple one. The handshake agreement on trafficking gives Republicans what they sought: assurances that none of the funds provided to trafficking victims will be used for abortions, under the Hyde amendment.
But Democrats also got what they wanted: a path forward without expanding the Hyde language. The fees collected from convicted traffickers will be used for legal services and other concerns, but under the language, it cannot be used for medical services. Separate money appropriated by Congress, and thus subject to Hyde, will then be used for medical services.
(RELATED: Trade Deal Gives Obama, GOP Leaders a Vote Counting Test)
"Our deal means survivors will get real dedicated funds and support, beyond the fines charged to traffickers," one Senate Democratic aide said in an email Tuesday.
Sen. Amy Klobuchar said in an interview Tuesday that she came up with the idea of separating out the two funding mechanisms while standing in a cornfield near Moorhead, Minnesota, while reflecting on the Medicare SGR deal that similarly dealt with the Hyde language.
Klobuchar was joined by Sens. Dianne Feinstein, Heidi Heitkamp, and Patrick Leahy in pushing hard for a solution to help victims of human trafficking—a goal that once seemed more easily attained.
(RELATED: Some Senate Democrats Look Ready to Buck Harry Reid on Trade)
The funding can be used to provide for additional law enforcement, as well as to assist victims with counseling, shelters, and health services. All of which, supporters hope, will help to keep victims from falling back into trafficking.
Klobuchar, who has long advocated for trafficking prevention, said she was hopeful that this legislation would help to scale back the problem. "It's going to be hard to take on Boko Haram for sex trafficking," when the U.S. hasn't done enough on the issue, Klobuchar said.
Ultimately, the compromise deal was worked out between Cornyn and Murray, the top Democrat on the Health, Education, Pensions and Labor Committee, and their staffs who spent the last week hashing out a final deal.
(RELATED: Democrats Hope to Make This the Cliven Bundy Congressional Race)
The bipartisan trafficking bill had the overwhelming support of members from both parties—it is, after all, legislation to set up a fund to help the victims of modern slavery—and is expected to pass easily once it hits the Senate floor.
But the original legislation was nearly killed last month over abortion language that Republican members put into the bill with hardly any Democrats noticing. The resulting morass between senators on both sides of the aisle and outside groups of both political persuasions frustrated many members.
"There's an unfortunate overlap of turf politics personalities," one exasperated Senate Democrat said last week. "You've got several senators with strongly-held views that are different—about jurisdiction and about roles; several outside groups; and D and R senators. So it turns what is a relatively simple problem into a Rubik's Cube because outside groups and senators and the parties—each are more committed to preventing the other from having a win then they are from reaching a conclusion. "¦ In this, there's that lack of a focus on what we all share: a desire for function in the Senate [and] a desire to help women who are victims of trafficking."
Planned Parenthood Action Fund president Cecile Richards, whose group led the charge against the Hyde amendment language originally in the trafficking bill, praised Democrats for altering the deal, but promised to keep up efforts to repeal Hyde entirely. "Today's agreement prevents Hyde from being extended even further into other funding streams, and provides survivors of human trafficking with immediate access to needed health care services," Richards said in a statement.
The exact timing on a vote for the trafficking bill remains unclear, as members work out which amendments to the legislation will receive a vote. Klobuchar's amendment, encouraging state and federal prosecutors not to go after underaged victims for prostitution and other crimes, is expected to be among those voted on this week. The Minnesota Democrat said that given that her amendment went through "with [Sen. Ted] Cruz's support," she expects it to pass easily.
The trafficking deal will allow the Senate to move forward with the Lynch nomination as soon as Thursday, putting an end to a nearly six-month delay that was recently exacerbated by the trafficking hold-up.
"I'm glad we can say there is a bipartisan proposal that will allow us to complete action on this important legislation so we can provide help to the victims who desperately need it," Senate Majority Leader Mitch McConnell said, announcing the deal on the Senate floor Tuesday morning. "As soon as we finish the trafficking bill, as I've indicated for some time now, we'll move to the president's nominee for attorney general—hopefully in the next day or so."
The Lynch vote is expected to be a close one, though she already has at least the 51 votes she'll need to be confirmed. Thirteen senators remain undecided.
Any member can hold up the nomination through next week, but leaders are hopeful to get a consent deal to confirm Lynch earlier, allowing the Senate to put its full focus on the Iran legislation next week.
This article has been updated.