Abortion Remains Contentious Under Obamacare
Arizona became the 25th state to ban most abortion coverage on health care exchanges this week, and other states likely are to follow suit.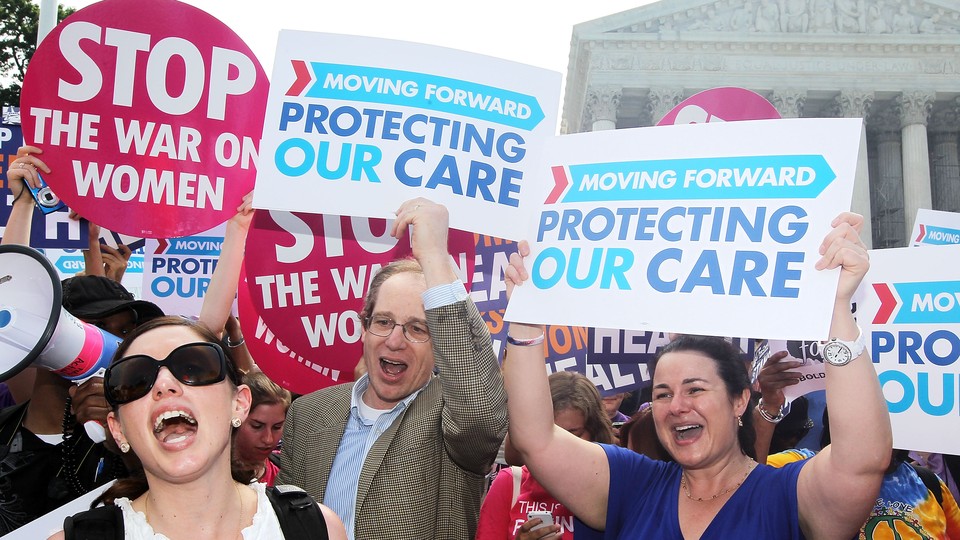 Abortion remains one of Obamacare's most contentious issues, more than five years after it threatened to keep the law from passing.
Arizona became the 25th state to approve legislation that would require insurance plans offered in health care exchanges do not cover most abortions. And state legislatures in Texas and West Virginia, among others, are considering bills this spring that would do the same or take related action.
Although the Affordable Care Act requires insurers in exchanges to segregate funds used to cover abortion—a provision added to the law at the last minute to ensure federal funds are not used to cover the procedures—it also allows states to completely ban abortion coverage from exchanges.
In Texas alone, four bills have been introduced in the state legislature this session, all keeping abortion coverage off the exchange, except in cases where the woman's life is endangered.
"There's been tremendous activity. A big part of that has been states that have enacted their own limitations to marketplace plan coverage," which is part of a national trend to make coverage for abortion limited, said Alina Salganicoff, vice president and director of women's health policy at the Kaiser Family Foundation.
"It's definitely happening and Texas is next on the list, for sure," Salganicoff said.
But in one way, Arizona now occupies a category all its own: It bans abortion coverage from health insurance plans in exchanges except in specific cases—incest, rape, or endangerment of the woman's life—but not from Medicaid. Arizona is under court order to provide state funds for abortion to women covered through Medicaid, although obtaining reimbursement for abortion from the state Medicaid program is difficult, according to an Ibis Reproductive Health report.
"The American people overwhelmingly oppose taxpayer funding of abortions, and it's no different in Arizona, where we have long-standing policy against subsidizing them with public dollars," Gov. Doug Ducey said in a statement. "This legislation provides clarity to state law."
The Arizona law has sparked outrage among abortion-rights groups and members of the state legislature.
"Gov. Ducey vetoes bill to prevent cruelty to cows and chickens but signs one that is cruel to women. #AZBackwards," Democratic state Rep. Victoria Steele tweeted.
"Denying women the opportunity to use private funds for legal and safe abortion health care is an overreach. Further, forcing women and teens to prove rape or incest with insurance companies will only further traumatize victims," Jodi Liggett, Planned Parenthood of Arizona's public policy director, said in a statement.
Of the two dozen states banning most abortion coverage from plans on exchanges prior to Arizona's decision, 10 also have abortion coverage limitations on private insurance plans outside of exchanges, and all 24 prohibit most abortion coverage under Medicaid, according to Kaiser.
Coverage decisions still are being made across the country, and several states have introduced legislation this session that would similarly restrict access to abortion for women.
Two of the bills introduced in Texas would require private insurers to bill enrollees separately for abortion coverage, although no federal funds are used for private insurance.
West Virginia has introduced a bill to prohibit coverage of most abortions on Marketplace plans and, similar to Texas, prevent other health plans from providing abortion coverage except as separate and supplemental. Mississippi introduced a bill, but it died in committee. Montana's legislature has introduced a bill that requires insurers to offer a policy without abortion coverage if they have a policy that includes abortion coverage. Michigan has introduced a bill that would require insurers to offer a rider for abortion coverage.
Virginia, breaking with the direction of proposed legislation in other states, introduced a bill to remove its ban on most abortion coverage in exchanges, but it died in committee.
Even before the Affordable Care Act, it was illegal for federal money to be used to fund abortion under the Hyde Amendment, with exceptions for cases of rape, incest, or threat to the pregnant woman's life.
But abortion, along with immigration, was one of the final hurdles to jump before the passage of the ACA. The final law included a compromise to get the support of Democratic Sen. Ben Nelson of Nebraska; states are allowed to ban abortion on their exchanges, and plans that offer abortion coverage must segregate funds to assure that no federal money is used for abortion coverage.
Of states that don't have a ban on abortion coverage through exchanges, seven marketplaces don't have plans that include it anyway.
"Not having abortion coverage for women can effectively limit their access to abortion services, because the cost is the primary issue," Salganicoff said.
A clinic-based abortion at 10 weeks pregnancy costs between $400 and $550. At 20 to 21 weeks, this jumps from between $1,100 to $1,650 or more. And among uninsured women of reproductive age who are income eligible to receive tax credits, 60 percent live in states that have banned or do not offer abortion coverage in marketplace plans, according to Kaiser.
One reason states might not want to allow abortion coverage on exchanges is because, as a part of the compromise with Nelson, segregating the funds for it adds another administrative layer of work, according to Kaiser.
But some insurance companies might not follow this rule anyways. Last year, a Government Accountability Office report found that 17 of the 18 providers surveyed did not bill enrollees separately for non-excepted abortion services, although it was unclear whether the providers segregated the funds within their financial systems. They had, however, estimated a separate premium amount for abortion coverage.