A Victory for Capitol Hill Sledders—and America
Congress may stop restricting fun on its snowbanks. Because freedom.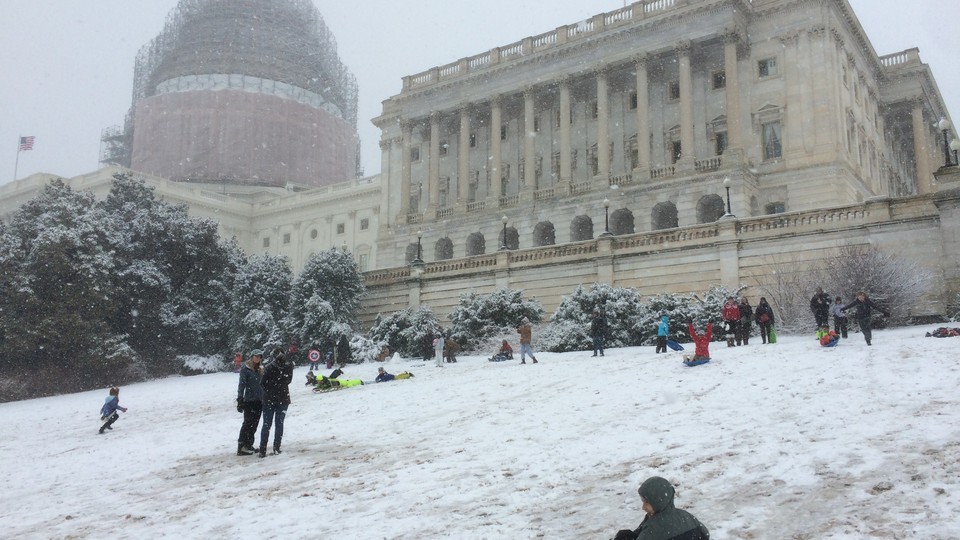 Now it's confirmed: Congress is finally starting to work again.
Democrats and Republicans have come together on key bills in recent weeks, clearing the legislative logjam and avoiding shutdowns and showdowns. And now, perhaps more importantly, they seem willing to agree on something else—allowing sledding at the Capitol.
A legislative branch funding bill passed the House Appropriations Committee Thursday. And tucked inside, there's a manager's amendment that attempts to ease the current ban on sledding on the snowbanks next to the Capitol building. Now the eyes of the world—and neighborhood children—will fall on the Senate, to see if that chamber approves similar language.
In February, Capitol Police officers shooed bundled-up sledders away from Capitol grounds. And, as with many protests, the media lunged at the story. Outrage ensued on Twitter. And D.C. Del. Eleanor Holmes Norton urged the Senate Sergeant at Arms to "have a heart, Mr. Larkin, a kid's heart, that is."
On a Thursday in early March, when students and federal workers were stuck inside, a few dozen parents and children decided they weren't going to take it anymore. In true D.C. fashion, Washingtonians showed up not only with sleds in tow, but protest signs ("Live Free or Sled") and "Let us sled" written on their luges. And police on scene informed sledders of the ban, but didn't try and stop the illegal sledding, prompting a "Thank you, Capitol Police" tweet from Norton.
The provision, authored by Rep. Sam Farr, doesn't exactly lift the sledding ban. But rather, it instructs Capitol Police to ignore the rule.
"Sometimes in Washington we get caught up in all the serious discussions that go on in this town that we forget what it's like to have little fun," Farr, a California Democrat, said in a statement. "It only snows a handful of days here so let's give the community a chance to get together and have some fun sledding at the Capitol."
The rules were rarely adhered to, according to a press release from Farr's office, but in February, reportedly at the request of members of Congress, they were enforced. Congress has now thought better of it.
This article has been updated.