Protesters and Police Clash in Baltimore
Maryland Governor Larry Hogan calls out the National Guard, amid clashes between protesters and police a week after the death of Freddie Gray.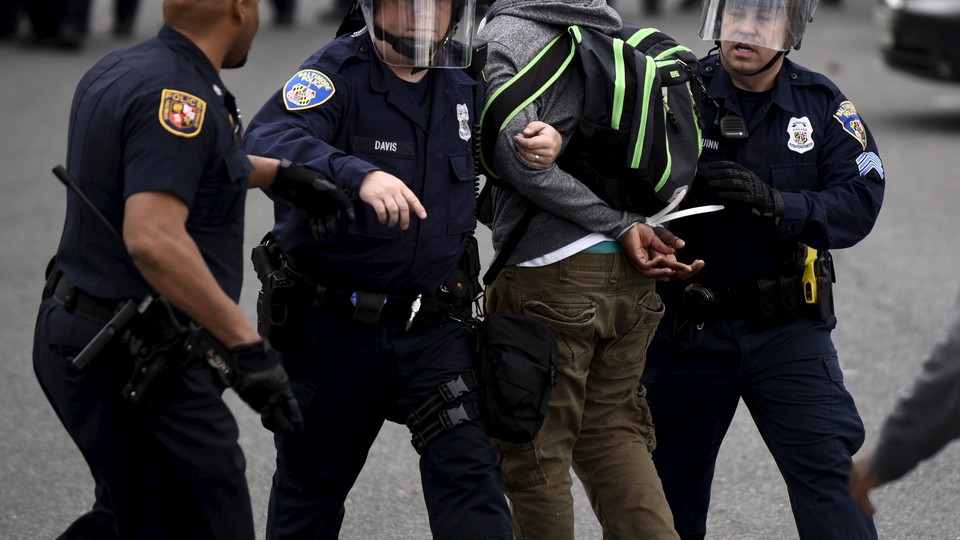 Updated on April 27, 2015, at 9:16 p.m.
Maryland Governor Larry Hogan declared a state of emergency and called out the National Guard on Monday night, "to address the growing violence and unrest in Baltimore City." Later Monday night, Baltimore Mayor Stephanie Rawlings-Blake announced that a week-long curfew would be imposed on the city. Maryland State Police said they would request an additional 5,000 officers from the mid-Atlantic region to restore order.
Earlier in the day, police clashed with demonstrators during protests over the death of a young black man in police custody. Video footage showed a handful of protesters and bystanders throwing rocks and bottles at police officers in full riot gear, who responded with pepper spray and tear gas. City officials said at a press conference on Monday night that 15 officers had been injured and two were hospitalized, including one officer who was reportedly "unresponsive," although further details about his or her condition were not immediately available. "Too many people have spent generations building up this city for it to be destroyed by thugs," Rawlings-Blake told reporters.
Protests began after Freddie Gray, a 25-year-old black man, died while in the custody of the Baltimore Police. Although not obviously injured when arrested, Gray arrived at the police station with severe spinal injuries. He died a week later on April 19.
The ensuing protests have, according to observers, remained overwhelmingly non-violent, as protesters have heeded calls from communal leaders to remain peaceful. But as in other American cities in which police have met protests with shows of force, the situation in Baltimore has grown increasingly tense. Reports on Monday gave conflicting accounts of the extent of the clashes, and as news filtered in, many details remained unclear.
The circumstances of Gray's death remained similarly uncertain. As my colleague David Graham noted, protesters allege Gray's injuries were caused by a familiar tactic known as "rough riding," in which an unrestrained arrestee is violently thrown around a moving vehicle. Six officers were suspended in the aftermath and the U.S. Department of Justice launched an investigation into Gray's death.
Tensions grew over the weekend as demonstrators converged on Camden Yards, where the Orioles played the Boston Red Sox. Although the majority of demonstrators were peaceful, police arrested 35 people after windows and a empty police vehicle were smashed. City officials temporarily stopped fans from leaving the stadium, citing public-safety fears. Major League Baseball temporarily postponed Monday night's Orioles game after violence intensified during the day. Police announced they had arrested an additional 27 people on Monday. Baltimore schools will be closed on Tuesday.
State officials compared the violence to the Baltimore riot of April, 1968. "It's nowhere near as bad as that at this point," Hogan said, "but we want to make sure it doesn't get to that point."
On Saturday night, Fredericka Gray, Freddie's twin sister, repeated her call for an end to the violence. At the funeral on Monday, Pastor Jamal Bryant, who helped organize protests after Gray's death, also urged protesters to remain active but not resort to rioting and looting.
"We will find the people that are responsible and we will put them in jail," Baltimore Police captain Eric Kowalczyk told a press conference Monday afternoon. "Right now, it's a group of lawless individuals with no regard for the safety of the people who live in that community." Baltimore Police's Criminal Intelligence Unit also issued a statement claiming that gangs had "entered into a partnership" to attack police officers. The source for that claim, like so much else, remained uncertain.