A Quieter Night in Baltimore
Three thousand police officers and National Guard members enforced a city-wide curfew in the beleaguered city.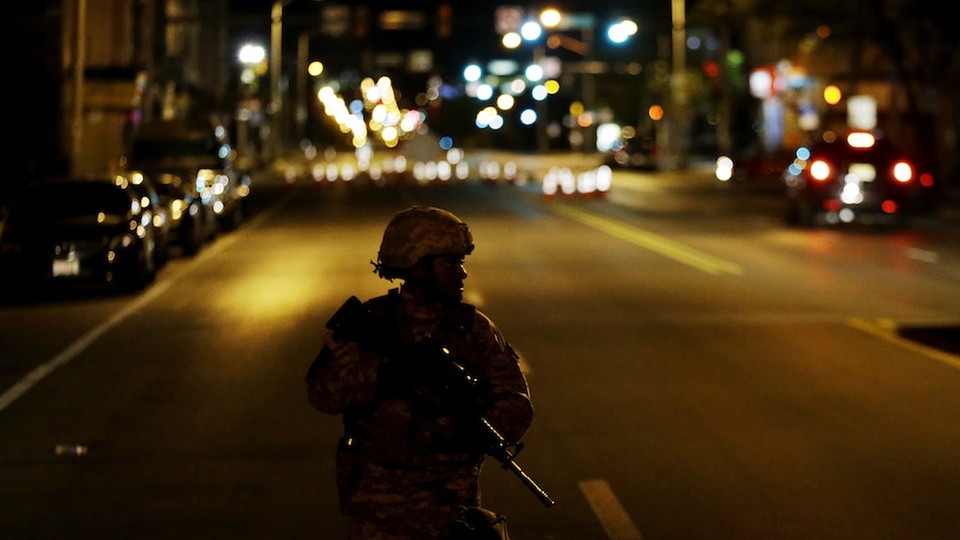 Following a night of demonstrations, clashes, and mass arrests, relative calm descended across Baltimore on Tuesday night. The city is still reeling from protests over the death of Freddie Gray, a black man who died in police custody over a week ago.
As the curfew was lifted on Wednesday morning, there were less than a dozen arrests (compared to 235 on Monday night) and, despite an initial defiance of the curfew by 200 demonstrators, there were few reports of disturbances or destruction. Baltimore schools reopened and Baltimore Police Commissioner Anthony Batts declared that "the city is stable." The apparent deescalation notwithstanding, the Baltimore Orioles home game against the Chicago White Sox will still be played in an empty stadium on Wednesday afternoon.
What President Obama Is Saying
Speaking from the White House Rose Garden on Tuesday afternoon, President Obama condemned the more destructive and violent aspects of the protests, but also spoke more expansively about their context:
We have seen too many instances of what appears to be police officers interacting with individuals, primarily African-American, often poor, in ways that raise troubling questions. This has been a slow-rolling crisis. This has been going on for a long time. This is not new, and we shouldn't pretend that it's new.
The president also dispatched Justice Department officials to meet with the family of Freddie Gray on Tuesday.
What Presidential Candidates and Hopefuls Are Saying
The president's measured tack was echoed by many of the declared and potential 2016 presidential candidates, who spoke out against the destruction, but cautiously noted that the facts about Gray's death need to come out.
In a speech at Columbia University on Wednesday, Hillary Clinton called for a restoration of "order and security" as well as robust criminal-justice reforms and the adoption of body cameras by all police departments.
Martin O'Malley, the former Maryland governor and Baltimore mayor, cut a trip to Europe short to visit the city on Tuesday night. The possible Democratic contender was met with some heckling from residents who blamed the unrest on some of his policies.
"Every case deserves justice, and the facts surrounding Freddie Gray's death should be thoroughly and impartially investigated," Texas Senator Ted Cruz said on Tuesday. "But rioting and mayhem are not the answer."
Others focused more directly on the violence in the streets than the death that sparked it. Former Florida Governor Jeb Bush, who is widely expected to pursue the Republican nomination, offered that "there has to be a commitment to the rule of law and to law enforcement." Kentucky Senator Rand Paul rode a train through Baltimore, and later raised eyebrows by saying, "I'm glad it didn't stop."
"As a former resident of the city of Baltimore, it is very sad and unfortunate to see the destruction taking place by irresponsible individuals," wrote Ben Carson, the potential Republican candidate, in Time.