2016 Senate Republicans Face Decision on Lynch Nomination
The Attorney General nomination process has gone on far longer than anticipated in debate over immigration.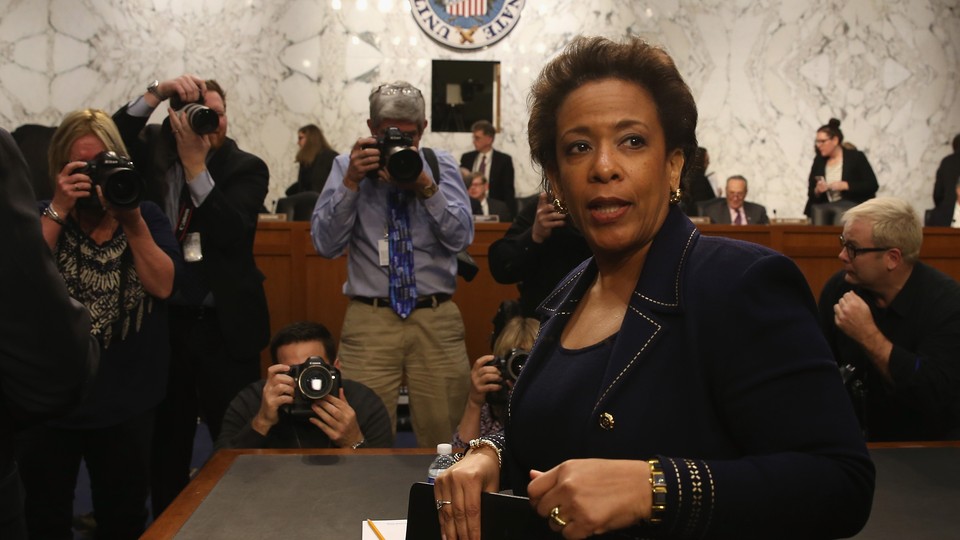 Republican Sen. Ron Johnson, at home in blue-leaning Wisconsin for a two-week recess ahead of a reelection battle next year, announced that he will oppose Loretta Lynch, the nominee to take Eric Holder's place as Attorney General.
Just a few hours' drive to the south, another vulnerable blue-state Republican made a different decision. Illinois Sen. Mark Kirk announced his support for Lynch at a luncheon in Chicago, giving Democrats the fifth vote they'll need to confirm the Justice Department nominee.
The two senators' decisions highlight a difficult equation for Republicans facing reelection in 2016: To support Lynch, a nominee that most senators agree is qualified for the job; or to object to her nomination over her support for President Obama's executive action on immigration.
Of the 24 Republicans facing reelection next year, Kirk is the first to side with Democrats on the issue. He joins Sens. Susan Collins, Orrin Hatch, Lindsey Graham and Jeff Flake—who are not up in 2016—in support of Lynch's nomination.
Kirk said he will support Lynch after having several conversations with her not about immigration, but gang violence, particularly in Chicago. Johnson's office did not respond to multiple requests for comment about the thinking behind his decision.
The closeness of the vote has put additional pressure on the 2016 contenders. Seventeen Republicans who are up for reelection in 2016 have said they will oppose Lynch's nomination. They include Johnson and vulnerable Republican Sens. Richard Burr of North Carolina and Pat Toomey of Pennsylvania, as well as presidential contenders Sens. Rand Paul and Marco Rubio.
The rest are undecided, including some of the 2016 map's most vulnerable members. And Kirk's decision to give Lynch the fifth Republican vote she needs could provide breathing room to those 2016ers who remain on the fence to make a decision in either direction.
Sens. Kelly Ayotte of New Hampshire, Lisa Murkowski of Alaska, and Rob Portman of Ohio are keeping mum and are top-targets for Democrats hoping to bolster their numbers in favor of Lynch. Sen. Mike Crapo, in a much safer seat for a 2016 reelection, also is undecided on Lynch.
They are not alone. In addition to Ayotte, Crapo, Murkowski, and Portman, another 13 Republicans are publicly uncommitted on the Lynch nomination. They include members of leadership such as Senate Majority Leader Mitch McConnell and two of his deputies, Sens. John Barrasso and John Thune; freshmen Sens. Tom Cotton, Cory Gardner, Mike Rounds and Dan Sullivan; Sens. Thad Cochran and Pat Roberts, both of whom won close primary contests last year against conservative challengers; Sen. Dean Heller, a frequent cross-over voter; and stalwart conservatives such as Sens. Mike Enzi and Tim Scott.
It remains unclear just how much time members will have to make up their minds. McConnell said before the recess that the Senate would not take up the Lynch nomination until it finishes its work on a human trafficking bill that was spiked over Democratic objections and the pressure of a budget deadline last month.
The delay has allowed the vote to go from a sure-thing to a situation in which every Republican vote has faced increased scrutiny. Senate Judiciary Chairman Chuck Grassley told National Journal in January that Lynch's nomination was very likely to go through; the question was when it would occur. And he reiterated that near-certainty when his committee passed Lynch onto the full Senate in late February.
On the right, members face fierce criticism from conservative groups who have elevated Lynch, a U.S. Attorney in New York, as a symbol for the immigration fight, particularly after congressional Republicans were unable to attach the issue to funding for the Homeland Security Department last month.
Sen. John Cornyn, the only member of GOP leadership to announce his feelings about Lynch thus far, summed up the argument from the right well in a call with Texas reporters. "While she has an impressive record as United States Attorney, as you know, she will become the chief advocate for the President's policies as Attorney General, and her testimony expressing support for the President's unconstitutional executive action, and for her support for a number of the President's other policies, make it impossible for me to vote for her nomination," Cornyn told reporters in February.
On the left, Democrats are forcefully pushing Lynch's qualifications for the job to the forefront and questioning the historic delay for an attorney general nominee. Any Obama nominee for the job is bound to agree with him with on the immigration issue, one Senate Democratic aide argued. If Republicans are successful in wearing Lynch's patience down, the next nominee could have other problems that would make her even more distasteful to Senate Republicans.
"Republicans seem to be willing to stop anything to register their protest over the President's immigration policy," another Senate Democratic aide said. "They can't possibly claim with a straight face that it's about anything else. Her record is stellar, and she was flawless in the hearing. It's just another attempt by Republicans to tie an unrelated issue to immigration."