With the One-Week DHS Funding Bill, Republicans Again Find Themselves Mired by Distractions
The fight to come on the Hill this week will just emphasize the Republican rifts and cloud their legislative agenda.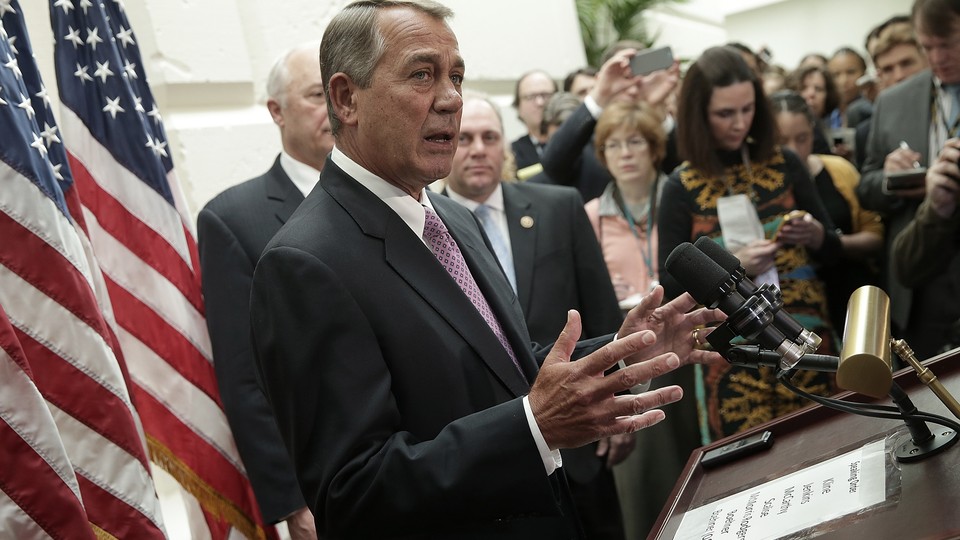 Congress voted itself a lifeline Friday: seven more days to find a way out of a Homeland Security Department shutdown. But for Republicans, another week-long DHS funding saga threatens to only magnify tensions between rank-and-file members and their leaders, and take the focus off a policy agenda the GOP had hoped to define itself by.
TSA agents may still be getting paid, but the short-term funding bill carries a political risk for the GOP. While Republican aides insist that the DHS funding woes are merely a sideshow and that both chambers of Congress will turn their focus to new matters next week—such as overriding the president's Keystone pipeline veto and hosting a joint session of Congress for a speech from Israeli Prime Minister Benjamin Netanyahu—a debate over DHS funding undoubtedly eats up valuable time on the congressional calendar and newspapers' front pages. Already, the House was forced to take an education bill off the floor Friday as the conference was still divided and the more pressing DHS shutdown loomed.
"Regular order takes a little more time," says Rep. Greg Walden, R-Ore., who shrugs off suggestions that the Senate and House back-and-forth is dangerous for the party.
But when the confetti fell last November and Republicans won their majority, the expectation was that the Republican Party and its leaders would be hitting their stride by now. The party had a clear mandate: return to regular order while proving it could govern with policy proposals on everything from Obamacare replacements to tax reform that went beyond just blocking Democrats. Instead, Congress appears to still be clawing from crisis to crisis.
Intra-party squabbling has undermined Republicans' ability to exhibit its discipline to govern and it has allowed Democrats to exercise power in the minority. When Republicans failed to stay together to pass a three-week funding measure for DHS, it gave Minority Leader Nancy Pelosi leverage that may ultimately get everyone to a clean bill by the end of next week.
"All this has done is empower Nancy Pelosi," says Rep. Mario Diaz-Balart-R-Fla.
The year began with an attempted 25-member coup against House Speaker John Boehner followed by a showdown between GOP women and leaders over abortion. Now, after a monthlong debate over the Homeland Security funding bill, leaders are punting a final resolution for another week, a move members say won't help the party's reputation.
"If the American people don't know that, they are going to find out we are divided," says Rep. Steve Womack, R-Ark. "I regret that. We are the governing majority. We need to be able to prove we can govern, and we need to have a sense of reality about what it is that we can do."
With its new majority, the GOP assured voters it could block President Obama on everything from immigration to a minimum-wage increase, but the reality remains: House Speaker John Boehner and Senate Majoriy Leader Mitch McConnell have to game out two vastly different scenarios. Without a filibuster-proof majority in the Senate, McConnell has to cut deals with Democrats and find consensus among centrists. Meanwhile, Boehner is forced to reckon with a conservative faction that wants him to pick fights he ultimately can't win.
"We swim upstream on too many issues," Womack says."We put our speaker through the mill."
Many Republicans in the House say its time for their fellow members to—as Nancy Pelosi put it Friday—"get a grip" on reality and reconcile their wishes with their party's political limitations in the Senate.
"The options that I see them are, we shut the government down or we give Obama what he wants. I don't see much middle ground," says Tom Rooney, R-Fla.
If DHS were behind them, Rooney and others argue, the House could more easily move onto other legislative items that put Democrats and Obama in the hot seat, like repealing the medical device tax or laying out a clear outline for tax reform.
"I think this is an issue that has been a distraction all along," says Rep. Justin Amash, R-Mich., who was a proponent of leadership taking up the fight to defund Obama's executive action through the CRomnibus negotiations last December. "We should have taken care of this months ago. We are where we are at because of a leadership decision back in the last Congress."
But Rep. Tom Cole, a close Boehner ally, says a short-term continuing resolution is also about setting the tone with McConnell.
"I think this is about holding our own ground," Cole said. "On some levels, it's Republicans versus Democrats, but there are a lot of House versus Senate here too.... You are not just going to drop something on us the last day and run out of town."
But while his allies say Boehner may be doing his best in the funding showdown, confidence in leadership is waning. Some members have threatened that if Boehner tries to resolve the funding statemate—after weeks of impasse—with a clean DHS funding measure this week, his speakership could be in danger.
"It goes beyond Boehner," said one Republican member who asked not to be named when discussing leadership's problems. "I honestly believe that if Boehner cannot reestablish trust then neither can [Majority Leader] Kevin [McCarthy]."