With Campaigns Looming, GOP Splits on Same-Sex Marriage Benefits
The party's White House contenders all oppose granting benefits, while many senators up for reelection vote in favor.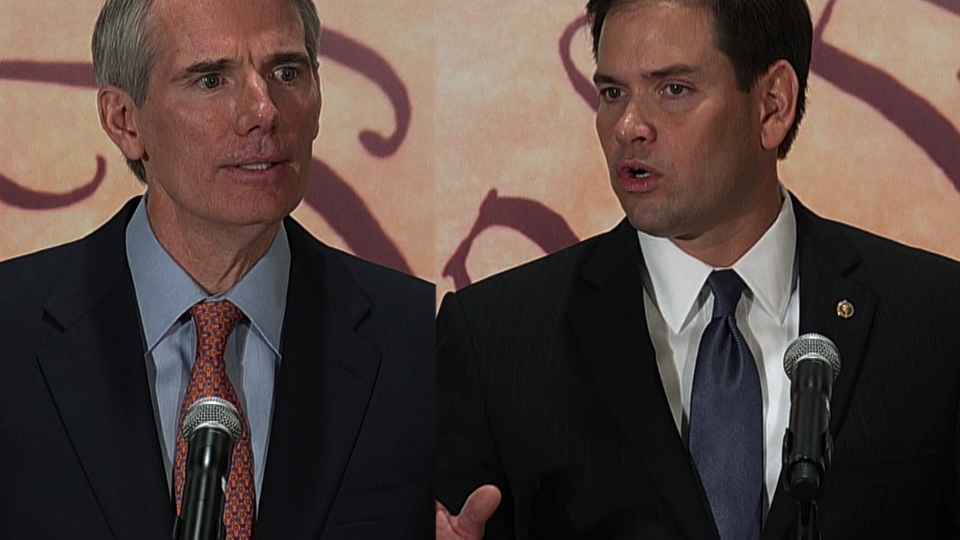 It was one of the toughest votes of the night for Republicans.
The amendment—which hit the floor more than 10 hours into the Senate's budget vote-a-rama—allows same-sex spouses to be eligible for the same Veteran's Affairs benefits and Social Security benefits afforded to heterosexual couples.
Huddled together, poring over language authored by Democratic Sen. Brian Schatz, potential 2016 presidential candidates and senators facing reelection next cycle walked away from an amendment clearly divided on gay marriage—a marker of how the party's evangelical wing and more moderate branch are still in conflict over the issue.
It wasn't the first time during Friday's marathon that the party's presidential candidates voted one way and its vulnerable senators up for reelection in swing states voted the other, as they court two decidedly different audiences.
Republican Sens. Rob Portman of Ohio, Kelly Ayotte of New Hampshire, Richard Burr of North Carolina, Ron Johnson of Wisconsin, Mark Kirk of Illinois, and Lisa Murkowski of Alaska—all up for reelection in 2016—voted yes on the amendment. Kirk, Portman, and Murkowski had already publicly come out in support of gay marriage. Still other surprising yes votes included Republican Sens. Bob Corker of Tennessee and Thom Tillis of North Carolina.
The amendment pit two Republican priorities against one another. Senators were forced to choose between veterans' benefits and social conservatism, leading some to wait until the bitter end to vote. At one point, Corker led the discussion around the table before the vote and at another point, Schatz moseyed over to make one more pitch to the GOP. Some were still unmoved.
After waiting until the very end, Republican Sen. Pat Toomey of Pennsylvania, who faces reelection in 2016, voted no. He stood with all of the potential 2016 candidates: Sens. Ted Cruz, Marco Rubio, Rand Paul, and Lindsey Graham.
The amendment passed 57-to-43.