Why Republicans Can't Stop Eating Chick-Fil-A
Congressional Republicans can't get enough of the chicken sandwiches.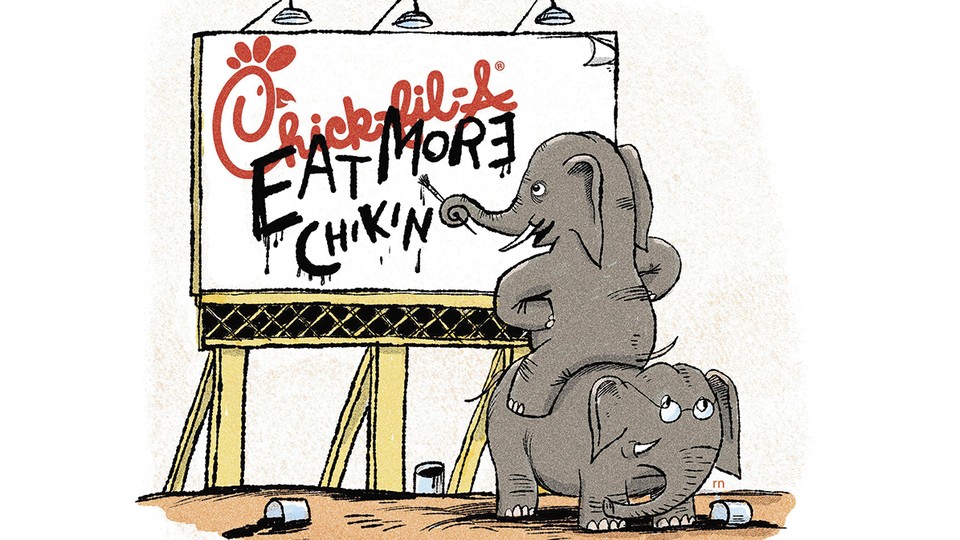 After the State of the Union speech in January, Sen. Lisa Murkowski pressed past the phalanx of shouting reporters in Statuary Hall and snaked her way through the Capitol toward the Senate chamber and a smaller, quieter gaggle of reporters. It was nearly midnight on a long day that had also featured the year's first meeting of the National Republican Senatorial Committee, whose help Murkowski will need in her 2016 reelection bid; in 2010, the Alaska Republican lost the GOP nomination and had to mount a write-in campaign to keep her seat. But when I asked her what had happened at the NRSC meeting, the senator's mind went not to strategy and fundraising, but to food. "It was Chick-fil-A! We always have Chick-fil-A!" she complained. "I don't mind Chick-fil-A every now and again, but you know, here's my deal: I'm really trying to eat healthier. I don't know what they coat that Chick-fil-A stuff in."
(RELATED: Dietary Panel: Eating Less Meat is Better for the Environment)
Since 2012, when the Atlanta-based fried-chicken chain came under fire for donating millions to groups fighting same-sex marriage -- and CEO Dan Cathy declared that redefining marriage was "inviting God's judgment on our nation" -- Chick-fil-A has become congressional Republicans' fast food of choice, a culture-war statement on a bun. When former Arkansas Gov. Mike Huckabee organized a "Chick-fil-A Appreciation Day" that August, defying liberal boycotts, Capitol Hill conservatives enthusiastically joined in, filling conference rooms with chicken nuggets and tweeting photos of themselves at Chick-fil-A drive-ins.
Two and a half years later, the scent of fried chicken practically permeates the walls of the Capitol. Tea-party members in the House nosh on original chicken sandwiches and waffle fries at the Heritage Foundation's monthly "Conversations with Conservatives." Sen. Lindsey Graham of South Carolina, a longtime Chick-fil-A aficionado, has the chain cater his birthday lunch party every year. During late-night GOP strategy sessions in the Senate ahead of a potential government shutdown in December, Chick-fil-A was the hunger-reliever of choice. And while Speaker John Boehner prefers a glass of red wine and Italian dishes served alfresco at Trattoria Alberto, his office has dropped hundreds on Chick-fil-A fare in the last few years -- though Boehner spokesman Michael Steel says he's never seen the speaker himself indulge. (Steel would not comment further.)
(RELATED: Why Some GOP Presidential Hopefuls Are Staying Quiet About Gay Marriage)
"They kinda got abused," says Republican Sen. Jeff Sessions of Alabama, "and I guess some would like to support 'em." Evidently so: Since Cathy made his controversial comments, House Republicans have spent nearly $13,000 in taxpayer money ordering Chick-fil-A, according to expenditure reports filed through July 2014 (the latest available). That's the equivalent of 3,900 original chicken sandwiches, and it represents a 37-fold increase over the paltry $345 the House GOP had spent on Chick-fil-A the previous three years. (It also may be an undercount, since some receipts say only "food and beverage" without specifying a source.) Figures for the Senate were not available, but the GOP's campaign arms have been eating "mor chikin" as well: The Republican National Committee has doubled its Chick-fil-A spending, while the National Republican Congressional Committee spends more than 10 times as much as it used to.
Democrats, on the other hand, have dialed back their Chick-fil-A spending significantly. The Democratic Congressional Campaign Committee hasn't spent a dime on Chick-fil-A since May 2012 -- and even then, it was for a single $6 meal. In a sign that Chick-fil-A remains a sensitive political topic, the offices of the two Democratic representatives who've placed an order since the gay-marriage flap -- Reps. John Conyers of Michigan and Terri Sewell of Alabama -- both declined multiple requests to comment for this story.
Several House Republican staffers strenuously denied that cultural politics was at the root of the members' eating habits. Republican groups like Heritage, they pointed out, have been Chick-fil-A addicts for a decade. "It's not served as some type of political statement," House Budget Committee spokesman Will Allison told me by email. "It's just tasty and I guess easy to order in bulk. They're also great corporate citizens -- not open on Sundays, so employees have the day off, and terrific customer service."
(RELATED: The Four States the Supreme Court Wants to Hear From on Gay Marriage)
Placing an order might indeed be a snap, but the delivery process is not. Although the Capitol is surrounded by dozens of restaurants that cater, there is only one Chick-fil-A franchise in Washington, a small outpost at Catholic University that doesn't deliver. To get their bosses a fix, Hill staffers have to order from outlets in Maryland and Virginia -- often from a tiny, dimly lit food court 8 miles away in Ballston, Virginia, where Jeff Burke, a jovial 51-year-old with a white mustache, operates a Chick-fil-A franchise that's been churning out food for Republican groups for more than a decade.
To get the chicken to hungry Republicans still hot, Burke and his team of more than 40 employees have just 30 to 45 minutes to take raw chicken breasts and strips, coat them in eggs, milk, and the brand's special breading (there's your answer, Sen. Murkowski), fry them up, and then drive their own cars the 8 miles to Capitol Hill -- where, unable to get through security, they pass the still-steaming bags to congressional staffers, sometimes in the middle of the street.
"They love us on the Hill," Burke says. "You'd think it's just where we're at -- you know, Georgia, South Carolina. But we're getting these delegates from all over the country, even when we're not in their states yet." It all started with Heritage -- which still orders once or twice even in a "slow week," he says -- and then spread across the Capitol by word of mouth. Burke, who is not much for politics, says most of the time he has no idea which party his customers belong to. "I'll do Lamar Alexander," he says, "but I don't even know which side of the aisle he sits on. I've never thought about that, which side's enjoying us the most." The question reminds him of one of the company's old ads, he says with a laugh: "Chicken's not right-wing or left-wing." But he allows that the company's Christian orientation, symbolized by its decision to stay closed on Sundays, is probably a factor. "It's important to me because I get a day off," he jokes.
Burke used to run a second franchise in Alexandria, Virginia, the one that caters Graham's birthday parties. "Lindsey," as he calls him, would send Burke a photo with a note as a thank-you, and Burke would respond with a gift of his own -- a mug or other Chick-fil-A trinket as a birthday gift for the senator. Sadly, Burke says, the two have never met, but based on their correspondence, he believes they are "kindred spirits." "I don't know if we ever met that we'd be best friends, or anything like that," Burke says. "But if he needed a good chicken sandwich, I know where he can get one."