Why Is Utah's Top GOP Strategist Trying to Take Down the Governor?
Dave Hansen, a former Republican Party chairman and adviser to Orrin Hatch and Mia Love, is working for Gov. Gary Herbert's likely challenger.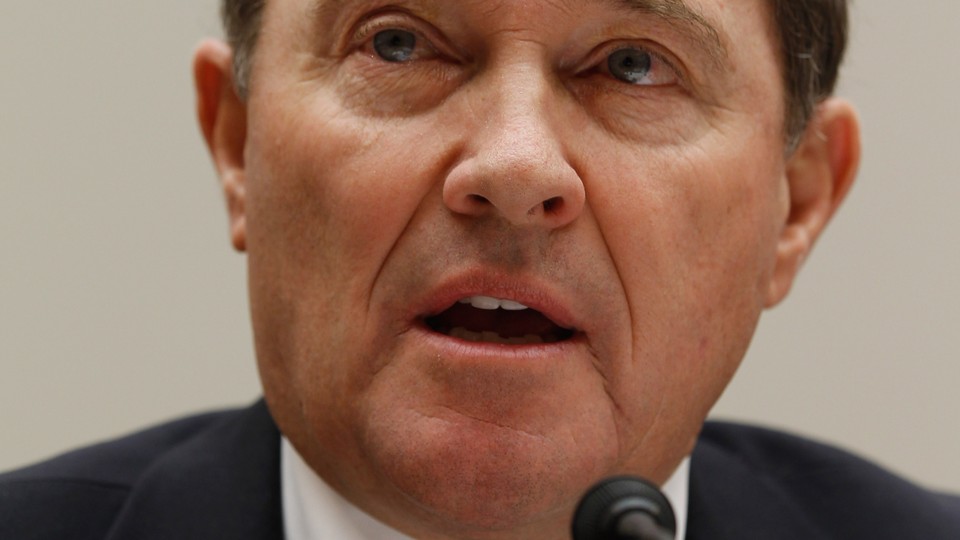 Utah's Gary Herbert is one of the most popular governors in the country. Republicans adore him in his heavily conservative state. Yet one wealthy Republican is planning to take him on—and Utah's most prominent GOP strategist, Dave Hansen, has joined the effort.
Hansen, a former state party chairman, has spent recent years promoting the Utah GOP establishment. He helped Sen. Orrin Hatch navigate his 2012 primary and managed Mia Love's successful House bid, one of national Republicans' top target races in the country, in 2014. Now, Hansen has signed on to manage the gubernatorial campaign of Overstock.com chairman Jonathan Johnson, who would have to unseat Herbert in the GOP primary.
Hansen said he has nothing against Herbert but a desire for change grounded in his belief that governors should not serve more than two terms, which Herbert hasn't technically done yet. Herbert became governor in 2009 when then-Gov. Jon Huntsman resigned to become the U.S. ambassador to China.
"Do I think that Utah's been doing well? Yes. Do I think it's been because of who was serving in the governor's office? I don't know necessarily that's true," Hansen said. "I think that the legislature, I think the entrepreneurs and the business people in the community probably have a greater responsibility for the economic stability that we have here in this state. And I think that Jonathan can continue to make sure that Utah prospers, and I think with some new ideas and some fresh ideas will help."
There is a rather large roadblock in the way, though. A January Utah Policy survey conducted by local pollster Dan Jones showed Herbert with sky-high approval ratings: 74 percent among registered voters and a whopping 89 percent among Republicans.
"[Herbert] is about as untouchable as it comes," said Kirk Jowers, the director of the Hinckley Institute of Politics at the University of Utah. "I guess I'm sure Jonathan would tell you with a straight face that he's in it to win it, but right now I feel like it's completely out of his hands."
"The governor is popular," Hansen conceded. "But generally unless a governor screws up in this state there is a great deal of popularity. I don't know how deep that popularity is when it comes right down to it. We've done some testing and some polling and we're finding that the support is not deep, and people basically look at it and say yeah, we think a governor should serve only two terms."
Herbert's former chief of staff, Derek Miller, has a different theory for why Hansen decided to go work for Johnson: money. "As a political operative he goes to the highest bidder," Miller said. "He's a gun for hire and he goes to whoever pays the most money."
According to campaign financial disclosures, Hansen received payments totaling over $386,000 in 2012 and 2014 working for Hatch and Love. Utah gubernatorial contests aren't known to attract the same kind of money. In 2012, Herbert raised just $2.5 million for his race.
Johnson does have the backing of his mentor Patrick Byrne, a libertarian-leaning bitcoin enthusiast who founded Overstock and has donated millions to various Republican candidates and causes over the past decade. Miller estimated Byrne could be worth "tens or hundreds of millions."
Hansen emphasized his belief in Johnson's leadership abilities and said he's not sure how much personal money Johnson plans to put toward his campaign. "I'm sure there will be some," Hansen said. "We have not discussed exactly how much yet. A lot depends on how much comes in from other sources, to be honest with you."
Johnson, who declined to be interviewed, is typically described as a conservative with libertarian leanings, like Byrne. But Johnson has not yet staked out any sharp differences with Herbert. Johnson recently made a push for various legislative initiatives involving civics education and teacher stipends through his Promote Liberty PAC, but none have been particularly significant.
An aide who works for Johnson's PAC, Alex Iorg, said Johnson would start fielding interview requests come July or August "when we get closer to the announcement." But a well-staffed effort to take down Herbert is well underway, and it has one of Utah's most connected GOP players at the helm.